Hello and welcome aboard this weeks edition of Seascapes your maritime programme , we'll have our monthly Angling report from Paul Bourke of Inland Fisheries Ireland ; Rory Golden on his historic dive on Titanic and an Illustrated talk this Monday night in the National Concert Hall in Dublin …….first on Seascapes , last Sunday in brilliant sunshine Seascapes headed for the West Pier and the oldest section of the harbour where in bygone days there was a large fishing fleet and the coal boats delivered their cargo….to visit the Dun Laoghaire Motor Yacht Club – founded in 1965 – who better to chart the history of its beginnings and the water carnival that brought crowds that Summer of 65 to the borough than the DMYC's founding commodore Joe Briscoe –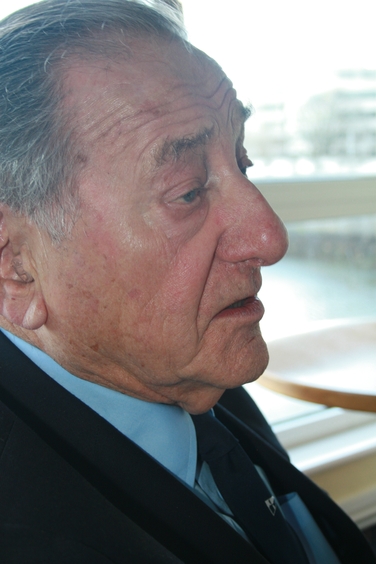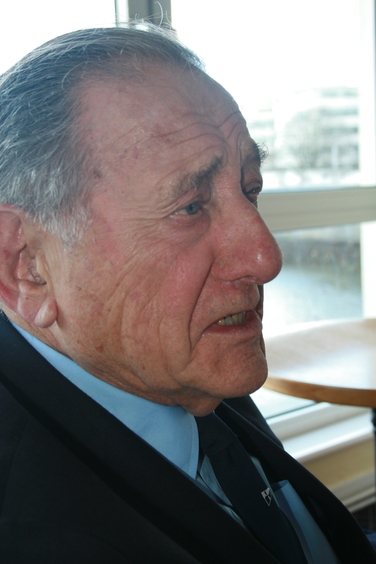 Its founding commodore Joe Briscoe reminisced in 1990 on the beginnings of Dun Laoghaire Motor Yacht Club on the harbours West Pier ….we reprint this article with his kind permission and that of the club…….
The Dun Laoghaire Motor Yacht Club celebrates it's 25th anniversary this year, and, as the Founder Commodore, I have been asked to reminisce about the origins of our Club. In some ways this has been a painful exercise for me as so many of our founder members are no longer alive.
25 years ago the yachting and boating scene in and around Dun Laoghaire harbour was a much more happy-go-lucky affair than it appears to be today. The ear of the "biggest", "fastest" and "Bestest" had not yet arrived. Also, apart from the three waterfront Clubs, there was yet another class of leisure sailor. On most spring days (and particularly at weekends) between early March and May this "conglomeration of all types" class could be found fitting out their various types of craft on the "hard" on the West side of the Coal Harbour. Charlie Blackmore and Dan McDonald reigned supreme. They owned a block of moorings which they rented out on a yearly basis together with a limited boat service. They also launched your boat when the time came. Heaven help you if you ran foul of Charlie! He had a voice like a galvanized bucket! I have seen hospital consultants grown pale under an onslaught! Charlie was also the mechanic on the life boat crew.
Basically I suppose we were the waifs and strays of the Dun Laoghaire boating scene with no possibility of permanency on the "hard" as it was always packed out in winter and was a case of first up got a space. In the summer the mooring situation was very haphazard with unreliable "sinkers" being dropped all over the inner harbour. The inner harbour was supervised by Johnny Shortall and his brother, 'Mouse', decent men who did their best.
The Crofton Hotel (where B.I.M. is now) was a sort of unofficial club house and it was there, over a pint, that I suggested we should get organised and form some sort of club to cater for unusual mix, the only qualification being that you got your enjoyment from any form of boating – sail, power, angling, scuba diving, etc. There was an immediate positive response and many names spring to mind – in particular Bill & Phyllis McGann, Cecil Buggy, John King, Roy Starkey, Bob Geldof, Brian Welsh, Liam King, Jim Keogh, Victor Enoch, Neil MacDougald, Brian Crummy, Brian Doran, etc., etc. Many, many more, but I've got to stop somewhere.
We started off by subscribing £1.00 each to a general fund and we began to have regular meetings in the Crofton Hotel.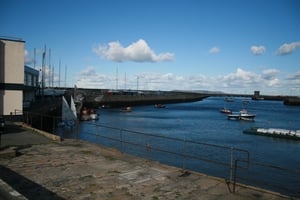 The Harbour Master at that time was Commander Thompson, who gave me tremendous encouragement and support. It was he who suggested the site where eventually the Club House was built. This was very farsighted, because in the 1960s that part of the harbour was very neglected and not the most attractive area. Remember there was no slipway (to be build some years later by the Club) and the inner harbour dried out at very low tide (still does!). We would have preferred a site close to the "hard", where at the time the Kish lighthouse was being built by Christiani Neilsen, but this was turned down. Of course with hindsight I now realise that it would have been most unsatisfactory.
Then the work really began – planning permission and a lease from the Board of Works. This entailed lots of meetings with various officials, submission of plans and more plans, articles of association, rules and regulations, etc. It really was horrendous, but we kept at it and in the end succeeded. Great! Now all we needed was money to build! Our total funds had now grown to almost £100! However, we had big ideas and we were a group of people who knew what we wanted and were prepared to work hard for our objective.
To raise funds we decided to run a Water Carnival, consisting of offshore power boat racing, sub aqua display and all sorts of boating activities. The most important element, however, was an air/sea rescue exercise by the Helicopter Wing of the Air Corps. This was the first time that the public were able to witness an air/sea rescue group in action. (As a gesture of thanks the Helicopter Wing were made Honorary Members of the Club and still are to this day). A program with lots of advertising and sponsorship was printed and eventually press conferences (on board John King's Galway Hooker "Connacht"), all resulting – we hoped – in general public interest. When I think back I don't know where we got our energy and time from – but it worked! The Water Carnival was successful beyond our wildest expectations. The Gardai told us later that they estimated in excess of 25,000 people entered the borough that Sunday in June. Despite the usual behind the scene catastrophes everything went as planned. The weather was fabulous, our programmes sold out and we raised in excess of £2,000. The following year we ran another Carnival – again a great success. A grant was obtained from Bord Failte and a loan from the Bank of Ireland. We were now able to seek tenders for the Club House.
A building committee was formed. We were fortunate to have among our growing numbers experts from every field. These experts took over the project. Brian Doran designed the building and supervised its construction as his "donation". Cecil Buggy designed and installed the central heating and plumbing as his "gift". Somebody else did the electrical work, some else the curtains and so on. In fact the entire operation was a glowing example of what can be achieved when a group of people with various talents get together and co-operate. I still get a warm feeling when I think back and recall my good luck in being the one to preside over such wonderful people. As I pen these words I reflect back to those exciting and memorable years. I see faces of smiling good natured folk – all friends – and may who are now, sadly, no longer with us. Of course it wasn't all easy and smooth.
We had many problems along the way, but we overcame them and will continue to do so as long as we co-operate and see another's view point.
The official opening of the Club House was a wonderful night to remember. The culmination of all our efforts. The huge crowd present seemed to be infected with our joy. It is impossible for me to put into words the sheer happiness of the occasion. I suppose it was like a dream that had come true. What had started out as a good idea with not much chance of success was now a fact. The Dun Laoghaire Motor Yacht Club was ready to take its place alongside the other three waterfront clubs. However, we hadn't let our success go to our heads. The co-operative spirit was still there and the entire catering operation was expertly handled by our ladies, let by Moira Kieran and Edith Merton.
Dr. John de Courcy Ireland was Hon. Secretary of the Life Boat. He saw the need for a new club and was one of the many people who gave us great encouragement.
The Kish lighthouse was now in place and functioning and during a conversation with John I suggested that a Christmas hamper be sent to the Kish as a sign of our appreciation of their services to us. With John's co-operation the Life Boat was involved and the annual Kish Hamper and Children's Christmas Party at the Club was inaugurated. For many years I played "Santa" and I have many happy memories of my trips in all kinds of weather out to the Kish and then later arriving in the midst of great excitement to deliver presents to the children at the Club. It is with extreme regret that I note that last Christmas was the first time that the late Eric Offer was not at the helm of the Life Boat.
Inevitably it became obvious that we had to have a slipway. Again, Cecil Buggy, with the help of Jim Hegarty together with a very small committee saw this through to a successful conclusion. The design and construction was unique for that time, The "core" consisted of reinforced hollow concrete "boxes", each lowered into position by crane and then filled with stone ballast. Many pundits, not only within our Club, but from all over the harbour area, gave their opinion that it wouldn't last. 'Could never stand up to a severe north-easterly' etc., etc. Well, it has stood the test of time and is a monument to not only Cecil and Jim, but also the builder, Leo Uhlmann (also a Club member).
The emblem of the D.M.Y.C. is a sail above and a propeller below the water (Neil MacDougald's design). It's good to see that the objects and needs which led to the creation of our Club are still being catered for.Since I retired from 'active duty' the Club has gone from strength to strength – the extension so badly needed because we grew so much, the finest boat service in the harbour and so much more . I must say I am very proud of the D.M.Y.C. , what it stand for and what it has achieved in such a short period. It makes me happy and contented to see the present 'helsmen' continue to steer the D.M.Y.C. on the correct course. If I am to be accused of being guilty of the sin of pride then I have no option other than to plead "guilty".

Joseph H. Briscoe,
Founder Commodore- 1990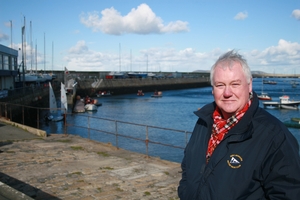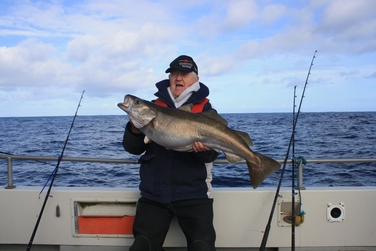 The generally nice mild weather has really boosted plenty of fishing activity for Irish anglers over the last few weeks because this time last year we had snow and I had so little angling catches to report. Read about some of the wonderful fishing reported in our weekly angling update on the website at www.fishinginireland.info Two of the most notable stories were the capture of a carp over 40 lb. at Maynooth and a pollack over 18 lb. in west cork. Andy Doyle caught the first carp over 40 lb. ever recorded in Ireland at the Maynooth carp fishery and beats the existing Irish record by over 10 lb! Willie Worth from the Burrough SAC in Dublin was fishing over a wreck off Castletownsend in west cork fishing with his colleagues with charter skipper Colin Barnes when he hooked and landed a huge pollack of 18 lb. 2 oz. which is the biggest reported in eight years. The fish was caught in the early morning and the fish was not weighed until they came ashore at 7.00 pm. It was estimated that the fish lost a lot of weight and might have threatened the present Irish record of 19 lb. 3 oz which has stood since 1904 at Ballycotton. There has been enough rain to help salmon anglers catch some nice spring fish on Lough Currane and on the River Drowes in Donegal in particular. The trout season with this mild weather has kicked off well with good catches reported on fly on Corrib and Mask in particular. Some huge ferox trout up to 17 lb. were also reported from lough Corrib and it is nice to report that these huge fish along with many smaller trout taken on fly have generally being returned to the water by anglers. Such conservation is so good for our loughs and rivers particularly at this time of year when trout are recovering their condition after the spawning period during the winter. Pike fishing has been terrific all over the country with plenty of fish over 20 lb. reported from most good rivers and lakes. The only coarse fish activity reported has been some good catches of roach recorded in competitions at cross border venues. The presentation of specimen awards took place at the red cow hotel in Dublin last Saturday and it was a great occasion with the Minister, Fergus O'Dowd attending for the first time. Finally, please don't forget to wear a lifejacket always when going afloat. Please help protect Ireland's Inland Fisheries and call 1890 34 73 24 to report illegal fishing, water pollution or invasive species.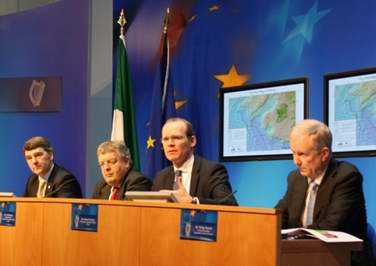 Have Your Say on How to Harness Our Ocean Wealth - Deadline for Submissions 31st March
The deadline for contributions to the public consultation on how to harness our ocean wealth is looming. There are just three weeks left until the 31st March when the consultation process will close and the Government wants to hear your views on what we can do to tap into a Trillion euro global market for marine products and services.
The consultation is a key step in the development of an Integrated Marine Plan for Ireland which will be launched mid-summer 2012.
Get informed and join the debate at
www.ouroceanwealth.ie
You can contribute by joining the conversation on the online discussion forum, completing a short questionnaire, or by email or post.
MARITIME INSTITUTE OF IRELAND
2012 lecture series
THE EAST INDIA COMPANY IN KINSALE WITH



PADDY O'SULLIVAN
Paddy O'Sullivan is an Engineer, diver, Author, and Lecturer, who has uncovered a vast amount of
information about the activities of the East India Company in Munster, regarding ship-building,
Trading, Iron smelting, and cannon casting.

STELLA MARIS SEAFARERS CLUB, BERESFORD PLACE, DUBLIN1 BEHIND THE CUSTOMS HOUSE
THURSDAY MARCH 15TH.
8.00PM.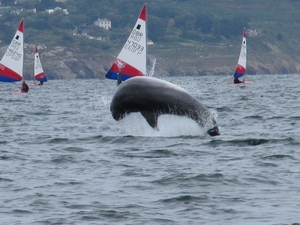 The RV Celtic Explorer seeks out whales, dolphins, sharks and birdlife in the Atlantic
A team of twenty scientists and students from Ireland, Northern Ireland and Scotland are currently onboard the Marine Institute's RV Celtic Explorer carrying out a multidisciplinary study of cetaceans, megafauna and birdlife around the areas of the Goban Spur and Porcupine sea bight in the Atlantic Ocean.
The survey team, led by Dr. Joanne O'Brien from the Marine Biodiversity Research Group of Galway-Mayo Institute of Technology (GMIT) will be at sea for just under two weeks "This is a unique opportunity to explore offshore waters across a range of disciplines, and gather data from many previously un-surveyed areas of Ireland's marine territory. It also provides an excellent training ground for marine undergraduate and post graduate students out at sea," explained Dr. O'Brien.
Also participating in this survey are members from Irish Whale and Dolphin Group, University College Cork, Queens University, Belfast; University of Aberdeen, National University of Ireland Galway, Birdwatch Ireland, Sligo Institute of Technology and MEER Consultancy.
The Cetacean team are researching key habitats and activity of baleen whales and offshore bottlenose dolphins. "Visual and acoustic surveys are being carried out, in which the team have successfully taken a skin sample from an offshore group of bottlenose dolphins for DNA analysis as well as adding a number of individually recognisable animals to the photo-id catalogue" said Conor Ryan from GMIT.
The images will be compared with existing photo-identification catalogues held both nationally and internationally. This helps scientists to understand the extensive migration patterns of the whales and dolphins in the Northeast Atlantic and their seasonal visits to the Irish and UK coastlines. "During this research cruise, we have proven that the collection of darted tissue samples of cetaceans, for genetic and chemical pollutant analyses is feasible in offshore waters," said Mr Ryan.
Marine scientists will carry out a systematic analysis of CTD (Conductivity, Temperature and Depth) sampling at set locations in order to explore relationships between the temperature of the water, primary productivity and top predator presence of marine mammals along the continental shelf habitat.
The megafauna team will also be conducting a visual survey of basking sharks. They will attempt to deploy tags to monitor their movements. Where possible, mucus scrapings will be collected to determine the genomics and DNA of each of the species.
The seabird team aims to characterise the seabird species and populations at the most southern part of Ireland's marine territory. The information gathered will contribute towards the Irish national biological database and can be used to inform management towards the conservation of offshore bird species. So far the team have found largest concentrations of birds towards the top of the shelf edge where they benefit from increased food availability from upwellings. The highlight of the survey thus far was a sighting of a black-browed albatross, normally found in the Southern Ocean.
Samples of the Mauve Stinger jellyfish Pelagia noctiluca are also being gathered to investigate the prevalence of the bacterium Tenacibaculum maritimum which has serious economic implications for fin-fish aquaculture, while also providing further insight into the biological factors influencing ecosystem functioning.
Finally, the Plankton team are taking samples of phytoplankton, zooplankton and krill from depths of 3000m. This information is important to develop an understanding of what forms the basis of the food chain which supports cetaceans, seabirds and other marine megafauna in these habitats.
The Cetaceans on the Frontier III survey is supported under the Marine Institutes' competitive ship-time scheme, funded through the Marine Research Sub-programme of the National Development Plan 2007–2013, as part of the Sea Change strategy.
Follow the Cetaceans on the Frontier III blog here, where the survey team are givingdaily updates and showing photos of their expedition www.cetaceansonthefrontier3.blogspot.com

This Monday night in the John Field Room of the National Concert Hall on Earlsfort Terrace – Rory Golden the first Irish man to dive aboard the Russian sub mersible Mir in 2000 gives an illustrated talk , titled "Return to Titanic"
is the Story of the Search, Discovery and Dive to the world's most famous shipwreck and takes place in The John Field Room, National Concert Hall on this Monday night and on Wednesday 28th March- Tickets are on sale now from www.nch.ie or call (01) 417 0000, that's (01) 417 0000…….


The Dublin Dock Workers Preservation Society has come up with a novel idea. In conjunction with Dublin Port Company we have picked what we believe are two iconic photographs of Dublin Docks. Both photographs contain young children and starting from scratch we are going to try to find them and re-create both photographs. One has current significance as it shows the Liffey Ferry, which has recently been restored to its former glory.

The Dublin Dock Workers Preservation Society was set up less than a year ago. The group is made up of ex-dock workers and people interested in preserving the history of Dublin Port. We started by collecting old photographs and are delighted to report that our collection has broken through the 1,000 mark. Thanks to support from the Dublin Port Company we are able to hold a photographic exhibition in the Port Centre (covering the period 1940 to 1990) on the 23rd March. We have plans in the next six-months to put on this exhibition in East Wall, North Strand, Ringsend and Pearse Street. A special thanks must go to Dublin Port for sponsoring this event, to Alan Martin for setting up our Face Book page-'Dublin Dockers' and a web page, where most of our photographs can be found -
www. bluemelon/alanmartin. We would also like to thank St. Patrick's Rowing Club Ringsend and Kilbarrack Coast Community Programme for their help and for allowing us to use their premises for our meetings.

The following people have donated Photographs, plus a Commemoration Issue (Dedicated to Senator Jimmy Dunne) of Quorum (the Journal of the Marine Port and General Workers Union) - March 1972, a copy of Reminiscences North of the Liffey , which featured an article called 'Dockers' (North Inner City Folklore Project) - 1992, a selection of cargo hooks and a docker's button. Without these donations these exhibitions would not be possible and we would like to thank everyone who donated material (anyone wishing to donate photographs or other publications should contact Alan Martin 087-2095974 or Declan Byrne 086-8138618).