We would like your help in building up a picture of the location and numbers of cuckoos visiting Ireland this summer.
The Cuckoo is one of Ireland's most iconic migratory bird species, famous both for the classic "Cuck-oo" song of the male and for the female's obligate brood parasitism, meaning that she always lays her eggs in the nests of other birds. The species has declined significantly across much of Ireland, however, and finds itself in trouble, which is why we are mobilising the Mooney Goes Wild citizen science army to "shout out for the Cuckoo".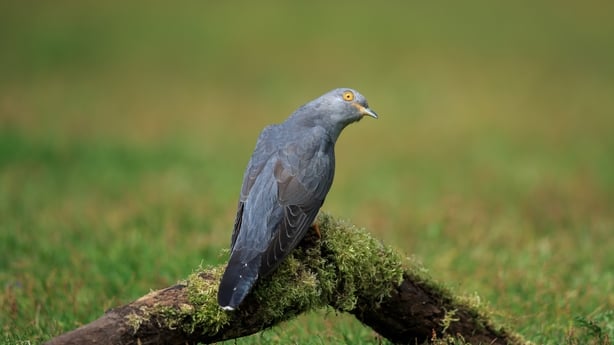 A common Cuckoo - Photo Getty
We want you to let us know where and when you hear your first Cuckoo of the year. We will share your records with the coordinators of BirdWatch Ireland's Spring Alive project, and the data will help them to conserve the Irish breeding populations of these vulnerable birds.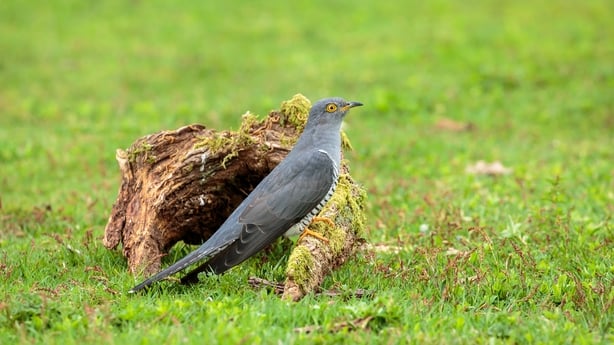 A common Cuckoo - Photo Getty
So, when you are out and about in over the next few weeks, keep an ear out for the Cuckoo. If you are lucky enough to hear one, please "shout out" by emailing details of where and when you heard it to mooney@rte.ie
CUCKOO LOCATIONS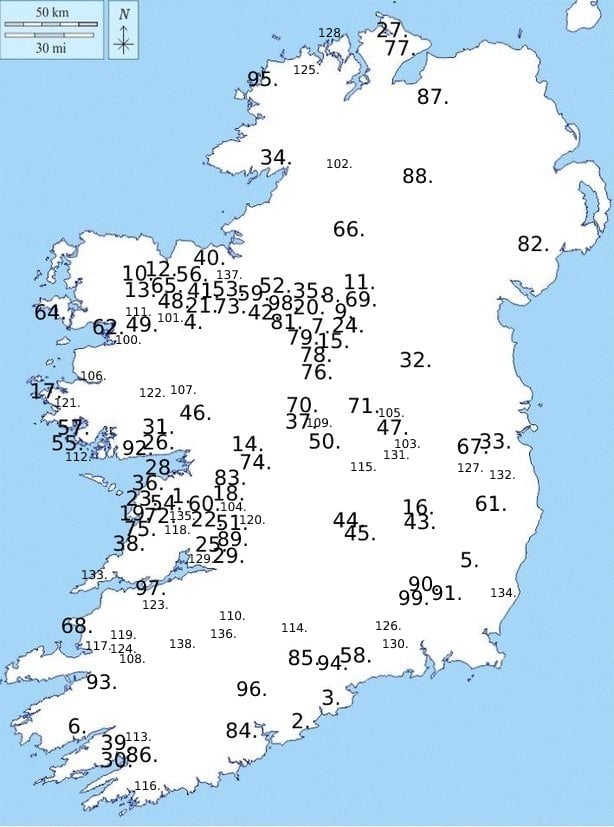 138.
I heard the cuckoo while out walking at a turf bog at Danes Mountain, near Taur, Newmarket, Co. Cork, last Sunday evening the 16th May 2021 at 4.50 pm to 5.10 pm and what a lovely sound to hear.
Regards,
Joan Ann Brosnan
137.

Hi,
Cuckoo heard at Kesh caves, and also at Battlebridge, outside Leitrim and seen in flight!
Philip Dunne
136.
Hi Derek,
I heard cuckoo on Wed. 12th May at 6.10am.
Location: Coolfree, Ballyorgan, Kilfinane, Co. Limerick.
Kind regards,
Catherine Hosford
135.
Derek a chara
Keep meaning to email since we heard our first cuckoo in our garden in Kilnaboy, Co Clare on the 20th April. Non stop ever since !
Eimer Ni Riain
134.
Hello,
My husband Will and I heard the cuckoo call in the Marshes near Morriscastle strand, Kilmuckridge, Co. Wexford. It was approximately 1pm on 16/5/21.
Regards,
Anne Farrell
133.
Hi there, just to say that I heard a cuckoo calling on a quiet country road in Doonaha on the Shannon estuary at 9.45 last night. Doonaha is about 3 miles west of Kilkee. I recorded it but unfortunately couldn't see it. Really enjoy the programme, well done to all the team.
Kind regards,
Siobhan Ferguson
132.
Hi Derek
We heard the cuckoo in the forest at the top of Powerscourt Waterfall as we returned from Djouce mountain walk. He sang for half hour that we were there this afternoon. Amazing to hear.
Thanks for all your good work.
Deirdre
131.
Hello Derek,
I heard the cookoo today between Little Island/Clonadd, Daingean, Co. Offaly at 17.30.
Regards,
Eileen Moreton
130.

Hi Mooney Goes Wild,
Earlier today, Friday 7th of May, I was waiting outside of my school, Gaelcholaiste Phort Láirge, and I heard the cuckoo's call.
My school is situated next to a bog and many animals live there. Such as newts, curlews and of course the cuckoo. I'm going to attach a sound file here but unfortunately it's hard to hear the cuckoo's call until the end. Regardless here it is.
Thank you for your time, Ruán
129.
Hi Derek
I heard the cuckoo today for the first time this year in Cratloe Woods. Location - about a half mile NE of the Gallows Hill Road, Cratloe entrance on a semi cleared hilltop section with some birch trees and a lot of gorse. I have heard it here for the last 3 years and was getting a little worried that it wasn't appearing this year. However on a lovely sunny walk today the call came loud and clear!
Regards
Juliet McMahon
128.
Hi Derek
We heard a cuckoo at 5.30am on Saturday 24th April in Drumfad Lower, near Portsalon, Co Donegal - a guaranteed wake-up call !
Ann OConnor
127.
Hi Derek,
I've recently moved to west Wicklow just outside of Hollywood. It's a beautiful spot with plenty of sika deer to be seen on the daily commute which makes a change from the blue and yellow Dublin buses. But the first thing I noticed while standing out the front of the house was a cuckoo calling. I've heard him nearly every day in the evening when I get back from work. Usually he is calling from across the valley but yesterday he was in the forest right behind us. I'll keep you posted if I manage to get a glimpse of him.
Regards,
Eoin
Granabeg, Co. Wicklow.
126.
I heard a cuckoo yesterday evening it called out just 2 or 3 times. Last year I only heard the cuckoo once. In the past I used to hear it more often in May. I keep horses so I am out all the time early in the morning and evenings. Loss of habitat due to intensive dairy farming with loss of hedgerow and wild areas is having a big impact in this area.
Date: 5 May
Time: approx 9:15pm.
Location: Kilmogue, Piltown, Co. Kilkenny.
Kind regards,
Jacqueline Wills
125.
Derek,
The Cuckoo was calling around the Creeslough/Lackagh (Co Donegal) area on the 1st May, hope she survived the sub zero temperatures we had this past few nights, she must think she has landed in Iceland!
Kate McNamara
124.
Derek and gang,
We heard the Cuckoo call while on a walk around An Riocht, Castleisland, Co Kerry, last Saturday 1st May.
Regards,
Donnellan Family
123.
Hi Derek & Team,
I just heard the cuckoo for the first time this year. The neighbouring field of cattle amusingly stood to attention, interrupting their grazing, head up, ear cocked as they seemed to confirm it also being their first hearing.
It is interesting and strange that my uncle always hears him in April (Brosna, Co. Kerry) and I never hear him until May (Abbeyfeale, Co. Limerick). It's the annual question that comes out every April - did you hear the cuckoo yet?
Heard in the direction of the local national school - I hope the children hear him, or better still, see him/her today.
Location: Dromtrasna Collins, Abbeyfeale, Co. Limerick.
Regards,
Catherine
122.
Hello
Just to let you know that cuckoos where first heard in the townland of Bunnafollistran Shrule Co Mayo on 23rd April 2021. It was also noted the alert behaviour of thrushes, blackbirds and pigeons in the vicinity from that date onwards. As part of our local wildlife survey taking place throughout 2021, we appear to have several cuckoos around our catchment. Our catchment has a wide diversity of habitat woodland, wetland, turloughs, open pasture and arable.
As part of the International Dawn chorus, at one point up to five cuckoos were noted to be calling from different locations. Unfortunately at the point of recording we captured just two calling simultaneously. The cuckoos are proving elusive in photographing, but we are ever hopeful 😆📷
Best wishes,
Kate Kelly
Survey co-ordinator
Shrule Glencorrib Kilroe Wildlife survey
Instagram #sgkwildlifesurvey2021
121.
Heard a cuckoo on the northern side of Mannin Bay (just southwest of Clifden) on Sunday 2nd May.
Sadhbh Baxter
120.
Hi Derek,
I heard the cuckoo for the first time appox 2 weeks ago and have heard it every day since then. We live in Whitegate, Co Clare close to Lough Derg and the townland is 'Ballinagough' which is derived from 'Baile na Cuach', with Cuach being the Irish for Cuckoo. We hear the cuckoo every year at this time without exception, and it seems from the name of the townland that the cuckoo has been coming here for a very long time! I hope this information helps.
Sandra Heffernan
119.
Hi Derek & team,
I'm writing on behalf of my uncle, Jimmie O Connor Brosna, Co. Kerry, he heard the cuckoo on Thursday, 29th April at 4:00 a.m.
Regards,
Catherine
118.
Derek,
Yesterday, Sunday May 3rd, I heard the cuckoo for the 1st time in Kilmaley, Ennis, Co Clare.. An absolutely momentous occasion.
Regards
Joan
117.
Hello
I heard the cuckoo on Friday morning at 9.00 just outside Tralee, Kerry.
Edward Clarke
116.
Just letting you know that I heard the cuckoo on April 25th, 2021 @ 7.44 a.m. in Munig, near Loughine, Co. Cork.
Regards,
Carol Sheehy
115.
DerekI'm reporting clearly hearing a cuckoo making the familiar sound on a clear night behind our house at Mt Bolus, Tullamore, Co. Offaly.
Kind regards,
Damian White
114.
Hello to the Mooney goes wild team,
I heard the Cuckoo call while on a walk in Glengarra Forest on the southern slopes of the Galtee Mountains in Co Tipperary today Sunday May 2nd 2021.
P Brady
113.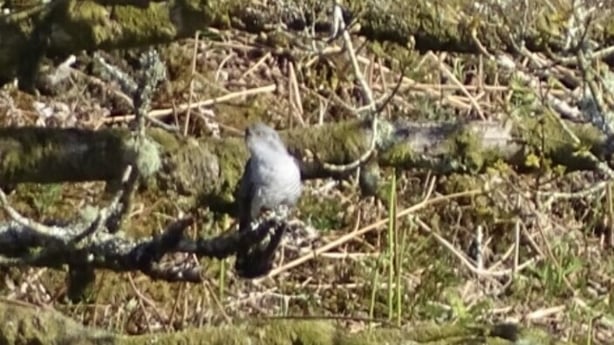 Hi Derek and team,
I heard and saw a cuckoo near Gougane Barra, Co. Cork on the 02 May.
I really enjoy the show and loved the cuckoo documentary that you did before. Great work!
Regards,
Liam Fleming
112.
Cuckoo heard at 10:57 Sunday 2nd May in Gorumna, Lettermore, Connemara.
Kind regards,
Patricia McMorrough
111.

Sue ODonnell
Castlebar
Co Mayo
110.
Hi There,
My Dad heard the cuckoo just after 11am today 02/05/21, first time in a few years. He lives in Martinstowns, Kilmallock Co. Limerick. When I lived here we used to hear her every year, glad she's back.
All the best
Karen Hayes
109.
The cuckoo can be heard at 4:30am and during the day and evening at Annagh, Ballykeeran, Athlone, Co Westmeath
Mary Quigley Rushe
108.
Heard the cuckoo this morning in Currow near Farranfore Co.Kerry.
Helen O'Shea
106. 107.
Hi Derek,
I know you gathering info regarding the cuckoo. On Sunday 25th April my husband and I visited Ashleagh Falls near Leenane. We walked along the bank of the river Errill and heard the cuckoo for the first time this year. On Wed the 28th I went for my usual walk near my home in Belclare Tuam and heard the cuckoo on the bog road between Sylane and Belclare. What a treat it was to welcome the cuckoo back to our community.
Go mbeimid beo ar an am seo aris.
Best wishes Norrie O'Grady
105.
Hi
It was a super delight for me to hear the cuckoo in The Downs, Co Westmeath on Sunday April 25th last in the afternoon.
He sang his call four times and then went silent.
I was outdoors late afternoon. It looked like his call came from a wood of twenty years standing belonging to a neighbour.
I left the area that evening.
Best wishes
Lucy Kelly
104.
Hi Derek,
Cuckoo heard at 11.00 Sunday the 2nd of May @ Douras, Woodford, Co. Galway
Regards
Fergus Dermody
103.
Hello,
I heard our first Cuckoo call at 7.30 am on 2/5/21. The location is Mountlucas, Co Offaly beside the wind turbine farm.
Regards,
Anne Farrell
102.
Good morning,
We heard the cuckoo calling on the 25 April in Scraghey, Castlederg, on the Donegal /Tyrone border. The cuckoo returns to this spot every year and I know Summer has arrived when the cuckoo calls.
Best Wishes
Brenda
101.
Hi
My first cuckoos arrived on April 24th in Kilmore,Kilkelly. I have an abundance of them this year. I watch them every morning with meadow pipits flying around them. A joy to behold.Mary Malin
100.
Hi Derek,
We heard a cuckoo at 20.15 on Saturday 1 May 2021 in Balloor, which is just outside Castlebar, Co Mayo.
Niamh and Sarah Walsh
99.

Hi Derek
Cuckoo on Brandon Hill in Kilkenny this morning around 11am
Dylan Vaughan
98.
Heard the cuckoos May 1st 4:15. Ballinamore, Co Leitrim
Patricia Keenan
97.
Hi Everyone
We just heard our first cuckoo of the year in Clounties, Shanagolden, West Limerick on May 1st at 3 pm:-)
Best wishes and thank you for all the good work.
Claire & Mike
96.

Hi Derek,
Early morning walk in the hills around Kilworth, north Cork on May 1st and our visitor, the cuckoo has returned. You can't see him but if you listen carefully...
Alan Wiley
95.
Good morning Derek, I am delighted to report that I heard the distinctive call of the cuckoo on Monday morning 26th April 2021 at 10:00 am and again on 30th April at 11:00 am. Meenaleck, Crolly, County Donegal. I was startled by the clear sound as I hadn't heard the sound of the cuckoo since the late 70's in north county Dublin.
Regards
Ciaran
94.
Hi
I heard the cuckoo this morning (Friday April 30th) at Ballinamult county Waterford.
Kind regards,
M Dunford
93.
I heard the cuckoo this morning at 10.15 Kilgobnet, Beaufort,Kerry
Mary O Shea
92.
Hi Derek and Crew,I heard my first cuckoo of 2021, last Saturday 24/April in Spiddal, Co.Galway just as we were going in for a quick swim....magic!
Thanks ,
Justina McElligott
91.
I heard the cuckoo on the 13th April while out walking in the Backstairs mountains and I saw a kestrel the same day.
I always listen to Mooney goes wild.
Keep up the good work.
Anne Murphy
90.
Hi,
Heard a cuckoo on 20th of April in Watree, Gowran, Co.Kilkenny.
Regards.
L. Gobbons. Gowran
89.
Hi Derek,
Our Cuckoo arrived back last week?20th at Erinagh, Clonlara, Co.Clare.
He comes every year, but this year he is in much better calling form and can be hear mostly in the early morning and evening time.
Our Cuckoo this year is a lot better caller than last year.
He lifts all our hearts and is a topic of conversation among the neighbours.
Rosemary Hannan
88.
Hello
Please find my recording of our first Cuckoo this year. Just a short distance from where we live, Cappagh mountain, between Dungannon and Omagh Co Tyrone, the sound of the Cuckoo takes me back to my childhood, it's priceless, I love to hear it every year, reminds me of how good life is ! 😂
Thanks,
Marie Loughran
87.
Mullaghneany between Draperstown and Dungiven in Co Derry last Wednesday we heard the cuckoo...
Póilín Quinn
86.
Hi Derek,
Cuckoo heard at Trawlibane, Bantry, Co. Cork at approx 8.25 this morning, Didn't see him though as I estimate he was probably about 500m or more away from me.
There was a cuckoo at this location last year as well. I saw him once as he flew over my head and gave a loud CUCKOO as he flew past.
Google calls this Derryginagh West but it's Trawlibane (pronounced trá lí bán) locally.
Regards,
Caroline
85.
Hi Derek,
My sister heard the cuckoo early Sunday morning 25th April, in Ballynadock, Araglen on the Cork/ Waterford border. She doesn't listen to your program (she's missing out!) so I asked her to let me know when she heard him. I live in west Cork & he doesn't seem to be around. Love your program on Monday nights. 🦉.
Thanks,
Alice Ahearn
84.
Hi Derek
My husband heard cuckoo this morning at about 8.30 am. He/she comes to the wood beside us every year and usually comes about this time each year. Back in 2018 .. the really dry year... we heard the cuckoo constantly and every day for about three weeks (not mixing it up with wood pigeon!).
We also have a woodpecker in the wood beside us. The wood is Garryduff Wood, Piltown.
Kind regards
Margaret Cuddihy
83.
Hi Derek,
I heard my first cuckoo at 6.30am on Monday 26/04/21, I was at home in Bunnaglass, Derrywee West, Co Galway. Today I saw the first swifts - swallows with shorter tails, they come every year and nest in the eaves. I remember reading Eoghinin na nEan. I have asked my second years to email you when they hear the cuckoo. Have always enjoyed your programme.
Regards,
Mary Brady
82.
Hi Derek,
Today we heard our first cockoo of the year in Castlewellen Forest Park, County Down.
Thanks,
Sharon
81.
Dear Derek,
Heard the cuckoo for first time today 27th April at Manorhamilton, Co.Leitrim. Also swallows spotted this morning. They come every year to our garage! Absolutely love them all.
Yours faithfully,
Nuala Feely
80.
Hi Derek, I heard cuckoos several times outside Bantry last Sunday afternoon, 25th April, firstly near the Borlin Valley and later west of Coomhola.
Regards,
Jim Walsh
78. 79.
Hi Derek,
Absolutely delighted to hear the first cuckoos of the summer over the past few weeks.
- Corn Hill, Co Longford - 17 April
- Lough Errew, Co Leitrim - 26 April
And the first swallow of summer today, what a joy!
All the best,
Alex Brock
77.
Hi Derek,
Just to let you know that we heard a Cuckoo on the 26th April 2021 – in the morning – in nearby woods - just outside Moville, Co Donegal ( Inishowen)
Thanks,
Bobby & Tara Brennan
76.
24th april. Cuckoo's have landed in Kilteevan Bog, just outside Roscommon town.
Mark McManus
75.
Cuckoo heard today in Drumelihy, Cree, Co Clare. First time this year.
Michael O'Callaghan
74.
Hi,
I heard the Cuckoo on Thursday 22nd April at 7.50am at Meelick, Eyrecourt, Co Galway.
Regards
Deirdre Burke
73.
Hi,
Heard the first cuckoo of the year here in Ballaghaderreen, Co Roscommon, on Saturday (24th April) around 9am. Fairly close to the town centre, probably in the trees near the soccer pitches to the SW of the village. Heard another couple of 'cuckoo's mid-afternoon a bit further west of the town.
Thanks,
Brian Hickey
72.
Hello,
I'm sitting in my back garden listening to the cuckoo and the evening birdsong. This is the third evening in a row I've heard the lovely cuckoo.
Kind regards,
Melanie Cullinan
Lisdoonvarna, Co. Clare
71.
Hi Derek, Just to let you know, while out walking yesterday morning, 25th April, I heard the cuckoo loud and clear at Lilliput bog, Co Westmeath.
Anne Clarke
70.
Dear Derek
Heard the cuckoo here in Derryveigh, Kenagh, Co. Longford on the 23rd of April 2021. I think this is the Cuckoo that visit's us every year.
Regards

Pete Murtagh
69.
Dear Derek,
We live near Farnham Woods, 3 miles west of Cavan town,& are delighted to hear the cuckoo calling, yesterday & today. We continue to hear the woodpeckers when we walk in the wood too.Until last year,there had been several years with no sound of a cuckoo. My brother in Leitrim heard the cuckoo on Saturday;apparently it has usually been heard there about a week earlier.
Great to hear them,& great to hear your programme too,always so enjoyable & informative.
Thank you! Best wishes,
Vera & Peter Pollock
68.
Hello Derek,
The first cuckoo of the year was heard this morning at North Commons, Ardfert, Kerry. What a wonderful sound.
Anne Lawlor
67.
26/04/2021, 11.00 onwards, sunny, Aughavannagh, Co. Wicklow.
FR Jordan
66.
Good Morning. I would just like to let you know that I heard the cuckoo for the first time this morning just after nine o'clock. I live in rural Fermanagh not far from Carnmore as the crow flies. We have visiting birds in this area every year but they are much less common now than five years ago; significantly less so than in previous decades. This is consistent with national trends, unfortunately.
Best Wishes to all the team in your good environmental work.
Mary McGinnity
65.
Hi everyone,
I heard a cuckoo at 21:40 last night 25/04 at Lough Talt, Co. Sligo.
Best wishes, Anthony Brennan
64.
Just to let you know today 26th April, I awoke to the sound of the first Cuckoo to arrive on Achill Island.
Regards
Robert Hagan
63.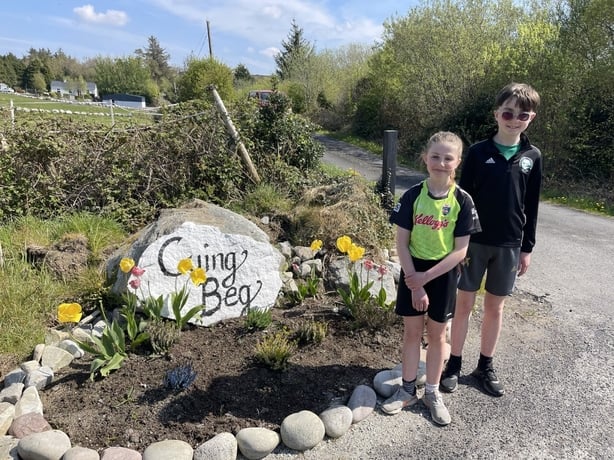 Hello Derek and team,
We heard the cuckoo calling on Sunday the 25th April at 11:15 whilst out for a walk at Cuing Beg, Knockmore.
The Hannick Family
62.
Hi Derek,
delighted to tell you I heard our local cuckoo calling yesterday, (Sunday 25th April 2021)for the first time this year. I live in Kilmeena, Westport, Co Mayo. I love to hear the call when out running.
Catherine McGlinchey
61.
Good morning,
I have been keeping tabs on our friend the Cuckoo since 2008, two years after coming to live at my current address.
2021 - 23rd April
This is in West Wicklow, near the Carlow border.
Kind regards,
Doris Kelly
Knockanooker,
Co.Wicklow
60.
I heard a Cuckoo this morning at around 5.30am. Location is Mountshannon, Co. Clare.
Regards
Fergus Dermody
59.
I heard the cuckoo on the 13th April near my home outside Boyle. A beautiful uplifting sound to hear...
Especially in these difficult times.
Regina McLoughlin
58.
I met a Cuckoo in Kilclooney Woods in the Comeragh Mountains this morning 25/4/21 around 9 am.
Joe Hahessy
57.
Cuckoo heard in Mace, Carna, Co.Galway today 25th April 2021
Geraldine Fleming
56.
Hi Team,
Cuckoo calling 6.00am Sunday 25 April, Coolaney, Co Sligo.
W Robertson
55.
Cuckoo heard at Mweenish Island, Carna, Connemara - Saturday 24th April 2021 @ 12.20pm
Kind regards,
Frances Grogan
54.
Derek, I heard my first cuckoo last Wednesday, the 21st in the Burren, at Cahercommaun, and again today ay Slieve Carran. Go mbheirimid beo!
Fabulous day today but there is a huge increase in visitors to the Burren.
It's going to be an interesting "outdoor" year.
Mary Comber
Lahinch
53.
Hi Derek
Finally heard the cuckoo at Cloonshanville Graveyard French Park today April 24th
Regards
John Corcoran
52.
Hello,
Heard the cuckoo about an hour ago here at Drimna, Cloone Co. Leitrim.
I have heard other people saying they heard her last week.
Kind regards
Margaret McKiernan
51.
Cuckoo heard in Mountshannon, Co Clare today.
Can just about hear it with all other bird chatter.
Louis Peacock
50.
Hi Derek
So after hearing the Cuckoo yesterday evening this evening I went walking again at Lemanaghan Bog, Ballycumber, Co Offaly and was privileged to get an up close experience. Please see attached video taken this evening 24th April 2021 at 7:40pm 🐦hope you enjoy as much as I did 😁
Kindest regards,
Denise Casey
49.
Hi Derek,
Our cuckoo returned this morning at 11.50am, 24th April in Moneen, Castlebar. He kept us entertained last summer doing a very distinctive triangle area patrol. We are looking forward to him starting patrol again.
Yvonne Daly
48.
We heard the cuckoo on 22nd April 2021.
Mary Hennessy
Charlestown
Co Mayo
47.
Hi Derek and all at Mooney Goes Wild,
Heard my first cuckoo call this morning at 11am from my house on the Westmeath-Meath border. Townland of Riverdale, Co Westmeath
The habitat here is rural - flat bog, cutaway bog, low pasture land, planted woodland, the River Deel and its small tributaries.
All the best,
Martin Fagan
46.
Hi Derek
Just want to let you know Cuckoo was heard on Wednesday 21st April at 7.30am. Again all day on Thursday 22nd April and this morning at 9 am and is continuing to sing in full voice.
Location is Abbert, Abbeyknockmoy, Tuam, Co Galway. There is a river, bog and woodland on the farm but there is no livestock on farm at present.
Hope info of assistance,
Kind regards
Paula Glynn
44. 45.
Hi Derek,
I heard two Cuckoos this morning, I'm in the Templetuohy area of Tipperary close to the Kilkenny and Laois borders. The fist one was heard towards the Kilkenny direction at 7 o'clock and the second one on the Laois border shortly after, maybe they were communicating with each other. Beautiful sound and I listen out for them every year.
Donal Bowe
43.
Hi there
It only took 48 and a bit years for me to hear my first cuckoo, and it was absolutely amazing, I have attached the recording for you. I heard it in Cloghgrennan Woods, Carlow.
Thanks
Ciara Cross
Ps. You have a great job
42.
Dear Mooney team,
I heard the Cuckoo for the first time on April 21st here in North Roscommon.
He likes to sit on the wires high up lookin over the open countryside valley between us and the kilronan mountains, so as his voice may travel.
Cora Molloy, Derryherk, Knockvicar, Co. Roscommon
41.
Hello, I just heard a cuckoo, I've a poor quality recording. It's Fri 8:45 April 22rd. East Mayo/South Sligo area.
Love the show.
Kind regards,
Brendan Finn
40.
Hi Derek,
Heard the lovely sound of the cuckoo singing this morning, Friday 23 April while out walking near Coolaney, Co Sligo. Have heard him in this general area this past 2 summers also. I recorded his singing this morning and attached the recording.
Best Regards,
Yvonne Horan
Coolaney, Sligo
39.
Hello!
Thank you for your great radio programme. I would like to mention that the cuckoo was heard in our valley first on Tuesday 20th briefly in the morning, then again briefly the next day. I haven't heard him since.
Cuckoos are usually quite frequent and numerous around here each year, but I never took note of when they first appeared.
I'm living in the Borlin valley north of Bantry, Co. Cork.
I hope this is of interest to you.
Cheers,
Linda Cohu
38.
Heard the cuckoo for the first time this year passing through Clonina, Cree, West Clare today, 23rd April. Regards
Marilyn Talty
37.
Hi Derek,
We just heard the CUCKOO in a field very close to our house in Summerhill, Athlone. We love hearing it and we heard the CUCKOO last year. We do hear it daily and it's a lovely sound. --Kind Regards,
Charlie 7, Isabelle 5, & Alex 4
36.
The cuckoo has arrived in Ballinacarra Kilfenora Co Clare.
Monica Hegarty
35.
Hi all,
Just heard the Cuckoo here this morning in Lisacoghil, Drumkeeran, Co Leitrim.
Kind regards
Teresa
34.
Heard the cuckoo outside Donegal town on Friday 16th April
Mary Crawford
33.
Hello Derek,
I am not sure that I registered my first hearing of the cuckoo this year on your website, I went onto Birdwatch Ireland's webpage and found it quite hard to navigate the page to fill out where I had heard and when. So, in case I made a complete cuckoo of myself, I am resending the info to your page.
9th April mid-morning, in Tibradden Woods Rathfarnham, myself and a friend heard clearly the cuckoo calling several times and it appeared to be within the woods on the Glencullen roadside of the woods.
Loving all your programmes and all you do for nature and birds,
Sincerely,
Gráinne McLaughlin
32.
Hello Derek,
My brother and father were out in some of our fields and they heard the call of the cuckoo coming from the direction of Lough Adeel located in North Westmeath. There has been a bird calling along this lakes shoreline now for a number of years now.
Hopefully we shall hear the call for the rest of this summer and many more to come.Best of luck in your campaign!
Best regards
Paul Walsh
31.
Hi all,
I heard our first cuckoo this morning 19th April in Moycullen, Co Galway and it was right about on time. We have had swallows nesting in our garage every year for over 15 years. They arrived every year without fail on the 14th April plus or minus a day. This year was no exception. Then the cuckoo arrives exactly a week later. So right on time.
Love the show as always
Neil Spellacy
30.
Hi Derek,
I heard the cuckoo on the afternoon of April 13th at Inchinagown, Coomhola, Bantry. He sang for about 9 seconds...I was about to grab my phone to record him but he stopped singing before I could do so. Generally, the cuckoo is first heard around 18th April in the area I heard it. It really was a joy to hear it so early and especially so when I least expected to hear it.
I love your Monday night's programme.
Mary Keohane
29.
Hi,
Just like to let you know, we were walking Gooig bog in Castleconnel, Co. Limerick this morning and we could hear the Cuckoo. Gooig bog is to the right of the M7 before the Castletroy exit as you head South.
Shower Bog, Newport, Co. Tipperary is to the left of the M7. We couldn't tell which side of the M7 the Cuckoo was on. We heard him here last year too.
Regards
Georgina Benson
28.
Greetings from Póilíní, Furbo. Co. Galway.
This year's first cuckoo heard on Saturday 17th April @11.00 am.
We bought our house here in May 2003, partly because a Cuckoo landed on a tree beside the house when we viewed it.
The Cuckoo's return here at this time of year... A sure sign summer is on the way.
Coakley Family
27.
Hello all,
Just heard the cuckoo over in Cashel, near Rossnowlagh, Co. Donegal. First time this year!
Best regards.
Margot McIntyre
Vincent Barron
26.
Hi , just letting you know I heard cuckoo this morning in Galway. There is a huge amount of rough bog type land behind my house. I could hear him calling from that direction.
I hear him every year but rarely see him.
Regards
Una Kavanagh
25.
Thrilled to hear the cuckoo this morning at 8am in the Yardfield/Kildoorus area of Clonlara, Co Clare. I eagerly await its arrival each year. Wonderful to hear.
Regards
Aine O'Flynn
24.
Hi there ,
Cuckoo heard in Killdallan, West Cavan on Saturday 10th April.
Carmel Donohoe
23.
Heard the cuckoo (the real McCoy) at 2.30pm, 16th April at Likeen West, Ennistymon, Co. Clare
Sile
22.
Hello.
I heard the cuckoo at 8.30 am this morning 15th April 2021. I live near Tulla in East Clare. I usually start hearing the cuckoo every year about 19th /20th April so this is a few days early for me this year.
Regards
Elizabeth Egan
21.
Heard the cuckoo today in Cloonmeen, Cloontia, Co. Mayo
Love your programme Monday nights
Regards,
David O'Gara
20.
Hi Derek,
I heard your show looking for Cuckoo records.
I heard the first Cuckoo of the year in my locality yesterday evening the 14th of April. The area is located in North Longford known locally as Edenmore Bog.
Regards,
Helen Hegarty
19.
I heard the cuckoo loud and clear yesterday in Drinagh, Ennistymon, Co Clare.
Monica Hegarty
18.
Hi Derek,
The cuckoo has arrived back in Allendarra, Woodford, Co Galway this evening April 14th 2021. We are very lucky that they come here every year and it always makes us think of Granny who loved to hear the cuckoos call.
All the best
The Fahy Family
17.
Cuckoo seen and heard behind Sweeney's Bar today 14th April in Claddaghduff near Clifden Galway at 9.30 am. Bar shut so was not the result of too much beer!
George Melville
16.
Heard Cuckoo in Athy yesterday 13th April. Beside Barrow river.
Aidan Kirby
15.
Just heard the first cuckoo of 2021.
Gortletteragh, Co. Leitrim
Marian Carthy
14.
I heard the first cuckoo today the 13th April
Kylebrack, Loghrea, Co Galway
Linda Heffernan
13.
My mother heard the Cuckoo on April 10th in Crossmolina, Co. Mayo.
Mary Ryan
12.
Hi,
I first heard the cuckoo at 7.45 this morning in Knockmore, Ballina, Co Mayo. We have a cuckoo every year in the fields and woods beside our house.
Kind regards,
Eve Kimmerling
11.
Yes one has arrived in Leitrim. Has been here since Sunday 11th at Gorvagh.
James and Gráinne Connell
10.
Hi Derek and team,
Just letting you know that I heard a cuckoo calling this evening Monday 12th April. I was out for my usual walk around the lovely town of Crossmolina Co. Mayo. It was a lovely surprise to hear. I love listening to your show. Keep up the good work.
Eilish Gill
9.
Cuckoo first heard in South Leitrim 10th April 2021.
Phil Mulholland
8.
Hi Derek,
I heard the cuckoo for the first time this year on Sunday 11th April at 9am close to my home at Rowan lake, Gorvagh County Leitrim.
Best wishes to all on the programme
David Dougan
7.
Hi All.
My neighbour heard the first cuckoo here this morning. Knappoge Townland, Co Longford. He was singing in an old oak wood.
Anne Skelly
Knappogue, Co. Longford
6.
Dear Team,
I heard the cuckoo this morning, loud and clear, at Blackwater Bridge, between Kenmare and Sneem.
Sunday 11th April 2021.
It definitely wasn't a pigeon!
Best wishes
Flicka Small
Killarney, Co. Kerry
5.
Hi Derek ,
My name is John Coady
I live in the southern end of the Blackstairs/Barrow valley near the villages of Borris , Ballymurphy and St Mullins
Every year we have at least 2 cuckoos who nest in our valley
They fly over and back from glen to glen between Goolin , Ballybeg a, Aughnagleer and Ballycrinnigan
They sing to each other and can be hear answering each other
I sent multiple maps to show where I'm talking about as it's well off the beaten track and that's probably why the cuckoos enjoy coming here every year
Best regards
John Coady
4.
Heard the cuckoo this morning in Lismagansion, Co Mayo.
Gráinne Prendergast
3.
Heard a cuckoo at Ardsallagh, Youghal on Friday 2nd April.
Helen Waide
2.
Yesterday morning, about 10 or 11, I was joyed to hear the unmistakable sound of the cuckoo call. I'm in Parknahyla, Ladysbridge, Co Cork.
Loving the show.
Barry Magan
1.
Hello team Mooney Goes Wild
This morning at dawn I heard the cuckoo. In the heart of the burren they arrive usually mid month last year it was 14th of April when I first heard them. Then for a few months they are a constant echo in the Burren highlands. This lad was obviously on a fly by perhaps to lower lying valleys near by. Maybe one of the first to arrive as once they settle their song is constant sometimes throughout the night.
My late mother used to say each year She heard them Go mbeirimid bro at an am seo arís.
A lovely & unexpected omen on Easter Sunday.
God bless
Chris O'Loughlin
Carron, Co Clare