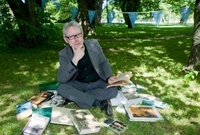 Arts Tonight: James Joyce: Words and Music: 11-14 June
Arts Tonight presents four nights of programmes on James Joyce: Words and Music to coincide with the 23rd International James Joyce Symposium. Vincent Woods and guests discuss Joyce's major books over the course of the week, with music, readings and songs.
On our final programme on Thursday, Sam Slote, Finn Fordham, Barry McCrea, Marian Eide, Philip Geheber and Katherine O'Callaghan join Vincent Woods to get to grips with Finnegans Wake. On tape, we hear from David Spurr and Danis Rose. Paul O'Hanrahan of Balloonatics theatre company, who will be performing on the streets of Dublin all through Bloomsday, including at the Joyce statue at Talbot Street at 12.15pm, reads from Finnegans Wake; Barry Gleeson sings Finnegan's Wake and the Ballad of Persse O'Reilly, and, for another night, we hear from the 'seaside girls' of our Ulysses programme, Darina Gallagher and Sinéad Murphy, who sing The Man Who Broke the Bank at Monte Carlo and Charlie is My Darling. They are performing a new show, Café Chantant: Songs of Dubliners, at the Viking Theatre in Clontarf, from 27-30 June.
Wednesday's programme on Ulysses featured Declan Kiberd, Fritz Senn, Paul Saint-Amour, Robert Spoo, Cleo Hanaway (http://writersinspire.podcasts.ox.ac.uk/content/james-joyce-here-comes-everybody), Aida Yared (www.joyceimages.com), Stephen Cole (www.liberateulysses.com), Joe Nugent (www.joyceways.com) reader Fergus Cronin, soprano Michelle Witen with Habanera and Love's Old Sweet Song, and singers Darina Gallagher and Sinead Murphy with Seaside Girls and O Antonio (www.songsofjoyce.biz).

On Tuesday's show, Vincent and panel discussed Joyce's first novel, A Portrait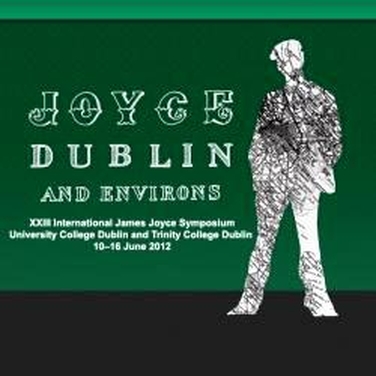 of the Artist as a Young Man. Guests were: Barry McCrea, Maria Kager, Maria Di Battista, Fergus Cronin, who read from the book, Fran O'Rourke, who sang Siúl a Rún accompanied by John Feeley on guitar, tenor John Scott, who sang Invisibility and Oft in the Stilly Night, accompanied by Roy Holmes on piano, and on tape, Fritz Senn.
Fran and John are performing at lunchtime all week, with John playing Joyce's own guitar, at Newman House: for tickets contact, among other outlets, www.jamesjoyce.ie
Monday night's programme featured Dubliners. Guests were Barry McCrea, Cóilín Owens, Vicki Mahaffey, and Luke Gibbons. Readings were by Stephen Rea for the Book on One, and we also heard extracts from dramatised audio-tours of Dubliners, by Wonderland Productions (www.wonderlandtheatre.com) Music on the programme was an extract from Ci Darem La Mano, from Lyric FM's Joyce Songs CD, and Richard Cooper singing Joyce's own composition Bid Adieu, accompanied by Seoirse Bodley.
Please note...
that as copyright issues remain over Joyce's work in some jurisdictions around the world, these programmes are not being streamed live online, nor are they available for listening back. However, the programmes, minus the extracts from the books, and including most musical content, are available on our podcast page.
Some more Bloomsweek and Bloomsday events….
In Dún Laoghaire, Rough Magic present Travesties by Tom Stoppard at the Pavilion Theatre, as well as readings, talks, and other performances based on Joyce's work. See www.paviliontheatre.ie
Also in Dún Laoghaire, DLR writer in residence Chris Binchy is organising a filmed relay reading of Ulysses this Bloomsday. Members of the public will be filmed reading short sections from the novel in various locations around Sandycove, Dalkey and Dún Laoghaire and these will be uploaded online throughout the day. If you'd like to take part, you will need to book your place by emailing DLRWriter@gmail.com. See also www.dalkeybooksfestival.com
Still tickets for the RNLI Howth Bloomsday Breakfast 2012 in Howth Yacht Club on Saturday 16 June at 11am… phone 018326417 or 086 8334538.