Vincent Woods talks to Professor Niamh O'Sullivan about her book, Aloysius O'Kelly: Art, Nation, Empire.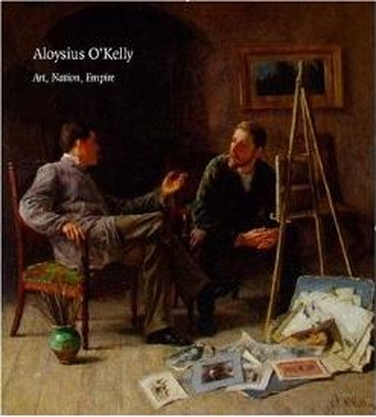 O'Kelly, known as the Land League painter, came from a radical family; his brother was a Fenian. Yet his highly politicised special illustrations documenting the Land Wars in Ireland, and other colonial wars of the British empire, were published in the Illustrated London News and other international press, and influenced public opinion worldwide.
Eschewing stereotypes, O'Kelly presented the Irish peasants neither as heroes nor as victims, Professor O'Sullivan says, and his political edge was unusual both for an Irish painter and for the special illustrators of the day.
"I think he is genuinely important," O'Sullivan says. "There were not many as skilled as him. There were not many as driven by a mission as he was. There isn't that complexity or ideological edge (among his contemporaries)…he is trying to communicate big ideas through art, and very few Irish artists were doing that."
Hugely successful in his lifetime, collected by Vincent Van Gogh, O'Kelly's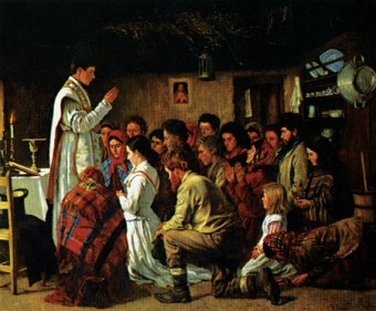 work fell into obscurity after his death, for reasons explored in the book. Gaps in his documented life and his use of many aliases made him a tricky subject for a biographer. But Professor O'Sullivan's painstaking work in tracking down his paintings has already resulted in the restoration of one of his most significant works, Mass in a Connemara Cabin (right) – the first picture of an Irish subject ever to be accepted by the Paris salon -- to prominence: it is now housed in the National Gallery of Ireland.

And Niamh O'Sullivan had another recent intriguing discovery, this time when she spotted a long lost 19th century painting on ebay: The Battle of Aughrim, by John Mulvaney. Last seen in Denver in 1914, the painting is
now held at the Gorry Gallery in Dublin and will be on view and for sale there in December 2010. She tells the story at the end of the programme.
Aloysius O'Kelly: Art, Nation, Empire is published by Field Day.