This week's Lyric Feature A Place of Stories is an audio journey through Ireland's first public library, Marsh's Library. Producer Patricia Barker writes here about what inspired her to make the programme.
---
In a previous life I worked at Dublin's St. Patrick's Festival programming arts and cultural events. I was asked to develop a treasure hunt around Dublin, an idea that the festival's then director Dominic Campbell had, to get Dubliners and visitors to explore the city. I loved this simple concept, hunt out answers and stumble upon those 'I never knew that was there' places.
It was through this initiative that I discovered Marsh's Library. I was walking around Dublin looking for 'hidden gems' when I wandered down the back lane around St. Patrick's Cathedral. Having no idea what to expect, I followed the signs for Marsh's Library. A wrought iron gate in an old stone wall led me up granite steps and into a courtyard garden. I entered the library which is located on the second floor of the building. I remember the 'wow' moment upon seeing its bay windows looking out on to the treetops. Soft dappled light gently illuminated the solid oak bookcases that stretched from floor to ceiling, each one lined with leather bound antique books.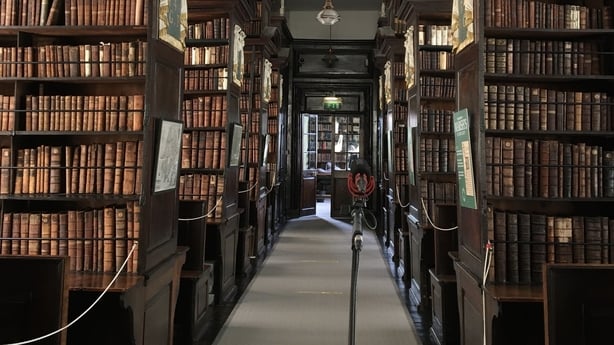 Decades later, that memory surfaced and I promised my husband, a Dubliner, that I would take him to see this hidden gem. But I got side-tracked. I began to read more about this library and fell in love with this magical place. It had become a library ignored for decades, seen as part of an 'other' Ireland we no longer wanted to be associated with. It was a library defined by its Protestant, British heritage and was no longer considered part of our heritage.
Marsh's Library was established by Archbishop Narcissus Marsh, an eccentric clergyman who considered it his duty to save, what he considered, the debauched and lurid minds of the Irish. He set about doing this by gathering the latest scientific and cultural findings from all over the world, and then established Ireland's first ever public library to provide access to this knowledge. Located in inner city Dublin, the library is home to some of the rarest books and manuscripts in the world, including 387 books of which there is no other known copy. Some date as far back as the 15th century and are now celebrated and studied as part of Ireland's global heritage.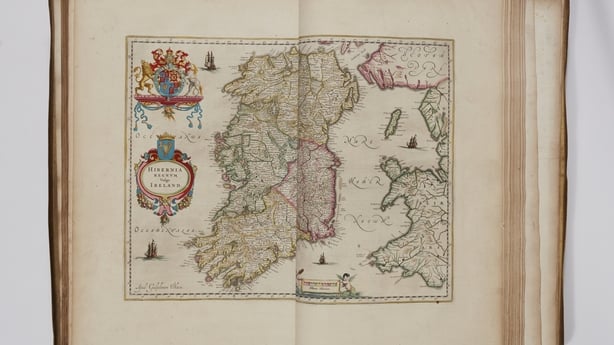 Marsh's Library has remained unchanged since it first opened in 1701 and is one of only a handful of 18th-century buildings in Ireland that are still used for their original purpose. When you walk through the library you are experiencing it as readers have for centuries. The books are still at the same place on the shelves, the desk in the Reader's Room is still the same one Bram Stoker, Jonathan Swift, James Joyce and Oscar Wilde sat and read at. Reading alcoves where artist and activist Estella Solomons sat and sketched while seeking solace during the Civil War are still there, inviting today's artists and activists to do likewise. You are imbued with a sense of that history and those layers of connections as you walk through this space.
The library is a magical place that is completely removed from the cityscape that surrounds it. A place where you can wander through gothic tales and hidden worlds of knowledge and curiosities that are still inspiring research and stories today. Recently, musician Sam Kavanagh discovered fragments of 13th century chant music that had been hidden away for centuries in the binding of one of the books. These musical notes had been handwritten by monks 800 years ago and are now available to be sung again.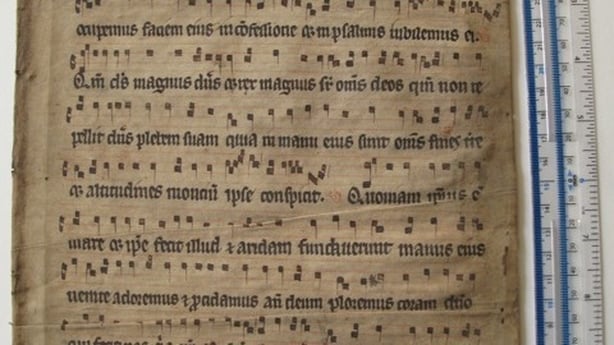 Whether it's Sam's voice breathing life back into these ancient scores or a researcher discovering a reader's marks on the margins of pages from the 1700s, the library continues to inspire artists, scholars, and academics to this day. In doing so it connects us to a timeline of readers who valued knowledge and sought out information from all over the world. The enthusiasm the librarians share for the wonders on the shelves is infectious. It is easy to fall for this magical place, I really should take my husband to see it.
The Lyric Feature: A Place of Stories, RTÉ lyric fm, Sunday February 13th at 6 pm - listen to more from The Lyric Feature here
---