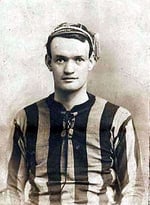 Patrick O'Connell was a superstar and a cheat. He was a superstar of soccer in Ireland, Britain and Spain and cheated on his family. He married two women with the same name and same appearance.
Patrick, or Paddy O'Connell, played for Ireland in the early days of the national game; he led the country to its first Home Championships title in 1914.
He was tall, broad-shouldered, good-looking and robust: he played the final game against Scotland with a broken arm.
He was also an ace in league football. Manchester United paid £1000 for him in 1914 – they had to pay the transfer fee in instalments. But he was also captain of Manchester United when it was involved, with Liverpool, in one of the most notorious match-rigging scandals of the twentieth century, in 1915.
Paddy married a Dublin woman, Ellen Treston, and she followed him to Manchester - they had 4 children .
After WWI, Paddy's playing career petered out. He travelled around England and Scotland for a few years, working as a player/manager. He didn't bring his family with him and it soon became clear that, as well as chasing work, he was running away from them. They were left destitute and Ellen had to work as a cleaner to make ends meet.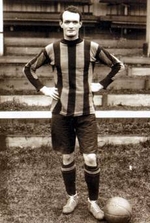 Paddy's footballing career took off again when, in 1922, he went to Spain to manage Racing Santander.
Spanish soccer was in awe of the British game and managers from the British leagues were revered. Paddy earned that reverence; he had the Midas touch. In 1935, he brought minnows, Real Betis, to La Liga victory and, the following year, he brought FC Barcelona to the Spanish cup final where it lost 2-1 to Real Madrid.
1936, was also the year that the Spanish Civil War broke out, Paddy was home on holiday at the time and FC Barcelona sent word that he didn't need to come back – Barcelona was in the middle of Anarchist massacres of priests and nuns.
But Paddy decided to return to the war zone. Perhaps because of his passion for the game but also because he had a wife there, another Ellen, Ellen O'Callaghan, from Cork. This Ellen, as well as having the same name as his first wife, and as well as being Irish, she also looked exactly like the first Ellen.
Paddy finally retired from football and went to live in Seville with Ellen O'Callaghan. Then, in the 1950s, his son, from his first marriage, Dan, decided to track Paddy down.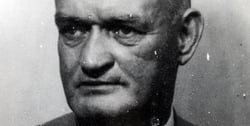 Paddy agreed to meet Dan when he came to Seville, but only in a public park and, if anyone asked, Dan was to say he was Paddy's 'nephew'.
Something happened during Dan's visit that Ellen found out who he was and discovered Paddy's secret.
Shortly afterwards, they split up and Paddy returned to England to live with his brother in London. He was 71 and penniless. He died of pneumonia in 1959.
Both the Ellens, died decades later, in their 90s. Ellen O'Callaghan, his Seville wife, is buried in Midleton, Cork. On her headstone, her name is carved as "Ellen O'Connell".

First broadcast Saturday 20th June 2015, 2pm

2017: Since the programme was first broadcast, a headstone has been erected on Patrick O'Connell's grave.

Narrated by Flor MacCarthy and Richard Fitzpatrick.
Additional recording by Fergal McGuire and Colm O'Connor
Produced by Richard Fitzpatrick with Ronan Kelly

Music used

"The Ballad of Patrick O'Connell", sung by Colm Farry with music by Dan Ryan and words by Peter Goulding

"Concerto for Violin and Orchestra - I. Crotchet", Amy Dickson, Royal Philharmonic Orchestra, Clio Gould & Mikel Toms

"Let Me Call You Sweetheart" - Peerless Quartet and Henry Burr (1911)

"The Aba Daba Honeymoon" Arthur Collins & Byron G. Harlan (1914)

"Lady of Spain", Al Bowlly (1931)

"Lux Aeterna – Requiem for a Dream", Fadi Gaziri

"According to Napoleon", Zest Music

"Lament", Andrew York

"Homenaje a Manuel de Falla", Nicolas Guay

"Virolai, a la Mare de Déu de Montserrat", Agustín Lage, Raquel Carrera (elsonidodetuboda@gmail.com)

An Irish radio documentary from RTÉ Radio 1, Ireland - Documentary on One - the home of Irish radio documentaries.