About
Gregory Ellis, Keith Pascoe (violins), Simon Aspell (viola), Christopher Marwood (cello)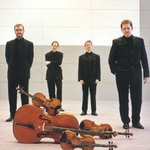 Winner of the 1988 London International String Quartet Competition and now in its twenty-third concert season, the RTÉ Vanbrugh Quartet is one of Europe's most successful quartets, internationally recognised for its beauty of sound, clarity of texture and integrity of interpretation within an unusually wide and carried range of repertoire. Appointed Resident Quartet to RTÉ in 1986 and with almost 700 performances in Ireland to date, the group has dedicated itself to bringing the wonders of the string-quartet repertoire to audiences throughout the country. At the same time they have built a thriving international career, with regular tours taking them throughout Europe and the USA. The quartet members are also Artists in Residence at University Concert Cork and founders of the internationally acclaimed West Cork Chamber Music Festival. In 1994 the Quartet launched the Vanbrugh Scholarship Fund, a charitable fund dedicated to encouraging the art of chamber music among Ireland's talented young musicians.
In January 2009, the members of the RTÉ Vanbrugh Quartet were appointed lecturers in chamber music at DIT Conservatory of Music and Drama.
As well as presenting the core string-quartet repertoire, the RTÉ Vanbrugh Quartet has consistently championed the work of Irish composers in concerts and broadcasts in Ireland and abroad, and has premièred new works by Gerald Barry, Siobhán Cleary, Raymond Deane, Donnacha Dennehy, Stephen Gardner, John Gibson, Deirdre Gribbin, John Kinsella, Philip Martin, Jane O'Leary, Eric Sweeney, Kevin Volans, Rachel Holstead and Ian Wilson. As part of the Heaney At 70 celebrations, RTÉ Orchestras commissioned the latter three composers to write short pieces for the RTÉ Vanbrugh Quartet in response to Seamus Heaney's work. The pieces were premiered on Easter Monday with Seamus Heaney introducing each piece by reading the poem that inspired it.
The RTÉ Vanbrugh Quartet has an extensive and critically-acclaimed discography which includes the complete Beethoven quartets. Recent awards include Gramophone Critics' Choice 2003 for Boccherini's cello quintets and Gramophone Editor's Choice (February 2006) for Charles Stanford's viola and piano quintets, a CD released by Hyperion in cooperation with RTÉ. In April 2006 RTÉ lyric fm released Quartet Classics, a compilation CD of some of the most popular works in the repertoire.
Full details of RTÉ Vanbrugh Quartet concerts are available on http://www.rte.ie/orchestras/vanbrughquartet/

For further information see:
NB. RTÉ is not responsible for content of external websites
Follow Us:
Next Performances
---
Links of Interest