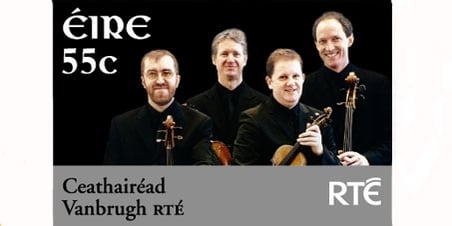 An Post's RTÉ Vanbrugh Quartet commemorative stamp
Part of a 5 stamp series launched by An Post on Tuesday 19 June
News & Events
RTÉ Vanbrugh Quartet Masterclass - RIAM
The RTÉ Vanbrugh Quartet will conduct a chamber music masterclass on Saturday 23rd November, 12pm to 2pm at the Royal Irish Academy of Music. Admission is free for this masterclass which will feature students from the Royal Academy of Music. More information.
RTÉ Vanbrugh Quartet: Hugh Lane Gallery free concert
Sunday 24th November sees the RTÉ Vanbrugh Quartet perform a free concert in the Hugh Lane Gallery, Dublin at 12 noon. In a fitting programme for this exquisite gallery setting, visitors will enjoy the Beethoven String Quartet Opus 19 No.1 and Britten String Quartet No.2. More information.
RTÉ Vanbrugh Quartet and ConTempo String Quartet: Cork
The RTÉ Vanbrugh Quartet joins forces with the ConTempo String Quartet in the Curtis Auditorium of CIT Cork School of Music on Thursday November 28th, 8pm. On the programme is Bruch's Octet in B flat, Op.20, Mendelssohn's Octet in E flat, Op.20 and Shostakovich's Two Pieces for Double String Quartet Op.11. Tickets €10, €14 and €22 are available at the door. More information.
Follow Us:
Next Performances
---
Links of Interest