Artist in Residence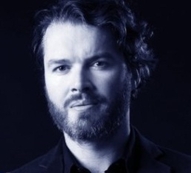 Brian Byrne - Artist in Residence
Golden Globe nominated composer Brian Byrne's appointment as the RTÉ Concert Orchestra's first Artist in Residence in February 2013 was a perfect fit. Multi-talented Irish born Byrne moved to Los Angeles from Ireland in July 2003 to expand his career as a film and television composer. Since then, Brian has consistently worked as a composer, conductor, songwriter, arranger and pianist - in the US and in Europe.
Byrne's score for the Glenn Close film Albert Nobbs, recorded with the RTÉ CO in Radio Centre, stacked up multiple awards and honours. The song Lay Your Head Down with Sinéad O'Connor was nominated for a Golden Globe and went on to win Best Original Song at the highly prestigious World Soundtrack Awards 2012, where Brian was also named Discovery of the Year. It also won him the Irish Film and Television Award (IFTA) for Original Score.

The RTÉ CO recorded Brian Byrne's first classical album, with artists including Nicola Benedetti and Danielle de Niese. Tales from the Walled City was released on Decca in 2012. In February 2013 Byrne and the RTÉ CO recorded the soundtrack to new indie film Amos' Wake, starring rising star Shiloh Fernandez.
From huge orchestral scores to minimal ensemble compositions, Brian has written music for films in many genres. He won the IFTA for his original score for the Irish Sci-Fi comedy Zonad, directed by John Carney. Brian's previous film work includes conducting and arranging the scores to Jim Sheridan's Oscar-nominated In America and Kristen Sheridan's drama, Disco Pigs.
Brian has collaborated with such international luminaries as Katy Perry, Bono, Barbra Streisand, Lisa Stansfield, Van Morrison, The Corrs, Sinead O'Connor, Alan Bergman, Ronan Tynan, Luis Miguel, Vince Gill, Gladys Knight, to name a few. He toured with Diane Warren, arranged a song for Sex and the City 2 and played piano on Liza Minnelli's cover of Beyonce's Single Ladies.
Byrne's varied musical credits also include a score for a short film directed by Eric Stoltz and the theme music to the The Late Late Show. In February 2013 he was musical director of the IFTAs 2013, where he once again conducted the RTÉ CO.
Brian's American conducting debut came in 2004 at Carnegie Hall. He was commission to write all the arrangements and conduct the Royal Philharmonic Orchestra for the release of Ronan Tynan's first solo album. He continued on as Musical Director for Ronan's Tour and subsequently wrote two original compositions for the album.

As the musical director for the BBC Beautiful Night concert, he conducted the Ulster Orchestra with artists Jamie Cullum, Bob Geldof, Neil Hannon (The Divine Comedy), Hot House Flowers, Ronan Keating (Boyzone), Brian Kennedy and Alanis Morissette, performing for 10 million people during a live telecast throughout Ireland, the U.K. and Europe.
Brian was educated at the Royal Scottish Academy of Music and Drama. He graduated in 1997 with first-class honors in music and was awarded The Peter Knox Memorial Award for overall performance. Later that year he received the Outstanding Musicianship Award from Berklee College's touring faculty in Scotland as well as winning the PRS Sir Arthur Bliss Prize Scholarship for composition that enabled him to study film composition at London's Royal College of Music.
In 2008, Brian added ASCAP's Film and Television Scoring Workshop's Steve Kaplan Scholarship to his already long list of accomplishments and awards. Most recently Brian has been commissioned to write the music to Heartbeat of Home, again with the RTÉ CO. He had the honour of writing a fanfare for Her Majesty the Queen's state visit to Ireland.

RTÉ CO E-Newsletter
Follow Us:
You Tube
Next Performances
---
Links of Interest