The RTÉ National Symphony Orchestra and pianist Finghin Collins take the Mozart Piano Concerti cycle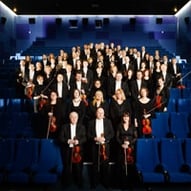 PRESS RELEASE
Released Friday 8 April 2011
The RTÉ National Symphony Orchestra and pianist Finghin Collins take the Mozart Piano Concerti cycle to Letterkenny
The RTÉ National Symphony Orchestra, with Finghin Collins directing from the keyboard, continues the Mozart Piano Concerti cycle in Letterkenny in May with a public concert in An Grianán Theatre on Friday 6 May - featuring three concerti being performed for the first and only time as part of the Mozart cycle - and a range of events in advance for players from the Donegal Youth Orchestra and the Donegal Chamber Orchestra. This visit takes place in association with An Grianán Theatre, Donegal County Council Cultural Services and the VEC Music Education Partnership.
As the first RTÉ NSO Associate Artist, Finghin Collins has taken on the challenge of performing the complete cycle of twenty-three Mozart piano concerti with the RTÉ NSO, the majority of them directed from the keyboard. Performances to date have taken place in Dublin, Galway, Limerick, Cork and Waterford. The Letterkenny performance will see Finghin and the orchestra cross the midway point, bringing the total number performed this season to thirteen.
Looking ahead to the events in Letterkenny, Finghin Collins says that 'audiences in Letterkenny will hear one of the most attractive programmes in the entire Mozart Piano Concerti cycle. We start with a relatively unknown early concerto, No. 13 in C major, a work with a surprisingly muscular first movement and with perhaps a foretaste of the 'Jupiter' Symphony. Then we move to the charming B flat major Concerto No. 18 which features a heart-breaking slow movement in G minor: Mozart at his most brooding. In the second half we have the celebrated A major, No. 23, one of the most popular works in Mozart's entire output, one jumping from tragedy to euphoria in seconds and full of hummable melodies. Following our recent tour of three other Mozart piano concerti to Galway, Limerick, Cork and Waterford in March, I'm delighted that we can explore numbers 13, 18 and 23 in the North West and I am thrilled that we have been able to make the Mozart Piano Concerti cycle a national project.'
Dublin audiences following the RTÉ NSO/Collins Mozart journey will also have a chance to hear the Letterkenny programme at an open rehearsal in Dublin on Wednesday 4 May. This rehearsal will take place from 1.30 to 3.15pm in Studio 1, RTÉ Radio Centre. Tickets are limited. Admission is free of charge with tickets allocated in advance only on a first-come, first-served basis.
Queries and booking: 01 208 2530 or music@rte.ie
On Friday 20 May, in his final concert as part of the orchestra's Dublin season at the National Concert Hall, Finghin will direct two additional solo concerti from the keyboard - ¬Concerto in B flat, K238 and Concerto in F, K459 - plus the Concerto for Two Pianos in E Flat, K365 with Cédric Tiberghien as the second pianist. Read more.
For the RTÉ National Symphony Orchestra, the performance and additional events in Letterkenny mark another stage in a season noted for its changes. These include a new artistic team of Alan Buribayev, Principal Conductor, Hannu Lintu, Principal Guest Conductor and Finghin Collin as the first Associate Artist; new programme strands; Early and Late Night concerts; FORTE, a musical discovery programme for audiences of all ages as well as an expanded series of pre-concert talks. The developments have been welcomed as "breaths of fresh air" by The Irish Times, which noted that the orchestra is "being adventurous on a number of fronts" in a season where "innovation is the watchword".
Follow Us:
You Tube
Next Performances
---
Links of Interest