Events
RTE National Symphony Orchestra Horizons 2011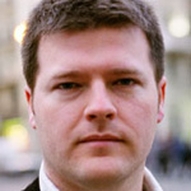 FEATURED COMPOSER: David Fennessy
FREE LUNCHTIME CONCERT
Tuesday 18 January
National Concert Hall
1.05-2pm: The concert
12.30pm: Composer in Conversation
David Fennessy talks to Evonne Ferguson, Director, Contemporary Music Centre.
The Composers in Conversation events take place in association with the Contemporary Music Centre.
Ahead of this, see and hear David in conversation with Jonathan Grimes, CMC, talking about BODIES before its first performance by the RTÉ National Symphony Orchestra under Dmitri Jurowski in February 2010.
Programme
David Fennessy BODIES
James MacMillan ...as others see us.
Fergus Sheil conductor
Find our more about David
Read his biography
Read his thoughts on what it's like having his music performed alongside that of his teacher, James MacMillan, and on composing in general. Read on...
Overview
David Fennessy's BODIES will be one of just two works featured in Fennessy's concert, the second being ...as others see us. by Fennessy's former composition teacher James MacMillan, with whom Fennessy studied at the Royal Scottish Academy of Music and Drama.
BODIES was commissioned by the RTÉ National Symphony Orchestra and received its world première in February 2010 under conductor Dmitri Jurowski as part of the RTÉ NSO's 2009-2010 season.
Informed by Fennessy's memories of what he calls 'a strange experience' during an artist residency in Hong Kong in 2009, 'working in my room on the fifteenth floor of a hotel and having the feeling of being hemmed in on all sides, as well as above and below, by bodies - thousands of bodies', Fennessy notes that his writing of this piece was 'informed by my feelings of connection with that unseen congregation.'
With this, James MacMillan's ...as others see us..., which he describes as, '"sound paintings" of prominent figures whose portraits hang in the National Portrait Gallery', including Henry VIII, George Byron, William Wordsworth, T.S. Eliot and the winner of the 1964 Nobel Prize in Chemistry, Dorothy Hodgkin.
Tickets and booking: Admission free to all Horizons events. Events are ticketed. Tickets available through the NCH box office in advance. Booking: 01 417 0000.

Follow Us:
Next Performances
---
Links of Interest