Tax is one of those topics that can get quite complicated very quickly, and for this reason many of us put off dealing with tax issues unless we're dragged kicking and screaming.
But taking this approach could be costing you money and, in many cases, not an insignificant amount.
According to the main independent providers of tax refund services in Ireland, the average refund for anyone who looks into their tax affairs is in the €900-€1,100 region.
The average tax refund is around €1,000. Have you checked to see if you've overpaid? @AengusCox tells you how to do it: https://t.co/lgBGx7u6I1 pic.twitter.com/JgpWgr1LeE

— RTÉ News (@rtenews) May 5, 2018
Head of Direct Taxes with Taxback.com Christine Keily says their research shows "millions of euro is unclaimed every year.
"This is primarily down to the simple fact that people either don't know about the tax reliefs they are eligible for - or think the process of applying for a refund is way too much hassle."
There are more than a dozen different types of tax relief available, but the five most common areas where people are managing to claim the most money back from the taxman are in: medical expenses, overpayment of tax, claiming expenses, home carer tax credit, and tuition fees.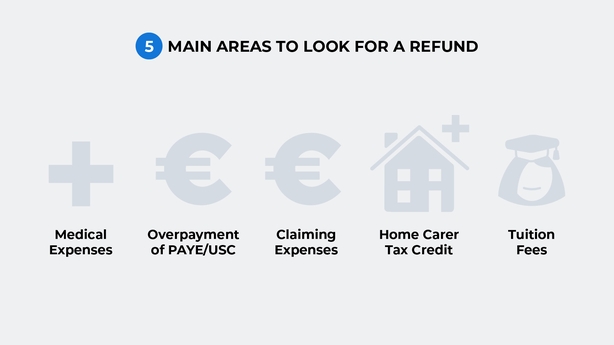 ---
Twenty per cent can be claimed back on most medical expenses that you don't already have reimbursed, including non-routine dental expenses.
Fillings, scaling/cleaning, tooth extraction, and providing/repairing dentures are all considered to be routine dental treatments, so will not be reimbursed.
However, tax relief is available on many everyday medical expenses such as doctor and consultant fees, prescribed treatments, the cost of being in a nursing home, and speech & language therapy for children.
The important thing here is to keep all relevant receipts for reimbursement.
If you can't put your hand on receipts for a doctor's appointment, dental treatment, etc. from the last four years - a reasonable situation to be in - contact the respective clinic and they should be able to help you out and send you a copy.
---
Overpayment of PAYE and USC in prior years is a significant contributor to the amounts of money being refunded to taxpayers.
Taxback.com says it deals with people "every day who have paid too much in tax, some who simply haven't applied for refunds, some who didn't realise they were on emergency tax, or others because they only worked in the country for part of the year".
If you've changed jobs or work multiple jobs, there is a chance your tax credits might not be accurate or you could have paid emergency tax and not claimed a refund.
To find out whether you are due a tax refund you can request a P21 (a review of your tax liability) at the end of the year for the previous year.
This can be done online on the Revenue Commissioners' website or you can give your details to one of the independent companies that deal with Revenue on your behalf and they will check it out for you.
Be warned though, while it's not necessarily that common - if there's a chance you've overpaid on tax, then there's also a chance you have underpaid and Revenue will look to reclaim that money.
---
Depending on your profession, there are varied flat-rate expense allowances that you can avail of to reduce your tax liability.
Flat-rate expenses are set for various classes of employee, e.g,. shop workers are granted €121 per year and bar trade employees get €97.
And they can be quite significant. Fort example, nurses who supply and launder their own uniforms can claim a deduction of €733 in their tax liability each year.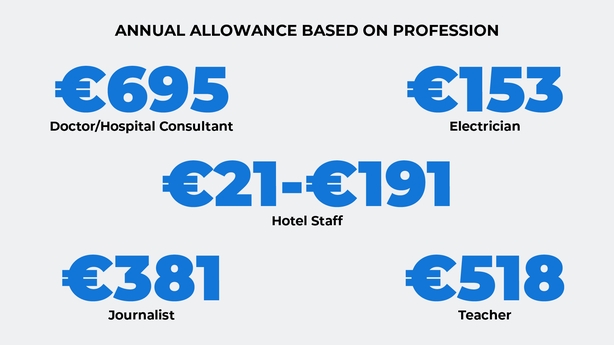 Deductions are available to doctors, engineers, plumbers, journalists, teachers and hospitality sector workers, among other professions.
You can apply online for any flat-rate expenses due to you for the current year, and you can go back up to four years and claim any such allowance that you hadn't previously.
---
One of the more underutilised tax reliefs available is the Home Carer Tax Credit.
This allowance can be claimed by a stay-at-home parent who is looking after their own children or a dependent person.
The maximum annual tax relief available is €1,200, but if the claimant earns over €7,200 a year then the amount available becomes proportionately less depending on earnings.
Again, this tax credit can be applied for relatively easily online.
---
Education is another area where significant tax relief is available.
If you are paying for tuition fees for a full or part-time third-level course, be it for yourself or for your child, then you may well be entitled to tax relief on the cost.
Third-level fee payers can claim tax relief on tuition fees that are paid for eligible education courses.
Tax relief is available at 20%, but this is only applicable on amounts over €3,000 and there is an upper limit of €7,000 per third-level course.
The relief is available to whoever is paying the cost of the fees, and there is no limit on the number of individuals for whom you can claim.
No relief is available for examination, registration, or administration fees.
There are some restriction with regard to how much can be claimed, but more many courses it could be worth around €500-€800 per student per year.
---
Tax relief for special diets
Your tax liability can also be reduced if you have specific dietary requirements due to a medical condition and need to buy certain food products.
Tax relief applies to you if you are a coeliac and you must purchase gluten-free foods or are diabetic and you must buy diabetic products.
You can claim relief on the cost of gluten-free foods manufactured specifically for coeliacs and on the cost of diabetic products if your doctor recommends you include these in your diet.
If you have special dietary needs you must provide Revenue with a letter to from your doctor stating this and hold on to relevant receipts, which can be stored on RevApp's Receipt Tracker.
---
How do I go about claiming these tax reliefs?
You have a couple of options.
You can do it all yourself online with a relatively minimal amount of research and competence.
This can be done for free via the Revenue's 'myAccount' service.
Once you register, you can use your myAccount to access PAYE services (including jobs and pensions), Local Property Tax (LPT), Home Renovation Incentive (HRI) and many more services using a single login and password.
You'll need to have your PPSN to hand when registering.
Once you're signed up you can then check and see which of the above tax reliefs you are already availing and can register for any you are not.
The already-mentioned P21 balancing statement for up to four previous tax years can also be requested via the myAccount service.
This will let you know if you've overpaid on income tax and if you register your bank account details with Revenue, they'll pay any refund due straight into your bank account.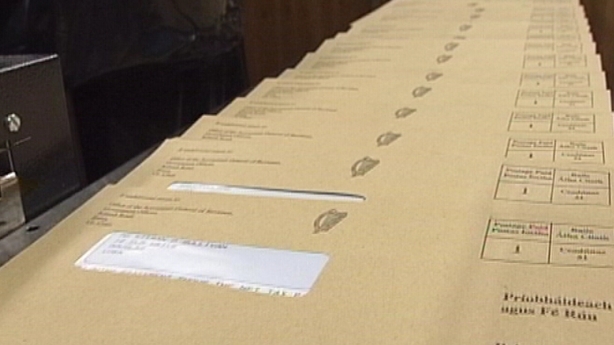 Once you navigate your way around the Revenue's online system - which took me around ten minutes - you should be able to figure out where to go to claim what you need to.
---
Can't someone else do it?
If the idea of going through this process seems too daunting or you simply don't feel like it, there are companies that will do the hard yards for you, but it comes at a price.

Most of these companies will investigate for free, but take a portion of any tax refund due.
The fees charged generally fall somewhere between 7% and 12% of the refund amount, with some charging a minimum fee of between €20 and €30.
It certainly saves you some hassle but if you are due a refund of around €1,000 (pretty much the average) then you would lose around €100 of that.
---
Revenue trying to give money back
The important thing to note with the tax refund process is that Revenue won't make you jump through a series of hoops to find out if you are due a refund, and if they do owe you any money, they tend to pay out promptly.
Revenue actually has an ongoing programme of direct contact with PAYE workers, to encourage them to engage on tax relief.
For example, in October 2016, Revenue wrote to more than 137,500 PAYE workers who had not claimed any additional tax reliefs or credits in the four years since 2012.
It subsequently published an analysis of the impact of those contacts, which resulted in refunds or tax credits to taxpayers totalling €27.6m.
---
Important points to remember:
There is a four-year time limit for claiming tax refunds, so if you have a claim for 2014, go online and submit it by 31 December 2018.
The quickest, easiest and most convenient way to claim your tax back is online, using PAYE Services in myAccount, or through RevApp (a free mobile app, provided by Revenue, to help you manage your tax affairs on the go).
If you are not already registered for myAccount, you can register on the Revenue website.
---
Comment via Twitter: @AengusCox