Residents of the northeastern United States are breathing more easily as smoke from Canadian fires gradually cleared after blanketing several cities in a noxious haze this week.
In New York and Washington, air quality was classified as "moderate" by the US Environmental Protection Agency.
In the capital, the sky was blue again this morning, but as a measure of precaution, children at city public schools were still prohibited from spending recess outdoors.
In New York, public schools were closed and operated remotely.
Air quality improved after winds blowing over the Canadian province of Quebec, where the fires are raging, changed direction, Ryan Stauffer, a NASA scientist specialising in air pollution, said.
We need your consent to load this comcast-player contentWe use comcast-player to manage extra content that can set cookies on your device and collect data about your activity. Please review their details and accept them to load the content.Manage Preferences
The concentration of fine particles in the air was up to 20 times lower this morning in Washington, compared to the same time yesterday, Mr Stauffer said.
Thick skies and an acrid smell hung over the region for days, with air pollution exceeding some of the most contaminated cities in the world in South Asia and China.
Flights were delayed at many airports due to reduced visibility, and masks reappeared on the streets.
Today, some 140 fires were still active in Quebec, including nearly 80 that were deemed to be out of control.
More than 13,000 people have been evacuated since the beginning of June.
Hundreds of foreign firefighters are in Canada to assist with the gigantic fires, many of which are located in remote boreal forest areas.

With nearly 900,000 hectares affected, according to official figures, Quebec is experiencing an unprecedented fire season.
"Air quality conditions have improved in NYC, but may still be unhealthy for some people," said the New York Department of Health and Mental Hygiene.
"Air quality is expected to improve over the weekend, but may vary."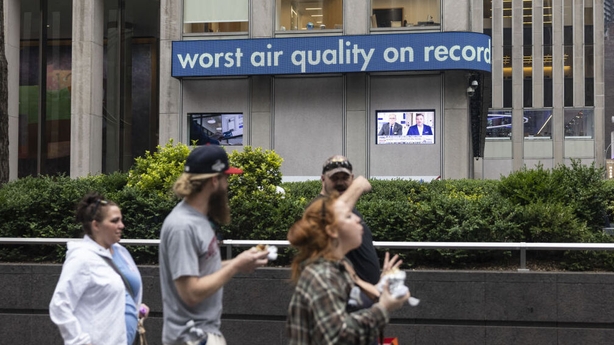 Shocked by the smog, the United Nations chief, environmental organisations as well as US politicians this week stressed the need to combat climate change, which increases the risk of fires.
The mayors of New York, Montreal, Toronto, Washington and Philadelphia issued a joint-statement saying the "alarming episode serves as a stark reminder of the harmful impacts that the climate crisis is having on cities around the world".
---
Read more:
How wildfire smoke harms human health even when fire is far away
Canada wildfires cast orange haze over New York skyline
---
It said: "Without drastically reducing fossil fuel use in order to at least halve our emissions by 2030 we will likely be condemning ourselves to a future filled with weeks like these."
More than 111 million people in the United States had been under air quality alerts on Thursday due to the fires.
The wildfire smoke from Canada has also been detected thousands of kilometres away in Norway.
'Reminded me of 9/11'
Skies were noticeably clearer in New York compared to Wednesday, even as the AQI remained high.
A spokesperson for the city's health department said: "We are seeing higher than usual asthma-related visits to the Emergency Department."
Officials handed out face coverings at train stations, bus depots and parks, and declared public schools would switch to remote-learning today.
Linda Juliano, a 65-year-old secretary, gladly accepted a mask at Grand Central Station in Midtown Manhattan.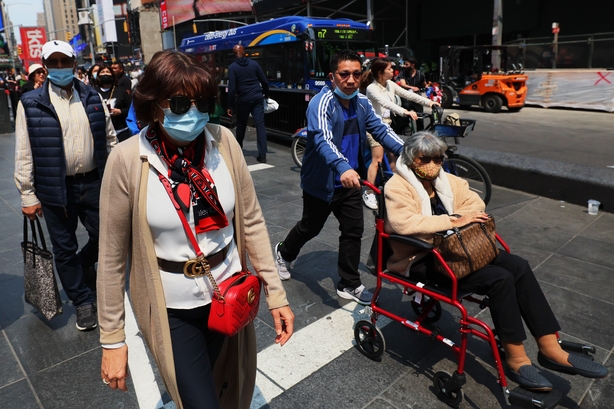 "I've never seen anything like it," she told AFP, describing the sepia-tinged smog that engulfed New York on Wednesday as "scary".
"It reminded me a lot of 9/11, seeing the sky all smoky and everything," said Ms Juliano.
Meanwhile in Canada, pollution from the wildfires was expected to peak yesterday in Toronto, Environment Canada said.
With nearly 800,000 hectares affected, according to the Society for the Protection of Forests Against Fire (SOPFEU), Quebec is experiencing a historic fire season.
Twice as many blazes have been recorded this year compared to the average over the past ten years.
Yesterday, the French-speaking province still had more than 150 active fires, including nearly 90 out of control.
New reinforcements - from the United States, France and Portugal - are expected in the hours and days to come. More than 12,000 people have been evacuated within the space of a few days.
The situation remains worrisome in several regions, explained Stephane Caron, of SOPFEU.
"We are only at the very beginning of this fire season. We are now entering the period when usually there are beginning to be larger fires in Quebec," he said.
The risk of a new outbreak is rated "extreme" by authorities in the western part of Quebec.