Turks will cast their votes in a second round presidential election on Sunday, a run-off between the secular, pro-Western candidate Kemal Kilicdaroglu and authoritarian incumbent, President Recep Tayyip Erdogan.
One poll places Mr Erdogan six points ahead of Mr Kilicdaroglu, who is backed by a broad church of six opposition parties. Politico's Poll of Polls places the president just two points ahead of his rival.
Mr Erdogan, who has been the dominant force in Turkish politics for the past two decades, is seeking a third term as president in the country of 85 million people.
His supporters laud him for spurring economic growth during much of his time in power as prime minister and later, as president, and for emboldening Turkey's status as a regional power.
But, he has also steered Turkey towards authoritarian rule, jailing critics and embracing closer economic ties with Russia and the Gulf States.
In the first round vote two weeks ago, Mr Erdogan fell just short of attaining the 50% threshold required to win the election outright. Mr Kilicdaroglu won 44.9% of votes.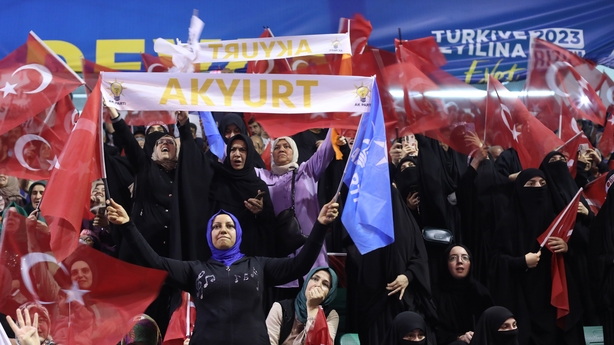 Strangely, polling prior to the first round placed Mr Kilicdaroglu close to the 50% mark, with the president trailing by six points.
Turkey's three biggest polling companies got the outcome of the first round wrong.
Professor Cigdem Ustun, a political analyst, told RTÉ News that first round polling did not appear to reflect the voting intentions of residents in Central Anatolia – a stronghold for Mr Erdogan's AK party – nor nationalist supporters of Sinan Ogan, who came third.
"Most of the polling companies announced that they are going through their methodologies," said Prof Ustun, secretary general of EDAM, a political thinktank in Istanbul.
Mr Erdogan has mounted an impressive campaign, despite Turkey's current economic difficulties and receiving criticism for his government's response to a series of devastating earthquakes in February, which caused the deaths of more than 50,000 people, and left more than one million people homeless.
The president has promised to tame inflation and boost growth, and campaigned on a platform of defending Muslim values, a clear break from the Turkish republic's secular roots.
Officially, at least, Turkey's annual rate of inflation is 43%.
"I think if this was a 400m relay race, it's as if Erdogan ran the last 100m and Kilicdaroglu had to run the full 400m. He came from behind, and almost caught Erdogan, but not quite," Soner Cagaptay, a political analyst who has written three books on Mr Erdogan's rule, said.
Mr Cagaptay said that Mr Kilicdaroglu's alliance with centre-right parties had not turned into "a genuine alliance in the eyes of the electorate".
He said that Mr Erdogan's "near complete control of Turkey's institutions, from courts to electoral boards", as well as, "his grip on the media" gave the president an advantage in the race.
A number of sources including Chatham House, a London-based political institute, and Reporters Without Borders, estimate that the Turkish government may control up to 90% of the country's media outlets.
Since 2016, when generals launched a failed coup against Mr Erdogan's rule, the president has cracked down on dissent, jailing government critics and journalists.
Last year, his AK government passed a law that means that those found guilty of spreading false information could be sentenced to up to three years in prison.
The mayor of Istanbul was also jailed for more than two years last year for allegedly insulting members of Turkey's electoral council.
It is within this environment, which Reporters Without Borders ranks as one of the worst countries in the world for press freedom, that Mr Erdogan has mounted a defence of his ten years as president.
A day before the first round vote, Ilhan Tasci, a prominent opposition politician and a member of Turkey's media council, tweeted that state news channel TRT had dedicated 48 hours of coverage to Mr Erdogan's campaign.
Mr Kilicdaroglu's campaign had received 32 minutes of coverage, he said.
The ruling AK party rejects claims by the opposition that state media coverage has favoured Mr Erdogan's campaign.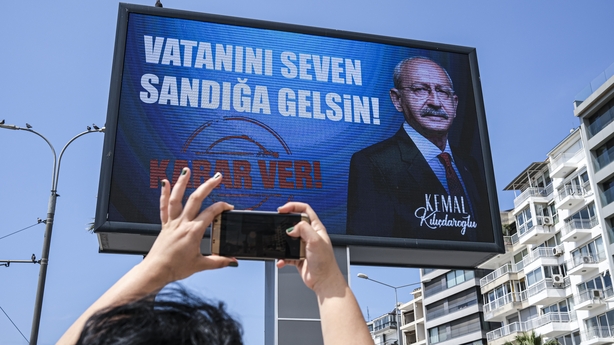 To combat Mr Erdogan and the AK party's near blanket control of the media, Mr Kilicdaroglu and his team have largely channelled their messaging via social media platforms, including TikTok.
On Wednesday, Mr Kilicdaroglu took part in a four-hour interview on BaBaLa TV, one of Turkey's most popular YouTube channels, largely watched by younger voters.
Sitting in front of a framed picture of Ataturk, the founder of the Turkish republic, Mr Kilicdaroglu fielded unvetted questions from an audience of voters.
The 74-year-old apologised for airing views in the past against wearing the headscarf – a nod to any swaying AK party voters. Mr Erdogan's Islamist-rooted AK party supports the wearing of the headscarf by women in Turkey.
On Kurdish separatism, he delivered a nationalist tone, defending Turkey's current borders and saying "one flag, one state".
The interview has received more than 10 million views in the first 24 hours since its publication.
Mr Erdogan is never challenged in this way on the airwaves.
Many of the president's supporters, who are older and live outside of main cities, get their news from mainstream television stations, not YouTube, Twitter and TikTok.
In an effort to win over swaying nationalist voters, Mr Kilicdaroglu has gone all out to embrace populist, nationalist rhetoric since the first round vote.
Since the start of his campaign, Mr Kilicdaroglu has promised to repatriate Turkey's 3.6 million Syrian refugees.
But he has now gone further.
"We will not surrender our homeland to this mentality that allowed 10 million irregular refugees to enter our country. The border is our honour," he said in a video published on 17 May.
"Nationalism is one of the themes that has been on the rise in the last one and a half weeks," said Prof Ustun.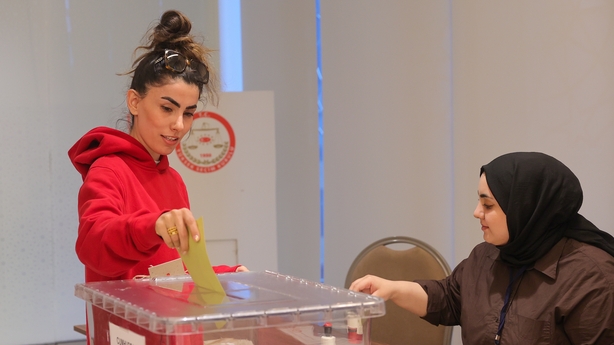 Earlier this week, nationalist politician Sinan Ogan, who gained 5% of votes in the first round, backed Mr Erdogan. But, it is unclear whether all of his supporters agree with him.
Mr Kilicdaroglu's hardline stance on refugees could sway some of Mr Ogan's supporters to vote for him, and help to reduce the president's slim lead.
Despite Mr Erdogan's tilt towards authoritarian-style rule, it is clear that Turks value their democracy.
Voter turnout in the first round was 88%, a figure that few European democracies can attain.
"If it's a contested win, I think Erdogan will feel fragile. He'll crack down more at home, become more autocratic and lean more on Putin and Gulf countries for inflows," said Mr Cagaptay, Director of the Turkish Research Program at the Washington Institute.
However, Mr Cagaptay said that if Mr Erdogan wins by a small margin, then Turkey is set for what he calls a "chill Erdogan outcome", whereby the president is more likely to rebalance relations with the US and Europe, and be less autocratic at home.