The FBI on have arrested an employee of the US Air Force National Guard over the leaks online of classified US documents that embarrassed Washington with allies around the world.
US Attorney General Merrick Garland said the FBI arrested the man, Jack Teixeira, "in connection with an investigation into alleged unauthorised removal, retention, and transmission of classified national defense information."
The FBI said its agents had made an arrest and were conducting "authorised law enforcement activity at a residence in North Dighton, Massachusetts."
Video images played on news channels showed heavily armed officers in Massachusetts accompanying a young man wearing a gray t-shirt and bright red shorts into a waiting car.
His head was bowed and his hair was close-cropped.
The leaks were a "deliberate, criminal act," the Pentagon said.
Pentagon spokesman Brigadier General Pat Ryder referred questions about the investigation to the Department of Justice.
Some of the most sensitive leaked details are purportedly related to Ukraine's military capabilities and shortcomings, and information about US allies including Israel, South Korea and Turkey.
US President Joe Biden, who is on a four-day trip to Ireland, said earlier today that investigators were closing in on the source of the online leaks in what is believed to be the most serious security breach in years.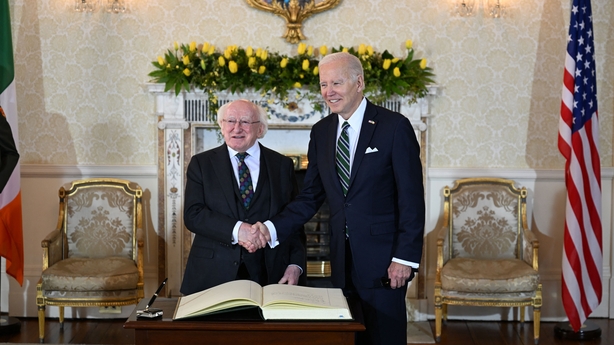 The New York Times earlier reported that Teixeira was a National Guardsman who led Thug Shaker Central, an online group where about 20 to 30 people shared their love of guns, racist memes and video games.
The Times cited interviews and documents it reviewed.
"There's a full-blown investigation going on, as you know, with the intelligence community and the Justice Department, and they're getting close but I don't have an answer," Mr Biden told reporters in Ireland.
"I'm not concerned about the leak, I'm concerned that it happened but there is nothing contemporaneous that I'm aware of."
The leaks, which the Pentagon has called a serious risk to national security, have revealed US unease over the viability of a coming Ukrainian counteroffensive against Russian forces, and suggested it spied on allies Israel and South Korea.
Reuters has reviewed more than 50 of the documents, labelled "Secret" and "Top Secret" but has not independently verified their authenticity. The number of documents leaked is likely to be over 100.
A number of countries have questioned the veracity of some of the documents, including Britain, which said there was "a serious level of inaccuracy" in the information.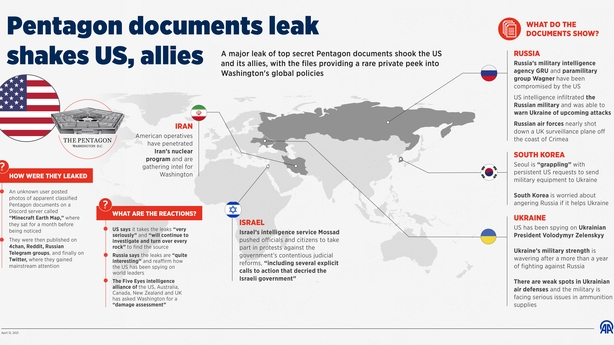 The FBI Washington field office is leading the investigation, according to a person familiar with the matter.
Two members of a group on the online social platform Discord told The Washington Post that hundreds of pages of material had been posted there by a man who told them he worked on a US military base and brought the documents home with him.
The man, who went by the nickname "OG", regularly posted documents on the group for months, the group members told the newspaper, speaking on condition of anonymity.
Some information in the documents was so sensitive it was marked "NOFORN", meaning it was not to be shared with foreign nationals, The Post reported.
The group of around 24, including people from Russia and Ukraine, bonded over their "mutual love of guns, military gear and God," and formed an "invitation-only clubhouse in 2020 on Discord," the newspaper reported.
'Dark view of government'
OG told the group members that he spent "some of his day inside a secure facility that prohibited mobile phones and other electronic devices," the paper reported.
He also told them that he "toiled for hours writing up the classified documents to share with his companions in the Discord server," the paper reported.
Later, he began taking photos of the documents and shared those with the group.
"When rendering hundreds of classified files by hand proved too tiresome, he began posting hundreds of photos of documents themselves," The Post reported.
OG had told the other members of the group not to share the documents, and that he had not intended to be a whistleblower, The Post reported, citing one of the friends.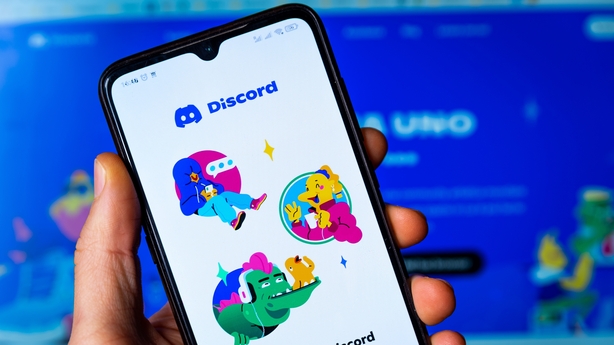 The Post said OG had "a dark view of the government."
"(A group member) said he spoke of the United States, and particularly law enforcement and the intelligence community, as a sinister force that sought (to) suppress its citizens and keep them in the dark.
"He ranted about 'government overreach.'"
Dozens of photographs of documents have been found on Twitter, Telegram, Discord and other sites in recent days, though some may have circulated online for weeks, if not months, before they began to receive media attention.
White House spokeswoman Karine Jean-Pierre said the national security implications are being reviewed.
She said the administration urged social media companies to "avoid facilitating" the distribution of such material.
"We do believe that social media companies have a responsibility to their users and to the country to manage the private sector infrastructure that they create and now operate," she told reporters traveling with Mr Biden.
A Discord spokesperson told AFP that user safety is a priority, and that content violating its policies can result in people being banned, servers being shut down, and police alerted.
"In regards to the apparent breach of classified material, we are cooperating with law enforcement," a Discord spokesperson said.
"As this remains an active investigation, we cannot provide further comment at this time."