The European Union will guard against any abuse during Russia's presidency of the United Nations Security Council during the month of April, the bloc's foreign policy chief said.
Russia, one of the five permanent members of the UN Security Council, yesterday assumed its presidency as part of the monthly rotation between its 15 members.
"Despite being a permanent member of the Security Council, Russia continuously violates the very essence of the UN legal framework," EU foreign policy chief Joseph Borrell tweeted late yesterday.
"The EU will stand against any abuse by (the) Russian presidency," he said.
Russia's ties with the West have sunk to their lowest point since the Cold War over Moscow's invasion of Ukraine.
Moscow last chaired the council in February 2022, the same month it invaded Ukraine - prompting Kyiv to call for Russia's removal from the council.
Russia will hold little influence on decisions but will be in charge of the agenda.
Kyiv has branded the presidency "a slap in the face".
"Unfortunately, we ... have some obviously absurd and destructive news," President Volodymyr Zelensky said in his daily video address, adding that Russian shelling had killed a five-month-old boy on Friday.
"And at the same time Russia is chairing the UN Security Council. It's hard to imagine anything that proves more the total bankruptcy of such institutions," he added.
The presidency rotates alphabetically each month among the15 members. Although it is largely procedural, the Kremlin and other Russian officials vowed to "exercise all its rights" in the role.
The United States on Thursday urged Russia to "conduct itself professionally" when it assumes the role, saying there was no means to block Moscow from the post.
In March, the International Criminal Court (ICC) - an international justice body not associated with the UN - issued an arrest warrant for President Vladimir Putin and his commissioner for children rights, accusing them of the war crime of illegally deporting hundreds of children from Ukraine.
---
---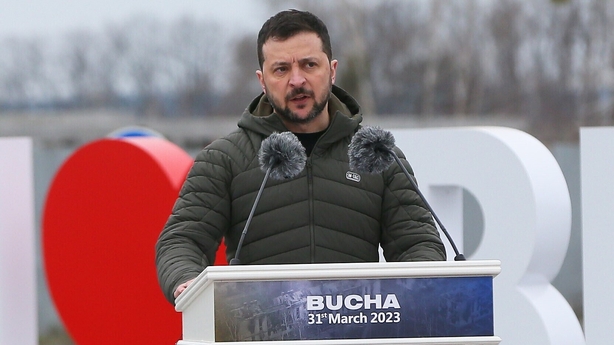 Ukraine's Foreign Minister Dmytro Kuleba called Russia's presidency of the Security Council a "slap in the face to the international community."
Mr Zelensky said it was time for a general overhaul of global institutions, including the Security Council.
"Reform is obviously necessary to prevent a terrorist state- and any other state that wants to be a terrorist - from destroying the peace," he said.
Some 400 days into the war, which has killed thousands, destroyed Ukrainian cities and set millions of civilians to flight, Russia continues to take over parts of the country, pressing on with its assault in the east.
Earlier, Mr Zelensky adviser Andriy Yermak also hit out at Iran, which Kyiv and its allies accuse of supplying Russia with arms. Tehran denies it is giving weapons to Russia.
"It is very telling that on the holiday of one terror state– Iran - another terror state – Russia – begins to preside over the UN Security Council," Mr Yermak wrote on Twitter, referring to Iran's Islamic Republic Day holiday.
Ukraine will fight on, army chief vows year after bodies found in Bucha
Ukraine will continue to fight for its independence, the chief of the army said today, a year after bodies of civilians were found in Bucha after Russian troops retreated.
"We will continue to fight for the independence of our nation," Valery Zaluzhny wrote on Telegram.
Russian forces withdrew from Bucha, a commuter town northwest of Kyiv, on 31 March 2022 - just over a month after Russian President Vladimir Putin ordered his troops to invade Ukraine - and left a trail of death and destruction in their wake.
AFP journalists on 2 April last year discovered the bodies of at least 20 people in civilian clothing, some with their hands tied behind their backs, lying in a street of the suburb.
Ukraine and its Western allies have accused Russian troops of carrying out war crimes, pointing to extensive footage and witness accounts.
Prosecutors in Kyiv say that Russian forces killed some 1,400 civilians around Bucha and that they have identified dozens of Russian soldiers responsible.
Moscow has claimed atrocities carried out in Bucha were staged.