Australia will buy as many as five US nuclear-powered submarines and later build a new model with US and British technology under an ambitious plan to build Western muscle across the Asia-Pacific in the face of a rising China, according to a US official.
US President Joe Biden was hosting the leaders of Australia and Britain, Prime Minister Anthony Albanese and Prime Minister Rishi Sunak, on a US naval base in San Diego, California, to announce the plan.
Australia, which joined the newly formed AUKUS group with Washington and London 18 months ago, will not be getting nuclear weapons. However, with nuclear propulsion, the new submarine fleet will add substantial new strength to the Western alliance seeking to push back against China's own military expansion.
Mr Biden's national security adviser, Jake Sullivan, told reporters that the submarine plan illustrates Washington's long-term vow to guarding "peace and stability" in the Asia-Pacific region.
The partnership with Australia, which involves sharing secret nuclear technology previously only given to Britain, is "a decades-long, maybe a century-long commitment," Mr Sullivan said.
Three conventionally armed, nuclear-powered Virginia class vessels will be sold "over the course of the 2030s," with the "possibility of going up to five if that is needed," Mr Sullivan said.
The new model, also nuclear-powered and carrying conventional weapons, is a longer-term project and will be dubbed the SSN-AUKUS, he said. It will be built on the base of a British design, with US technology, and "significant investments in all three industrial bases," Mr Sullivan said.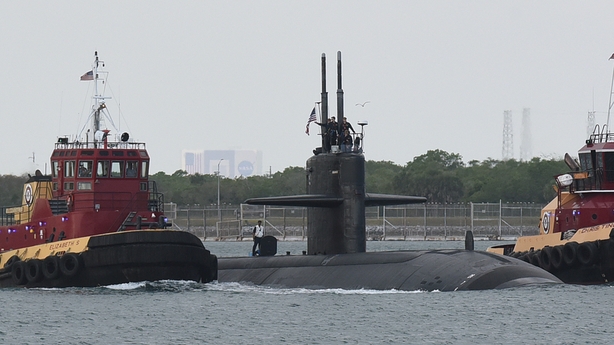 While Australia has ruled out deploying atomic weapons, its submarine plan marks a significant new stage in the US-led attempt to counter growing Chinese military power, including Beijing's construction of a sophisticated naval fleet and turning artificial islands into offshore bases.
In the face of the Chinese challenge - and Russia's invasion of pro-Western Ukraine - Britain is also moving to beef up its military capabilities, Mr Sunak's office said today.
More than $6bn in additional funding over the next two years will "replenish and bolster vital ammunition stocks, modernize the UK's nuclear enterprise and fund the next phase of the AUKUS submarine program," Downing Street said.
Australia had previously been on track to replace its aging fleet of diesel-powered submarines with a $66 bn package of French vessels, also conventionally powered.
The abrupt announcement by Canberra that it was backing out of that deal and entering the AUKUS project sparked a brief but unusually furious row between all three countries and their close ally France.
Compared to the Collins-class submarines due to be retired by Australia, the Virginia-class is almost twice as long and carries 132 crew, not 48.
However, the longer-term upgrade will require a long wait.
A senior US official, speaking on condition of anonymity, said that the British navy should get its "state of the art" SSN-AUKUS vessels in the late 2030s and Australia only in the early 2040s. In the meantime, Australian sailors, engineers and other personnel will be training with their US and British partners to acquire expertise.
China warned that AUKUS risked setting off an arms race and accused the three countries of setting back nuclear nonproliferation efforts.
"We urge the US, the UK and Australia to abandon the Cold War mentality and zero-sum games, honor international obligations in good faith and do more things that are conducive to regional peace and stability," Chinese foreign ministry spokeswoman Mao Ning told reporters in Beijing.
The communist country's leader Xi Jinping made a fiery statement last week accusing the United States of leading a Western effort at "all-round containment, encirclement and suppression of China".
But Washington says Beijing is alarming countries across the Asia-Pacific with its threats to invade the self-governing democracy of Taiwan, as well as highlighting the threat from nuclear-armed North Korea.
"What we've seen is a series of provocative steps that China has undertaken under the leadership of Xi Jinping over the last five to 10 years," the senior US official said.
"This is an attempt to defend and secure the operating system of the Indo-Pacific."