"If the Taliban finds out, we will be in great trouble," said a female aid worker in Afghanistan who agreed to speak on condition of anonymity.
"My life is in danger," she said.
She was talking about her underground work to give teenage girls an education - defying two Taliban decrees, issued in the past month; one barring girls and women from secondary schools and universities and another banning female NGO workers.
It is not the first time this woman has had to hide from the authorities.
After the Taliban took over in the wake of the US withdrawal from Afghanistan in 2021, she was forced out of her job as a journalist.
"I got life-threatening calls and letters that led me to escape from one place to another," she wrote, "we have a very critical situation here and we are not able to predict what is going to happen to us".
"I have no hope for tomorrow," she added.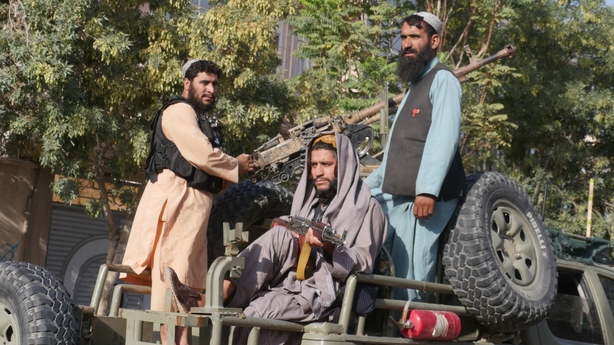 The United Nations has sent two delegations in as many weeks to try and reason with Taliban leaders.
International female NGO workers have so far been exempted from the NGO edict, but UN officials said they made it clear to the authorities that crucial aid delivery on the ground relied on the participation of local women, especially in the most vulnerable communities.
Many NGOs were forced to suspend operations, as a result of the decree, just as conditions worsened with the onset of the coldest winter in decades. The UN estimates more than 28 million people will need humanitarian assistance this year.
On her return to New York yesterday, UN Deputy Secretary-General, Amina Mohammed, said that it was important that the international community presented a united front to try to get the bans reversed.
She said she held meetings with several Taliban leaders - some of whom refused to look at her because she is a woman.
"Two can play at that game," she told reporters, "I don't look at you either."
Others were more "forward-learning" she said, adding that they know they need the humanitarian assistance.
"But let's make no mistake, this is the Taliban; so if we can push and pull with some of those that would go back to Kandahar and get us exemptions, let's do that, but these are not people with a halo above their heads," she said.
In response to a question from RTÉ News, the Deputy Secretary-General said one of the only points of influence that the international community still has is the Taliban's desire for recognition on the world stage.
"I went into Afghanistan thinking that the most conservative of them did not care about recognition. They do.
"Recognition is one leverage that we have, and we should hold onto it," she said.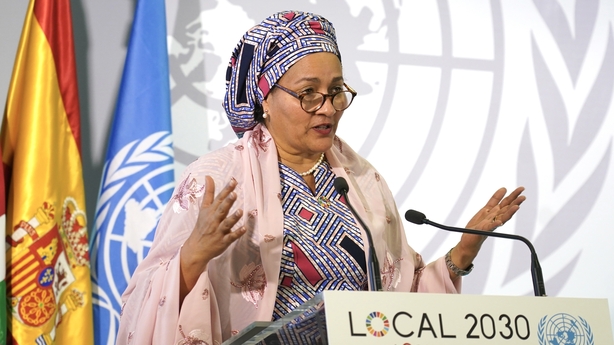 The second delegation, headed by the UN's top humanitarian envoy, Martin Griffiths, is in Kabul this week, again meeting with Taliban officials.
But for the UN to carry out its humanitarian and human rights work, a "political solution to a political problem," is really what's needed, the UN Special Rapporteur on Counterterrorism and Human Rights, Fionnuala Ní Aoláin, told RTÉ.
"The UN on its own is a bit like Sisyphus pushing a rock up a mountain," she said.
"There are resources, political capacities, perhaps some carrots and very few sticks that the UN can use. But really what's required is political commitment by states to support and engage with the UN and the de facto authorities," she said.
"And that's really complicated because you have a non-recognised government, you have a highly precarious security situation still in Afghanistan and if we observe the engagement of states in the Doha process - those states who were involved in supporting the Taliban to come to the table - it's unclear if those states remain as engaged now as they did when they were disengaging from Afghanistan.
"So, if we are going to ask what's going to change this situation, we need re-engagement by those states who have influence," she added.
It is a view echoed by a male Afghan NGO worker who, again, spoke to RTÉ News on condition of anonymity.
"I am quite sure the UN can put much more pressure but the soft pressure never works on the Taliban," he said.
"It was the Doha deal that whitened the Taliban and opened a black page for Afghanistan's people," he said.
The 2020 US-Taliban talks were supported by Qatar, Pakistan, China, India and Russia and the deal was unanimously endorsed by the UN Security Council.
"It was a very non-humanitarian and bad political deal," he said, "Afghan people are highly suffering after the Taliban came to power."
With the situation on the ground rapidly deteriorating, Barry Andrews MEP for Dublin, believes the EU should start preparing for more refugees.
"EU leaders should consider once again activating the Temporary Protection Directive," he said, referring to the mechanism to provide protection for displaced people; originally set up in 2001 following the conflicts in former Yugoslavia, but triggered for the first time last year, when Russia invaded Ukraine.
"The same compassion that was shown to Ukrainian refugees must be extended to Afghan refugees, who are also fleeing persecution," he said, "this would enable an orderly, harmonised reception of Afghan citizens, should we see an influx in the coming months."
In Afghanistan, many women are losing hope, the NGO worker told me.
"I don't know what's going to happen to us if the United Nations and other countries leave us alone in the hands of this group," she said.