Around 200 people have been rescued after they were left stranded on a large chunk of ice that broke away from the main shoreline of a lake in the US state of Minnesota.
The local sheriff's office said those who were adrift had been fishing at the Upper Red Lake when the incident happened at around 11.30am yesterday morning.
There had been as much as 30 yards (90ft) of open water between the main shoreline and those adrift by the time emergency services arrived on the scene.
After assessing the extent of the open water using drones, emergency services managed to pick the narrowest spot of separation and deploy a temporary bridge to evacuate those who were stranded.
The incident happened just north of a popular ice fishing destination.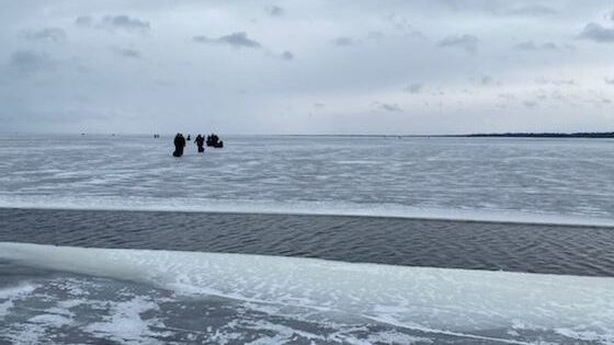 A wireless emergency alert was issued within the locality to alert people the evacuation was taking place.
This allowed notifications to be sent to people's phones, and provided GPS coordinates to the site.
Beltrami County Sheriff's Office said that all those in need of assistance – roughly 200 people - were brought to safety after what was a three-hour operation.
It also urged those who were thinking of heading out onto the ice that it was still early in the season, and that such conditions were "very unpredictable".
"Extreme caution should be used when heading on the ice and to check the thickness frequently to ensure an adequate amount of ice," it said.