With the World Cup just days away, the spotlight is shining on Qatar, the controversial hosts of the tournament.
RTÉ Soccer Correspondent Tony O'Donoghue reports from Doha, where the organisers and climatologists disagree on claims the tournament will be environmentally friendly and carbon neutral.
---
As the COP27 climate change conference concludes in Egypt this week, the attention of climate experts is turning to the football World Cup in Qatar, the first World Cup to be held in the Middle East.
Organisers have claimed that the tournament, which begins with an opening ceremony in the Al Bayt stadium on Sunday, will be environmentally friendly and carbon neutral.
However, some climatologists are expressing doubts over those claims.
The Supreme Committee for Delivery and Legacy is the body responsible for the success of the World Cup in Qatar, a tournament like no other in terms of the criticism it has faced because of the Gulf state's human rights record.
In an effort to prove their environmental credentials, Qatar and FIFA have pledged that this World Cup will be carbon neutral, a claim that many people are questioning.
The first World Cup to be held in the Middle East will need at least 10,000 litres of water every day for each of its stadium pitches and the more than 130 additional training grounds.
World Football's governing body, FIFA, and Qatar's Supreme Committee for Delivery and Legacy said they have committed to reducing and offsetting all carbon emissions related to the games, which begin on Sunday when the hosts play Ecuador, and that they plan to have a carbon neutral World Cup.
However, many people dispute those claims.
Professor John Sweeney of Maynooth University told RTÉ News that it was not a sensible decision from a climate point of view to have the World Cup in such a hot country, even in winter.
The water demands alone are huge.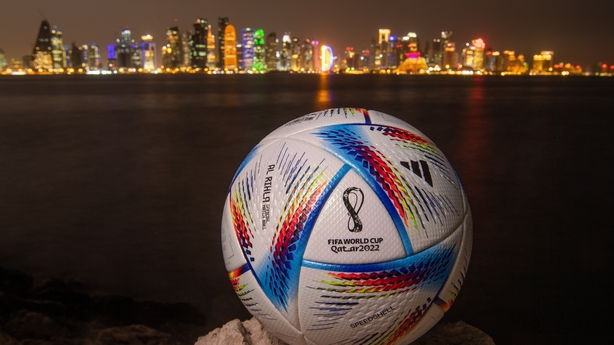 The tournament will need to manage pitches across eight stadiums, and more than 130 additional training grounds.
Professor Sweeney is a climatologist who is querying the carbon neutral claims.
"Well, I think claims of carbon neutrality really depend on what you measure, when you measure it, and how you measure it. And in this particular case, there's an awful lot of embedded carbon in the stadia that they're building. But in reality, they're not counting everything that they should be counting."
Qatar, with a population of over three million, is one of the world's richest countries thanks to oil and gas exports.
The World Cup will bring an invasion of visitors that will stretch the Gulf state's resources to the limit.
"And of course, there's a great deal of accommodation pressure in Qatar, which means a lot of people are commuting to the World Cup from nearby countries.
"These flights, and I believe there's about 60 commuter flights a day as reported into Qatar, these are not counted in any shape or form because they're in international airspace, and they themselves would render that claim of carbon neutrality fairly dubious.
"In addition, I think the Qatari government are claiming they're going to plant a lot of trees.
"Now one wonders how you grow trees in a desert, especially without a large commitment to water and to desalinated water, which is produced from energy consumption elsewhere.
"So as well as that of course, trees will not be sequestering carbon at all for several years.
"So a lot of the calculations, I think, are a bit creative in their accounting around a small four-week period.
"And the reality I think, is that if we were to be really strict on counting carbon for the World Cup, I think that claim of carbon neutrality wouldn't hold up essentially."
Barry O'Sullivan is an Irish Engineering Director, who has worked in Qatar for nearly 14 years.
He told RTÉ News he feels that the Arab world deserves a World Cup and that technology can help make it sustainable.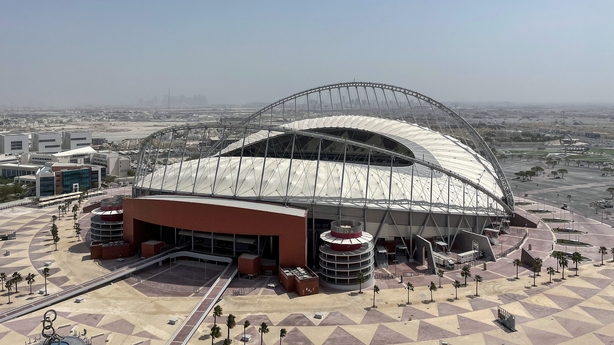 "It is called a 'World Cup' and much of the Arab world is a desert and a lot of the projects that have been done, it's not just the stadiums it's the metros, the roads, the walkways, the cycle paths it's going to be here forever for the community to enjoy as a whole.
"Qatar's water comes from desalinated plants and obviously the cost of energy for them to achieve that is much less than what it would be in other areas of the world.
"They've constructed massive solar plants now to do that in a sustainable fashion.
"I think one of the things when you work with people here you get a multicultural environment, you get people coming in and they don't know what sustainability means, they don't know what health and safety is.
"Certainly part of the legacy is that they might take a part of that, that they've learnt here, and bring it back to their countries and that would help the whole world to develop in an environmentally sustainable fashion."
There are some positive aspects in the area of public transport, according to Professor John Sweeney.
"They've built a very good public transport system in the meantime, and there's also a dismantlable stadium, which is, to some extent good."