The International Energy Agency (IEA) said it believes global energy emissions will peak in 2025 as surging prices due to the Russian invasion of Ukraine propel investment in renewables.
Last year the IEA said there was "no clear peak in sight" in energy emissions, but the new higher investment in wind and solar is setting up demand for all fossil fuels to peak or plateau, leading to a drop in emissions.
"Energy markets and policies have changed as a result of Russia's invasion of Ukraine, not just for the time being, but for decades to come," IEA Executive Director Fatih Birol said in a statement.
Despite this, that will still leave the world on track for a rise in global temperatures of around 2.5 degrees Celsius by the end of the century, which would likely trigger severe climate change impacts.
On Russia, the IEA said the country, which is the world's largest fossil fuel exporter, will never regain the share of the global energy supply mix it had before its invasion of Ukraine.
The IEA added that short-term gaps created by the reduction in fossil fuel supplies from Russia will need to be plugged from elsewhere.
"One of the effects of Russia's actions is that the era of rapid growth in natural gas demand draws to a close," the IEA said.
Russia's supply of internationally traded energy will fall to 13% by 2030 from about 20% in 2021, the IEA projects.
Mr Birol said: "The energy world is shifting dramatically before our eyes. Government responses around the world promise to make this a historic and definitive turning point towards a cleaner, more affordable and more secure energy system".
Based on the latest measures and policies announced by governments in the face of soaring energy prices, the IEA forecasts global clean energy investment to rise by more than 50% from today's levels to €1.99 trillion per year by 2030.
Those measures will propel sustained gains in renewables and nuclear power.
"As a result, a high point for global emissions is reached in 2025.
"The global energy crisis triggered by Russia's invasion of Ukraine is causing profound and long-lasting changes that have the potential to hasten the transition to a more sustainable and secure energy system," the IEA said in its annual World Energy Outlook report.
Global energy-related CO2 emissions are then set to fall back slowly from a high point of 37bln tonnes per year to 32bln tonnes by 2050, it added.
The Paris-based organisation, which advises energy-consuming nations, said that its forecast sees demand for all types of fossil fuels peaking or hitting a plateau.
Coal use: which has seen a temporary high, will drop back in the next few years as more renewables come online
Natural gas: hits a plateau in the end of the decade, instead of the previous forecast of a steady rise
Oil demand: levels off in the mid-2030s and then gradually declines towards mid-century due to uptake of electric vehicles, instead of the earlier estimate of a steady increase
Overall, the share of fossil fuels in the global energy mix in the IEA's stated policies scenario falls from around 80% to just above 60% by 2050.
The world is dealing with a crisis of unprecedented breadth & complexity

Oil & gas markets are facing major uncertainties amid today's geopolitical upheaval

High energy prices have stoked inflation & created a looming risk of global recession

Read more: https://t.co/xIaOetc4WN pic.twitter.com/NXzYLCdYKb

— Fatih Birol (@fbirol) October 27, 2022
The United Nations Environment Programme (UNEP) said that while the switch to greener tech in the power sector was accelerating, several industries were lagging behind in the push towards net-zero emissions.
For example, in the food sector, which is responsible for around a third of emissions, dietary changes and cutting food loss could help reduce the sector's footprint by more than 30% 2050.
Ms Olhoff said the financial sector was "part of the problem rather than part of the solution" to climate change, with hundreds of billions funnelled annually to fossil fuel projects.
UNEP suggested the introduction of an effective carbon price under a global cap and trade system that would push investors to consider the environmental impact of their portfolios.
It also called for central banks to make more funds available and help create global low-carbon technology markets.
UN Secretary General Antonio Guterres said the report showed the world "cannot afford any more greenwashing".
"Commitments to net zero are worth zero without the plans, policies and actions to back it up," he said.
It comes as the UNEP released its annual Emissions Gap report which says climate change pledges leave the world on track to heat by as much as 2.6C this century, warning that emissions must fall 45% this decade to limit disastrous global warming.
It found that national policies since last year's COP26 summit in Glasgow would only shave less than 1% off global greenhouse gas emissions by 2030.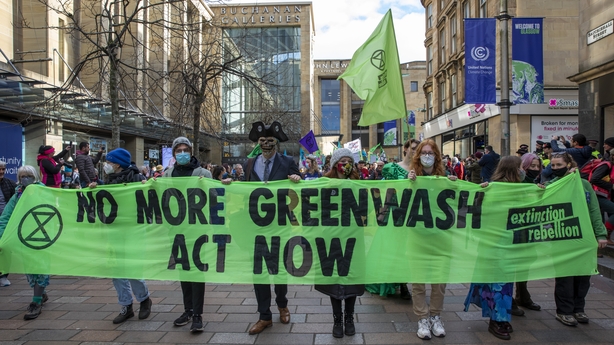 UNEP found progress on emissions cutting had been "woefully inadequate", and this failure left the world "hurtling towards" a temperature rise far in excess of the Paris Agreement goals.
"It's another year squandered in terms of actually doing something about the problem but that's not to say that all nations have not taken this seriously," the report's lead author, Anne Olhoff, told AFP.
The report found that in order for temperature rises to be capped at 2C, emissions would need to fall 30% faster by 2030 than envisioned under countries' most recent plans.
Countries are required to submit ever deeper emission cutting plans, known as Nationally Determined Contributions (NDCs) under the Paris Agreement.
Conditional NDCs, which rely on international funding to achieve, would probably lead to a 2.4C temperature rise this century, it said.
All told, current plans are likely to see a 5 to 10% reduction in emissions by 2030, a far cry from the drop of nearly 50 percent required for 1.5C.
Meeting climate change targets
The IEA also has a scenario to arrive at zero net emissions in 2050, which is seen as necessary to hit the 1.5C warming target enshrined in the Paris Climate Agreement.
That would require clean energy investments to rise to €3.99 trillion per year by 2030, instead of the current forecast of €1.99 trillion.
"The IEA, with all its expertise and authority is clear: clean energy investments must triple by 2030, and gas is a dead end," said Laurence Tubiana, head of the European Climate Foundation and France's former climate ambassador.
"The current European energy crisis clearly proves the dangers of gas: high price, volatility, geopolitical dependence," she added.