Around 50 people turned out to protest in Dublin this evening against the death of Mahsa Amini in Iran.
The 22-year-old died following her arrest for allegedly breaching Iran's strict rules on hijab headscarves and modest clothing.
Ms Amini was detained in Tehran for allegedly wearing her headscarf wrongly with some of her hair showing.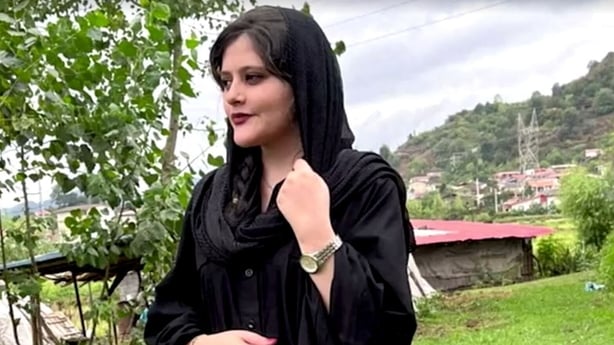 Demonstrators in Dublin, many of whom are from Iran, chanted "women, life, freedom".
They said they were angry at the regime's treatment of women and the crackdown on protesters.
One of the speakers, Miriam Poizad, said the protest was organised to support the outbreak of protests against the "backward regime" in Iran.
She said: "We wanted to send solidarity from Ireland to people in Iran."
Rosa, who is from Iran, said she was very worried about her friends back home.
"The government started killing the people, they cut the internet. One message: we are not afraid of them. The government should stop killing people and should leave our country."
Mansoureh, who is also from Iran, explained why she joined the protest: "I want to protest against the murder of Mahsa Amini and the thousands of women in Iran who have been discriminated against. The regime of Iran is a disaster."
Irvan, who is Kurdish and from Iran, said: "Our government is corrupt, we want to stop our government, we want to bring them down. They kill people and they claim there is a democracy but there is no democracy."
Protest in Dublin against the death of 22-year-old Mahsa Amini in Iran after being detained by so-called morality police. Protesters chanting "women, life, freedom" @rtenews pic.twitter.com/URbkXTYuDB

— Aisling Kenny (@KennyAKE) September 28, 2022
Dr Roja Fazaeli, Associate Professor Islamic Civilisations, at Trinity College Dublin said protesters want an end to the Islamic regime.
She said: "Protesters are shaking the very core of the Islamic state. They want an end to the Islamic regime.
"There is also other symbolic significances so women taking off their head scarfs, burning them, shaving their heads, these will have lasting impact because this is the first time that women are coming out in the collective, in numbers to do this and these are young, fearless women."
Dr Roja said it goes beyond the issue of headscarves.
"The protests are spread all across Iran, this is going beyond ethic diversity, religious diversity, women and men are out in equal numbers," she said.
"This goes beyond the issue of headscarves, this is not about civic, political rights, this is also about civil, economic, cultural rights."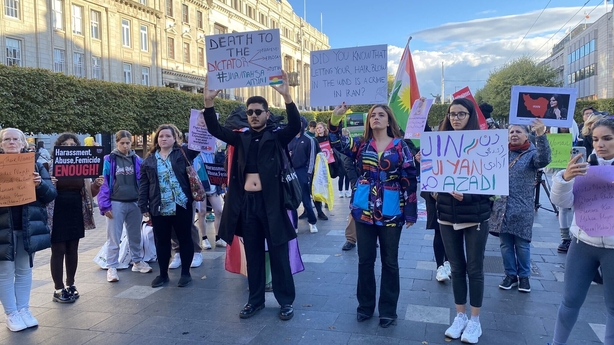 Amini parents file complaint to police over her death
The parents of Mahsa Amini have filed a complaint against the police who arrested their daughter for allegedly breaching Iran's strict dress code before she died in custody, their lawyer has said.
The complaint was filed "against the perpetrators of their daughter's arrest" and the police who spoke with her following her detention, the lawyer Saleh Nikbakht said, quoted by ISNA news agency.
It comes as Iran's police force warned they will confront "with all their might" women-led protests that erupted nearly two weeks ago over the death of Ms Amini in custody, despite growing calls for restraint.
Dozens of people have been killed since demonstrations erupted when the 22-year-old Kurdish woman died after being arrested in Tehran for allegedly breaching the Islamic republic's strict rules on hijab headscarves and modest clothing.
Widespread protests took place last night for the 12th day in a row, according to opposition media based outside Iran, despite internet restrictions designed to impede gatherings and prevent images of the crackdown getting out.
Masih Alinejad, a US-based Iranian journalist and women's rights activist, told Reuters: "This movement is the result of 40 years of women fighting back, pushing back the boundaries.
"Now, it's gaining momentum. I get goosebumps because when I launched the campaign against compulsory hijab, I never thought that this is going to happen while I'm alive.
"And now I see that, wow, women are fearless. They know that they're going to face guns and bullets, but they say that freedom is not free.
"These women in Iran who are leading the movement alongside men, are like the women suffragettes. They are like the Rosa Parks of Iran. They know the risk, but they care about freedom and dignity."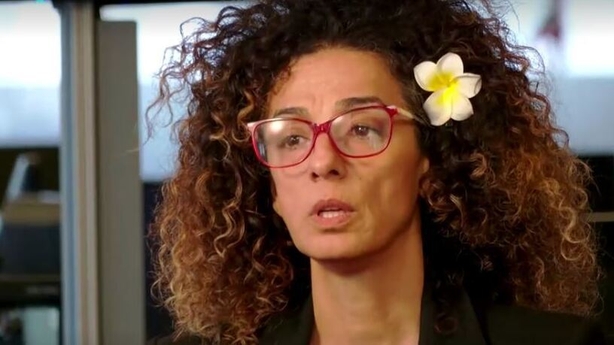 She added: "For years and years, I have been publishing a lot of videos of Iranian women getting beaten up by morality police. This is our daily life in Iran. So now the brutal death of Mahsa Amini created a huge anger among Iranian society."
Meanwhile, Iran was accused of killing seven people and wounding 28 in cross-border strikes today against Kurdish factions in Iraq that have denounced the protest crackdown in the Islamic republic, prompting Iraq to summon the Iranian ambassador.
"These cowardly attacks are occurring at a time when the terrorist regime of Iran is unable to crack down on ongoing protests inside and silence the Kurdish and Iranian peoples' civil resistance," the Iraq-based Kurdistan Democratic Party of Iran said.
In the protests, 'Woman, Life, Freedom!' has been the rallying cry as women have burned their headscarves in bonfires or symbolically cut off their hair, cheered on by crowds.
Riot police in black body armour were seen shooting up at apartment windows in Tehran's Ekbatan Town, in footage shared overnight by Radio Farda - a US-funded Persian station based in Prague.
"Police officers will oppose with all their might the conspiracies of counter-revolutionaries and hostile elements, and deal firmly with those who disrupt public order and security anywhere in the country," the Iranian police force said.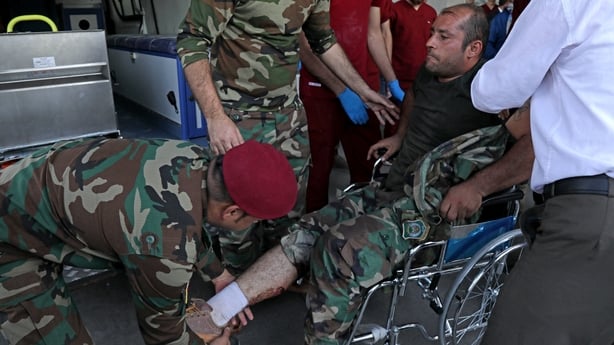 The statement came only hours after the UN said its secretary-general, Antonio Guterres, had called on Iran's President Ebrahim Raisi not to use "disproportionate force" against protesters.
A cousin of Ms Amini said she had been visiting Tehran with her family when she encountered the notorious morality police and died after a "violent blow to the head".
Also today, United Nations experts said Iran must immediately halt the executions of two women sentenced to death over their support for LGBTQ rights.
Iranian judicial authorities prosecuted Zahra Sedighi-Hamedani and Elham Chubdar in August and notified them this month that they had been convicted and sentenced to death, the rights' experts said in a statement.
"We strongly condemn the sentencing of Ms Sedighi-Hamedani and Ms Chubdar to death and call on authorities to stay their executions and annul their sentences as soon as possible," the experts said.
"Authorities must ensure the health and well-being of both women, and promptly release them from detention."