The United Nations Childrens Fund (UNICEF) has warned that children suffering during a dire drought across parts of Africa are "one disease away from catastrophe".
In recent months, there has been a substantial rise in the number of people affected by drought in Ethiopia, Kenya and Somalia.
In parts of West Africa, the situation is being exacerbated by conflict.
Regional water adviser for UNICEF Sam Godfrey said the 21st century is the "century of water".
Mr Godfrey said all countries and communities of the world now understand the risk of having too much water resulting in floods or too little water leading to droughts.
He told RTÉ's Morning Ireland that 60 million people in the Horn of Africa are without reliable access to safe water due to consecutive failed rains.
"And of course, as the water becomes more scarce across the Horn of Africa, it's also becoming much more expensive. For example, in Mandera, which is an area of Kenya, we've seen a 400% price hike since January 2021," Mr Godfrey said.
He said the lack of access to water is affecting "first and foremost children".
"So, let's be clear, this is really a children's emergency from the lack of water [which] leads to an increase in the price."
---
Read more:
China extends power restrictions amid drought, heatwave
Severe drought in Europe is 'worsening' - EU experts
European drought exposes long-submerged treasures
---
Mr Godfrey said that scarcity of water leads to increase in the cost and increased demand as well, leading to huge displacement of populations towards areas where there is sufficient water.
He said there is also a "massive impact on the public health of the populations in Somalia" where there has been outbreaks of acute watery diarrhoea and cholera with 8,200 cases between January and in June of this year.
That is more than double the number of cases in the last few years and two-thirds of those affected by this are children under five.
Mr Godfrey explained that the increase in the price of food is intrinsically linked with the increase in the price of water.
He said that in Somalia people are paying $10 for 200 litres of water, which is actually 50 times more expensive than the price of water in Ireland or the UK.
This, he said, leads to massive increases in the cost of food and the food security of the populations in those particular areas.
The real issue for the populations of Africa is to focus on climate resilient solutions, Mr Godfrey said.
Many communities that have received investments in climate resilient infrastructure have not been affected this year by the droughts because they have a secure water source, he said.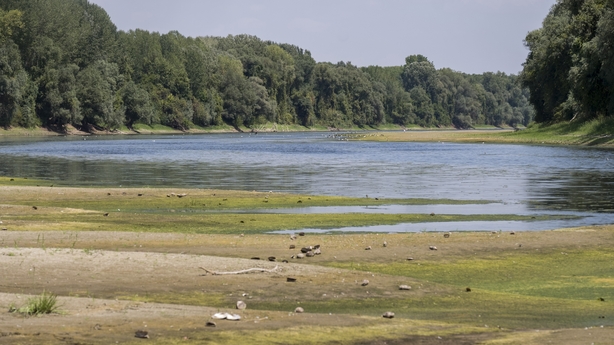 In Europe, a severe drought hitting swathes of Europe is "worsening" and, while rain is helping some regions, accompanying thunderstorms are causing their own damage, EU researchers have said in a report.
The latest monthly analysis by the European Union's Global Drought Observatory (GDO) highlighted the risk of ongoing soil dryness caused by successive heatwaves since May and a "persistent lack" of rainfall.
It maintained its warning issued with the previous report that nearly half of the EU's territory is at risk of drought, and noted that shrivelling rivers and shrinking water sources are impacting energy generation at power plants and reducing crops.
"The severe drought affecting many regions of Europe since the beginning of the year has been further expanding and worsening as of early August," said the report, published by the European Commission's Joint Research Centre.
Increasing "drought hazard" was predicted for big chunks of Italy, Spain, Portugal, France, Germany, the Netherlands, Belgium, Ireland, Luxembourg, Romania and Hungary, as well as non-EU countries Britain, Serbia, Ukraine and Moldova.
In all, it calculated that 17% of Europe was now in its red-alert category, higher than the 11% given in July.
Additional reporting by AFP