The brutal killing of US based journalist Jamal Khashoggi inside the Saudi consulate in Istanbul in 2018 shocked the international community and drew global condemnation.
Mr Khashoggi was a prominent Saudi journalist with the Washington Post and a critic of the Saudi Arabian government, including the policies of Crown Prince Mohammed bin Salman, the son of King Salman and Saudi Arabia's de facto ruler.
On 2 October 2018, he went to the Saudi consulate in Turkey to get a document to state he was divorced so he could marry his Turkish fiancé Hatice Cengiz. But he never reappeared.
After Mr Khashoggi was murdered, there were conflicting narratives over how he died and who was responsible.
US intelligence services concluded unequivocally that the Saudi royal, also known as MBS, had "approved" the operation that led to Mr Khashoggi's death.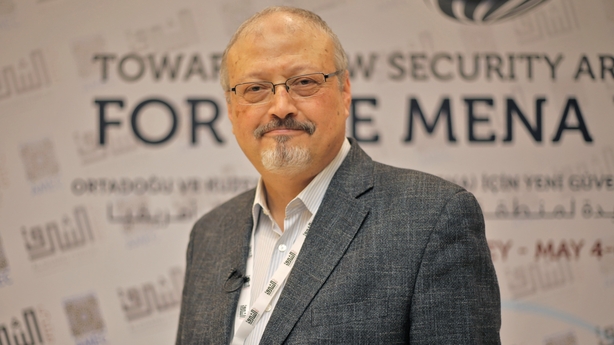 Human Rights Watch said a Saudi trial, which took place behind closed doors, did not meet international standards.
Following a six-month inquiry undertaken by then UN Special Rapporteur Dr Agnes Callamard, it found that the killing was premeditated and carefully planned by Saudi officials.
Dr Callamard also recommended that all states impose sanctions on the Saudis involved in the killing, specifically including Crown Prince Mohammed bin Salman.
Riyadh claims that rogue operatives were responsible, and the prince denies involvement in Mr Khashoggi's killing.
Amnesty International has accused Saudi Arabia of "vicious abuses behind a shiny façade".
"More than three years after the state-sanctioned murder of Jamal Khashoggi, his family have no information about the whereabouts of his remains, while all those involved in his killing have not been held accountable," it said.
This week in Athens, it was clear that Greek politicians would rather talk about energy deals amid Russia's war in Ukraine, than discuss what happened Mr Khashoggi, when Mohammed bin Salman began his first EU visit since the journalist's murder in 2018.
After handshakes and smiles in Greece, Prince Mohammed flew to France, where a dinner on Thursday evening was the latest step in the diplomatic rehabilitation of the de-facto leader of the Saudi kingdom.
The two-leg European trip follows the US President Joe Biden's recent visit to Riyadh. The move, seemingly aimed at rebuilding relations with the oil rich country, coincided with efforts to reduce gas prices in the West and to isolate Russia.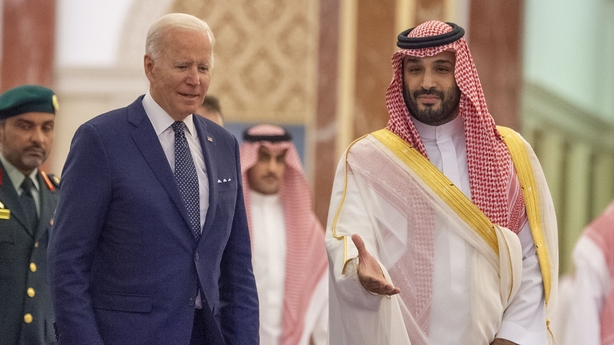 But during his election campaign, President Biden had pledged to make Saudi Arabia a "pariah" over Mr Khashoggi's murder.
Now, less than four years after the murder, and two years after his election, Mr Biden shocked human rights defenders by greeting Mohammed bin Salman with a fist bump, during his first visit to the Middle East as president.
The friendly gesture triggered backlash as it seemingly mocked his own campaign pledge of prioritising human rights.
New York based Executive Director of Democracy for the Arab World Now (DAWN) Sarah Leah Whitson was scathing of the greeting.
"It solidified his place in history as a leader who broke his promises and broke them in such a disgraceful manner," Ms Whitson said.
DAWN was founded by Mr Khashoggi in June 2018, three months before his murder.
This week, the group filed a 42-page complaint before the Paris tribunal arguing that Mohammed bin Salman is an accomplice to the torture and enforced disappearance of Mr Khashoggi and that these are crimes subject to domestic prosecution in France.
The complaint, also supported by the Open Society Justice Initiative and co-filed by TRIAL International, said that Mohammed bin Salman does not have immunity from prosecution, because as crown prince he is not the head of state.
Commenting on DAWN's complaint urging France to prosecute the prince, Mr Khashoggi's fiancé Hatice Cengiz said: "Jamal's soul will be his nightmare everywhere."
While Mr Biden's fist bump was seized on by critics, President Macron's warm and lengthy handshake on the steps of the Elysee Palace as he welcomed the prince drew even more criticism.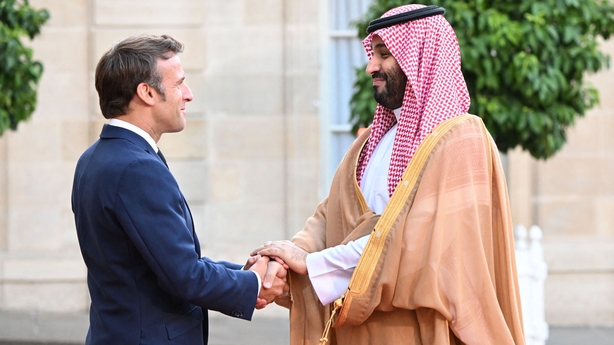 "He's shaking the hand for a long time of man whose hands are covered in blood," senior left-wing MP Alexis Corbiere told BFM television.
Ms Whitson also condemned French President Emmanuel Macron's reception of the prince, saying the president "has chosen which way he leans between cheap crude and human rights".
Following Russia's invasion of Ukraine, which has seen Moscow cut gas supplies to Europe, France wants Riyadh, the world's largest oil exporter, to raise production.
Allies of President Macron defended the meeting as putting practical needs above principles in foreign policy.
President Macron underlined the importance of having a diverse source of energy supplies during his talks this week with Saudi Crown Prince Mohammed bin Salman, according to a statement from the President's Elysee office.
The statement made no reference to any agreement but said the two men had agreed to "intensify their cooperation to ease the effects (of the war in Europe), the Middle East and the world".
Analysts say Saudi Arabia is one of a few countries worldwide with the capacity to increase its oil production, though its margin for manoeuvre is seen as limited.
With world leaders being accused of backing down on human rights at a time when there is a global energy crisis, will moral authority be lost by putting oil ahead of values and principles, while seemingly red carpet treatment is offered to a prince who was until recently considered a "pariah"?