Fresh evacuation orders have been issued for tens of thousands of Sydney residents after relentless rains flooded several suburbs, with officials warning of more wild weather to come.
On the third day of torrential east coast rains, emergency workers said they had rescued more than 140 people since the stormy weather began.
But evacuated residents in one area of western Sydney were now being allowed to return home, officials said, as weather conditions in New South Wales were forecast to ease over the next 24 hours.
Many of those rescued had been trapped in their cars trying to cross flood-swept roads or were unable to leave homes surrounded by rising waters.
Since yesterday, about 30,000 residents in New South Wales state have been told to either evacuate or warned they might receive evacuation orders.
Frustration swelled in several suburbs in the west of Australia's largest city after floods submerged homes, farms and bridges there, some for the third time this year.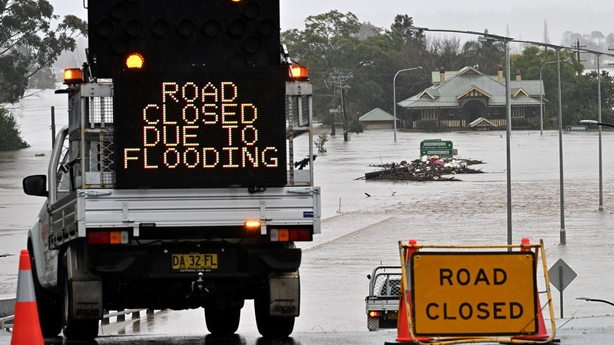 The army sent 100 troops to help operations in the storm-battered state.
"The ground is saturated, the rivers are fast flowing, the dams are overflowing," said State Emergency Services commissioner Carlene York.
"It is particularly dangerous out there."
Mud-brown river waters transformed a large stretch of land into a lake in the southwestern Sydney suburb of Camden.
Roads disappeared into the waters and mobile homes stood in knee-high water, at least one toppled on its side, television images showed.
Large volumes of water gushed from the Warragamba Dam, which has been spilling excess water since yesterday.
The huge concrete dam lies on the western outskirts of Sydney and provides most of the city's drinking water.
"It's just devastating. We are in disbelief," Camden Mayor Theresa Fedeli said.
"Most of them have just come out of the last flood, getting their homes back in place, their businesses back in place and unfortunately we are saying it is happening again."
An operation was under way to rescue 21 crew members from a cargo ship, which lost power south of Sydney and risked beings wept ashore, local media reported.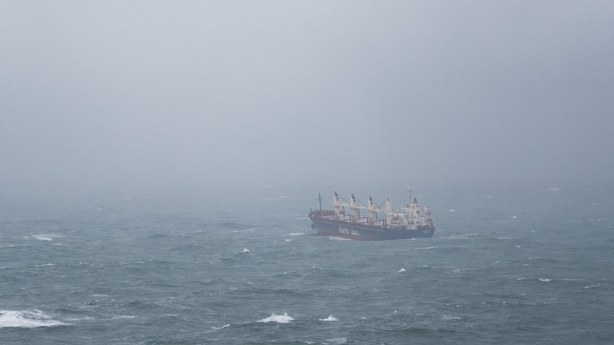 The Hong Kong-registered bulk carrier initially dropped two anchors to hold its position off the coastal cliffs, officials said.
Plans for a helicopter rescue were dropped because of the conditions.
But later in the day, three tugboats managed to start towing the vessel and its crew to deeper water to undertake repairs, the state port authority said.
"It has been a very difficult time for many months to have this flood event off the back of others. It makes it more challenging," New South Wales Premier Dominic Perrottet said during a televised media briefing.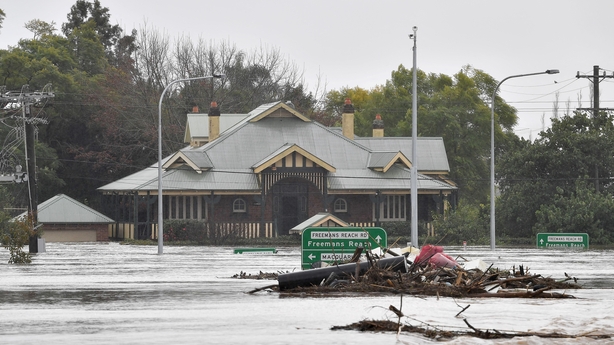 Drone footage captured in Wisemans Ferry, a town 75km north of Sydney, shows the town inundated with floodwaters as an intense low-pressure system off Australia's east coast brought heavy rain across New South Wales | Read more: https://t.co/WAvWJk0V4I pic.twitter.com/SDmobFkyIN

— RTÉ News (@rtenews) July 4, 2022
Paul O'Neill, a resident from flood-hit Wisemans Ferry, said he was taking food supplies by boat to his stranded family after rising waters cut off access.
"The road collapsed and hasn't been fixed since the last floods, hasn't been touched. So now they close our road access and then the ferry, the only way to get home now is by boat," he said.
---
Explainer: What is Australia battling floods again?
---
Footage on social media showed petrol stations, homes, cars and street signs partially under water while garbage bins floated down flooded roads. Military vehicles were seen going into flooded streets to evacuate stranded families.
Some inland towns, including Picton, about 90km southwest of Sydney, have lined the main streets with sandbags.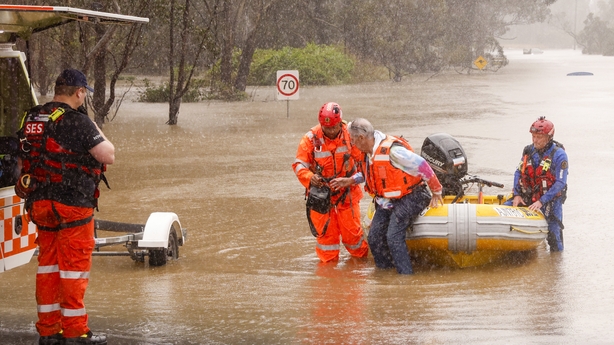 About 100 millimetres of rain could fall in the next 24 hours over an area of more than 300km along the New South Wales coast from Newcastle to the south of Sydney, the Bureau of Meteorology said.
"We are expecting the rain to pick up again from this afternoon," bureau meteorologist Jonathan How said.
More than 200mm of rain has fallen over many areas, with some hit by as much as 350mm since Saturday.
The weather could trigger flash floods and landslides, with river catchments already near full capacity after the La Nina phenomenon, typically associated with increased rainfall, lashed Australia's east coast over the last two years.
Climate change is widely believed to be a contributing factor to the frequent severe weather events, the Climate Council said, adding Australia is "under-prepared".
Federal emergency management minister Murray Watt said climate change must be taken "seriously" due to the frequent occurrence of floods.
"The reality is we are living in a changing climate," he told ABC television.
Bad weather has delayed by 24 hours the scheduled launch of a NASA rocket from the Arnhem Space Centre in north Australia, operator Equatorial Launch Australia said.