US President Joe Biden has said that the ruling by the US Supreme Court to end citizens' constitutional right to abortion was a "sad day for the court and the country".
He said that the ruling "took away" Americans' constitutional right, and that women's health and lives are "now at risk".
The court voted 6-3 to overturn the 1973 Roe v Wade ruling, which legalised abortion across all 50 states of America.
During a live address at the White House, Mr Biden said that the abortion ruling was the result of "extreme ideology" and that the court committed a "tragic error".
"The court has done what it has never done before, expressly take away a constitutional right that is so fundamental to so many Americans," Mr Biden said.
We need your consent to load this rte-player contentWe use rte-player to manage extra content that can set cookies on your device and collect data about your activity. Please review their details and accept them to load the content.Manage Preferences
"It's a realisation of an extreme ideology and a tragic error by the Supreme Court in my view."
The US President said that abortion rights are "on the ballot" in the midterm elections.
Politicians across the US and the world, as well as pro and anti-abortion groups and various non-governmental organisations, reacted to Friday's ruling.
'With this decision, the conservative majority of the Supreme Court shows how extreme it is, how far removed they are from the majority of this country' US President Joe Biden says as the court overturns #RoeVsWade | https://t.co/4ANTAQSqtT pic.twitter.com/yPEmOhZOvX

— RTÉ News (@rtenews) June 24, 2022
The Speaker of the US House of Representatives Nancy Pelosi condemned what she said was a "cruel" ruling by the Supreme Court.
Ms Pelosi said: "Today, the Republican-controlled Supreme Court has achieved the [party's] dark and extreme goal of ripping away women's right to make their own reproductive health decisions.
"A woman's fundamental health decisions are her own to make, in consultation with her doctor and her loved ones - not to be dictated by far-right politicians.
"While Republicans seek to punish and control women, Democrats will keep fighting ferociously to enshrine Roe v Wade into law.
"This cruel ruling is outrageous and heart-wrenching. But make no mistake: the rights of women and all Americans are on the ballot this November."
Former US President Donald Trump said "God made the decision", while his predecessor Barack Obama said the ruling attacks "essential freedoms".
"Today, the Supreme Court not only reversed nearly 50 years of precedent, it relegated the most intensely personal decision someone can make to the whims of politicians and ideologues -- attacking the essential freedoms of millions of Americans," Mr Obama tweeted.
Today's ruling is the dangerous culmination of Republicans' decades-long effort to roll back women's freedoms and control their health care decisions. This ruling is a distressing and shameful step backwards. Democrats will fight like hell to protect women's rights.

— Rep. Richard Neal (@RepRichardNeal) June 24, 2022
---
Read more
US Supreme Court overturns Roe v Wade abortion legislation
Trump's justices decisive in long campaign
Read the court's ruling
---
Senate Republican leader Mitch McConnell said the decision was "courageous and correct".
"This is an historic victory for the constitution and for the most vulnerable in our society," he said in a statement.
Former US vice president Mike Pence said the right to abortion had been "consigned to the ash heap of history" as he hailed a Supreme Court ruling that ended 50 years of constitutional protections.
"By returning the question of abortion to the states and the people, this Supreme Court has righted a historic wrong, and reaffirmed the right of the American people to govern themselves," said Mr Pence, a Republican potential presidential candidate and leading anti-abortion campaigner.
The leading abortion provider in the US, Planned Parenthood, has vowed it would "never stop fighting" for those in need.
It said: "We know you may be feeling a lot of things right now - hurt, anger, confusion.
"Whatever you feel is OK. We're here with you - and we'll never stop fighting for you," it tweeted.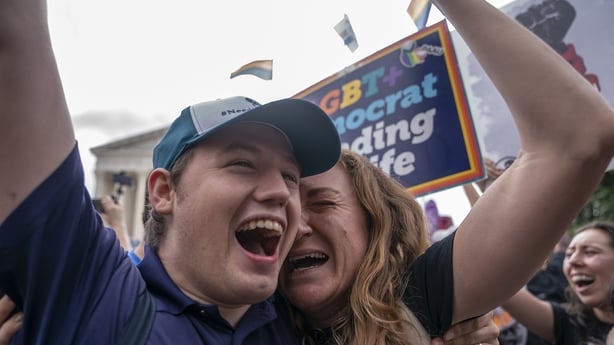 The head of the World Health Organization said he was very disappointed by the overturning of the landmark US abortion ruling Roe v Wade.
"I am very disappointed, because women's rights must be protected. And I would have expected America to protect such rights," Tedros Adhanom Ghebreyesus remarked a summit in Rwanda.
Here in Ireland, the Pro Life Campaign welcomed the decision of the court, describing it as "a momentous development for the right to life".
Eilís Mulroy from the campaign said: "It means that for the first time in almost 50 years, it is possible once again to legally protect unborn babies in the United States."
She added: "Those who campaigned for repeal of the Eighth Amendment in Ireland like to think of the issue as settled. But as the debate in the US shows the issue is far from settled."
The Abortion Rights Campaign condemned the ruling.
ARC spokesperson Darina Murray said: "We in Ireland know how an abortion ban creates stigma, isolation, causes long-term damage to health and even death.
"We also know that abortion bans disproportionately affect marginalised people such as migrants and people of colour."
Another ARC spokesperson Helen Stonehouse added: "It is unacceptable that there are more rights to hold a gun in the USA than to control one's own body."
Labour leader Ivana Bacik said she was "shocked and saddened at the news coming from the US today and I want to express my solidarity with all the women and girls who will be so severely impacted by this horrific step back for women's rights".
She added: "We know from the Irish experience that restricting access to abortion does not prevent crisis pregnancy, but rather it compounds the crisis for women."
People Before Profit TD Bríd Smith has said the ruling is "a sad day for all women and pregnant people across the United States".
Aontú leader and Meath West TD Peadar Tóibin said: "Today is a wonderful day for human rights and democracy."
He added: "Ireland often trails behind the US on social issues. Ireland deregulated abortion 50 years after the US. Hopefully it won't take as long to guarantee everyone's human rights here."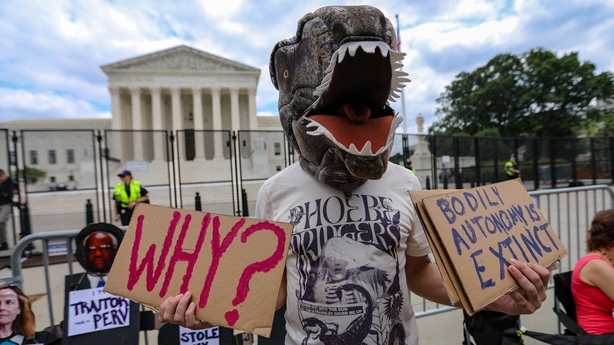 World leaders react to court decision
British Prime Minister Boris Johnson said the overturning of legal protections for abortion in the United States was "a big step backwards".
"I have always believed in a woman's right to choose and I stick to that view, that's why the UK has the laws that it does."
Referring to changes to the law in Northern Ireland, he added: "We recently took steps to ensure that those laws were enforced throughout the whole of the UK."
Earlier this week, British MPs formally approved moves to allow the UK Government to directly commission abortion services in Northern Ireland.
Canadian Prime Minister Justin Trudeau said the ruling was "horrific" and he sympathised with women "set to lose their legal right to an abortion."
"No government, politician, or man should tell a woman what she can and cannot do with her body," Mr Trudeau said on Twitter.
French President Emmanuel Macron: "I express my solidarity with women whose freedoms are today challenged by the Supreme Court of the United States of America. They must be protected."
UN High Commissioner for Human Rights Michelle Bachelet noted: "It is a huge blow to women's human rights and gender equality."
"More than 50 countries with previously restrictive laws have liberalised their abortion legislation over the past 25 years.
"With today's ruling, the US is regrettably moving away from this progressive trend."
Meanwhile, the Vatican's Academy for Life has praised the US Supreme Court's ruling, saying it "challenges the whole world" on life issues.
The Vatican department also said in a statement that the defense of human life could not be confined to individual rights because life is a matter of "broad social significance".
Reporting AFP, Reuters