Russia's blockade of 18 million tonnes of Ukrainian grain and oil seed is "a war crime" and "a real catastrophe for international food security", a Ukrainian minister has said.
Taras Vysotskyi, Ukraine's first deputy minister of agrarian and food policy, said the country's grain fed 400 million people globally in 2021.
He also accused Russia of stealing grain in occupied areas and exporting it.
Speaking on RTÉ's Morning Ireland, Mr Vysotskyi said: "Taking into account the share of Ukraine's supply of food, it is indeed a real catastrophe for international food security.
"We have calculated that, for example in 2021, Ukraine supplied to the international markets food enough to feed around 400 million people.
"We have about 18 million tonnes of grains and oil seeds from the old harvest from 2021 blocked in Ukraine which hasn't been able to be exported due to the ports blockade.
"We are already starting, in a week, the harvest of new crops.
"We are ready to supply, and we have enough of grains and other agricultural commodities, and on the other hand the people in the countries that are dependent on the imports just don't have physically enough food to eat. It's really a war crime."
It comes as Ukrainian President Volodymyr Zelensky told the African Union that Africa is being held hostage by Russia's war as food prices have been sent soaring.
Mr Vysotskyi also accused Russia of stealing Ukrainian grain.
"We have received information from the people there [in Russian occupied areas] that grains were taken by force," he said.
"We do have satellite images where we can see the ships loading the grain in Crimea - a territory which hasn't been producing grains for at least seven years.
"The chain of facts allows us to prove that Russians do steal the grain in the occupied territories of Ukraine."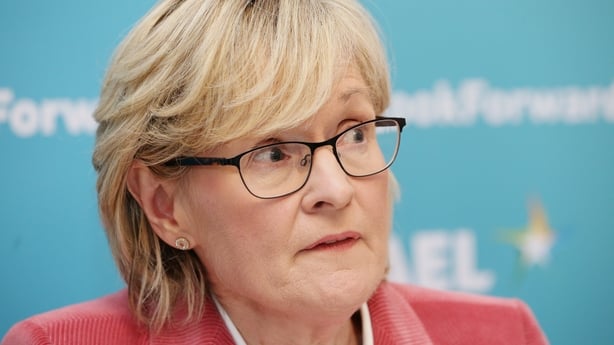 EU Commissioner Mairead McGuinness said that Russia is "weaponising" food supply.
She told RTÉ's Drivetime time that the scenario is "looking bleak".
"[It is] Food security we're really concerned about, not about Europe's food security, although vulnerable families will face difficulties as food prices increase, because of energy costs and fertiliser costs," she said.
"Our worry around global food insecurity is huge, because we see the weaponising of grain by Vladimir Putin, by Russia.
"They deliberately are stopping the movement of grain supplies globally. That's impacting price. We have a scenario which is looking bleak."
Meanwhile, EU Foreign Policy Chief Josep Borrell yesterday accused Russia of deliberately trying to create hunger in the world by blockading exports of grain from Ukraine.
The blockade has sparked grain and fertiliser shortages worldwide and has put millions of people at risk of hunger.
At a meeting of EU Foreign Policy Ministers in Luxembourg, Mr Borrell described the move by Russia as a "war crime".
Last week, Morning Ireland reported the Irish Government is allowing ships to bring products directly from Russia.
Six Russian-flagged vessels had made deliveries to Irish ports, in some cases carrying animal feed.
There is an EU ban on Russian-flagged cargo carriers docking in EU ports, but governments are allowed to claim derogations or exceptional circumstances to permit certain cargo to be landed.
In response to this, Mr Vysotskyi said Ukraine would "strongly recommend and ask all" its "international partners to keep following the sanctions and support Ukraine in its fight with Russia".
Asked about Ukraine becoming part of the European Union, Mr Vysotskyi said it was of "strategic importance".
"Most of the Ukrainian population support it. It's a mandate that's vital for the survival of Ukraine," said Mr Vysotskyi.