A group of 78 Syrian refugees are due to arrive in Ireland this week from Lebanon, as part of an existing Government pledge to resettle those fleeing war here.
Over 90% of Syrians in Lebanon are now living in poverty, and these 20 families were first interviewed to come here as long ago as March 2020.
Since then they have faced growing levels of poverty, uncertainty and food insecurity.
"The crisis in Ukraine is now hitting an already complex crisis here," explains Alison Heron, Head of Programmes with Trócaire in Lebanon, speaking from her home in Beirut.
"It's going to have a very large impact, in that Lebanon imports 95% of its grain from Ukraine and Russia."
She pointed out that grain silos were destroyed at Beirut port during the massive warehouse explosion there back in August 2020.
"So already the reserves in Lebanon were extremely low and with the social and economic crisis, it has been very difficult to continue getting new imports into the country," Ms Heron added.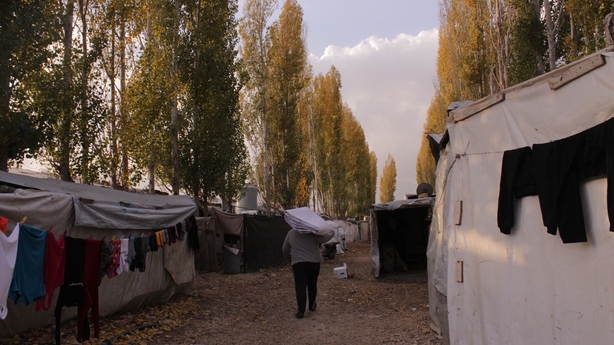 She said millions of people living in Lebanon are now no longer able to feed their families - and many of them are Syrian refugees.
"There's very little way, especially for Syrians in Lebanon, to make a livelihood," she explained.
"Our programmes used to be very focused on trauma and health and psychological support.
"But for the past two years, a lot of our work [is supporting] communities with food baskets and cash and other emergency items because they can no longer reach the basic minimum needs in order to survive," she said.
"We're also seeing a lot of families ... who are now begging, borrowing money, not sending children to school because they can't afford it ... and even cutting down on the average meals they have.
"A mother and father not eating, for example so their children can eat that day."
There is an understandable focus on the situation in Ukraine but other crises, and their humanitarian consequences, must not be forgotten.
Ms Heron said the numbers of Syrian refugees who have been able to leave Lebanon has also fallen.
"Unfortunately, the resettlement numbers have been very low. I think we've seen this reduce year-on-year.
"The crisis in Syria has now been going on for over ten years, and just the number of refugees leaving Lebanon at this point is so low, because countries are not accepting additional numbers of refugees."
The media's focus has also shifted. "There are so many other crises happening, first earlier with Afghanistan and now Ukraine," she pointed out.
This means there "is no focus" on Syrians stuck in limbo.
The Ukrainian crisis has caused some of those working with refugees to question whether there has been a different and more welcoming approach to those forced to flee their homes in Ukraine, compared to other refugees fleeing conflict in the Middle East and Africa.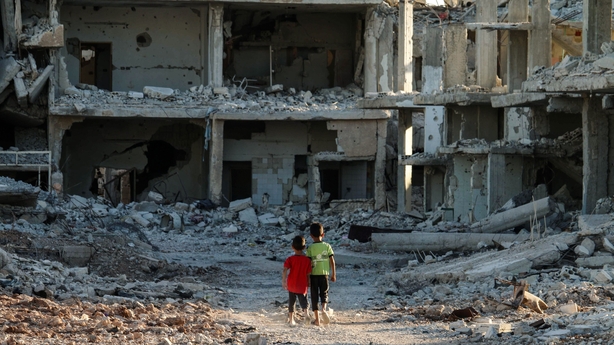 It's a question that was put to Ireland's Minister for Foreign Affairs Simon Coveney this week, as he addressed an event held by the Institute of International and European Affairs (IIEA), which was looking at the Council of Europe's role in responding to Russian aggression in Ukraine.
"Within 48 hours, the European Union agreed to literally open its doors to all Ukrainians and all people coming from Ukraine, even if they're not Ukrainian, with no visa requirements," Mr Coveney told the event, saying that just under 30,000 people had made this journey to Ireland.
Given such a show of solidarity, he agreed this posed the question 'Why haven't we done that for others fleeing conflict, like in Syria for example?'
Mr Coveney concluded: "I think the honest answer to that is that when this happens on our own continent, when it's happening with our own neighbour, because Ukraine borders four EU member states, then I think the solidarity has been much, much stronger.
The situation is particularly dire in Lebanon, where over 90% of Syrians live in extreme poverty.
"And I think maybe we need to reflect on that, because whether you're Syrian or Ukrainian, if you're fleeing from a city that is being reduced to rubble, the fears, the anxieties and trauma is equally strong in both cases, as it is indeed in other parts of the world."
Ireland will take over the Presidency of the Council of Europe's Committee of Ministers later this month.
Welcoming the eventual arrival of the groups of Syrian refugees here from Lebanon, who will make their journey to Ireland from Beirut on Wednesday, the UNHCR said "this is a lifeline for people in some of the most vulnerable situations."
A spokesperson for the UNHCR in Ireland said: "There is an understandable focus on the situation in Ukraine but other crises, and their humanitarian consequences, must not be forgotten.
"Eleven years after the beginning of the war, Syria remains the world's largest displacement crisis with more than 13 million forced to flee their homes inside the country's borders or abroad.
"The situation is particularly dire in Lebanon, where over 90% of Syrians live in extreme poverty and families are taking desperate measures to survive."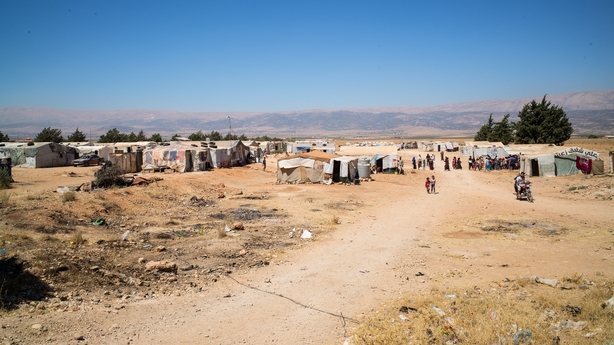 Colette Morris, Head of Migration Services with the Irish Red Cross, travelled several times to Beirut to meet the Syrian families who are travelling to Ireland this week.
She acknowledges there have been many delays for them, some of which were caused by the pandemic, but also by paperwork, including a wait for exit visas from the Lebanese government.
She travelled with the Irish Refugee Protection Programme (IRPP) to Lebanon in March this year, to try to reassure the families who had been selected.
"The IRPP checks in with them about what their current living standards are. Obviously, they are not ideal and they have been like that for some time."
All of those arriving this week will go into Emergency Reception and Orientation Centres in Clonea in Waterford and Ballaghaderreen in Co Roscommon.
Arrivals from Jordan will bring the number of Syrian refugees in Ireland to 528 for this year.
Staff at the reception centres will initially help with English lessons and intercultural awareness, a process which began in Lebanon with the UN Migration Agency IOM.
Ms Morris explained: "They are seeing more and more about Ireland, and what it means and I think we always want to make sure that people are making an informed decision about where they're coming.
"How our culture differs from theirs, what they could expect, because even when someone is in a really awful situation, they still need to make an informed decision about what this choice will be for them."
She also travelled with the IRPP mission to Jordan last year along with the Minister for Equality Roderic O'Gorman, and said work is still underway to bring those families to Ireland too.
No firm arrival date has yet been set and those selected have also faced a long and frustrating wait.
The current housing shortage in Ireland, particularly a shortage of rental accommodation, has been causing some bottlenecks in terms of finding accommodation for refugees in the community, to move them on from emergency centres.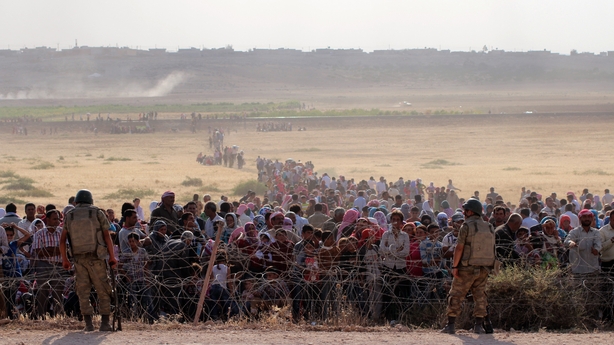 "The housing crisis hasn't gone away," acknowledged Ms Morris, "But I don't think people from Ukraine are interfering with potential settlements of any of the other cohorts of people that we're working with.
"I can say that definitively because I'm looking at all the numbers.
"We're moving as many people from the Afghan cohort, as we ever were, if anything we're just increasing our ability to be able to help support, accommodate and work with more people who are vulnerable and fleeing war."
The Irish Red Cross stressed that funding and resources to help Syrian refugees and those arriving earlier from Afghanistan, is separate to that used to assist the thousands of Ukrainians arriving here.
Overall, Ireland has pledged to resettle 2,900 refugees from Syria over a four-year-period to the end of next year.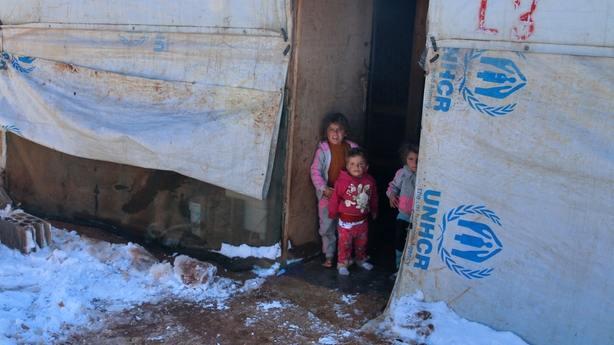 In a statement, the Department of Children, Equality, Disability, Integration and Youth, on behalf of the IRPP, said arrivals from Jordan would bring the number of Syrian refugees here to 528 for this year.
It said it was conscious of the impact on families waiting for necessary travel arrangements and "would engage to ensure the continued arrival of refugees here, in as timely a manner as possible."
However, the Department added: "There is no specific timeline given to families in relation to time of arrival in Ireland following selection as exits depend on security checks, availability of flights and accommodation in the receiving country."
Following challenges caused by the pandemic, and the logistics of accommodating almost 500 refugees fleeing Afghanistan, a spokesperson said it was now "hoped that we are now entering a new phase and normal resettlement processes for the IRPP" for this year and into 2023.