Political advisers from Russia, Ukraine, France and Germany will hold "Normandy format" talks on eastern Ukraine in Paris on 25 January, a source in Russian President Vladimir Putin's administration has said.
Mykhailo Podolyak, adviser to Ukraine's chief negotiator Andriy Yermak, confirmed that a meeting in Paris was planned but told Reuters a preliminary date had been set for 26 January.
The planned talks come amid elevated tensions between Russia and the West over Ukraine.
Western countries are concerned by a Russia military build-up on the border and have warned of severe economic consequences if it invades its neighbour.
Russia denies it plans to invade Ukraine but is demanding legally binding security guarantees from the United States and NATO.
The four-way Normandy format peace talks are aimed at helping end a long-running conflict in eastern Ukraine between Ukrainian government forces and pro-Russian separatists.
Relations between Russia and Ukraine collapsed in 2014 after Russia annexed the Crimean peninsula from Ukraine and Moscow-backed forces seized territory in the Donbass region that Kyiv wants back.
Russia's chief negotiator, Dmitry Kozak will take part in the talks from the Russian side, the source added.
Mr Kozak said earlier in January that the meeting would be held by the end of this month.
Germany 'encouraging Putin' by refusing to supply weapons: Ukraine
Ukraine's Foreign Minister Dmytro Kuleba today condemned Germany for its refusal to supply weapons to Kyiv, urging Berlin to stop "undermining unity" and "encouraging Vladimir Putin" amid fears of a Russian invasion.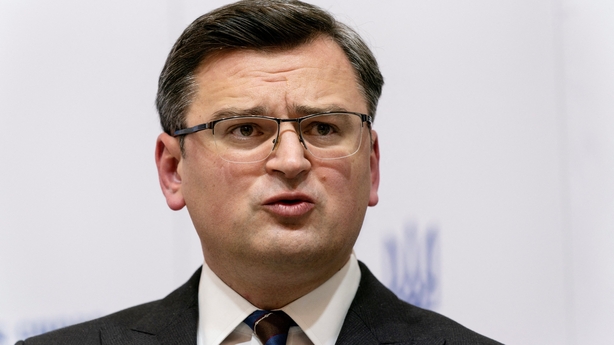 In a separate development, the foreign ministry said it had also summoned the German ambassador to Ukraine, Anka Feldhusen, to stress "the categorical unacceptability" of comments by German naval chief Kay-Achim Schoenbach, who had said the idea that Russia wanted to invade Ukraine was "nonsense".
A defence minstry spokesman said today that the head of Germany's navy resigned following controversial remarks on the crisis in Ukraine.
Kay-Achim Schoenbach said the idea that Russia wanted to invade Ukraine was "nonsense", adding that Putin deserved respect, in comments at a think-tank meeting in New Delhi yesterday.
In a video filmed at the New Delhi meeting, Mr Schoenbach said that what Mr Putin wanted was "to be respected".
"It's easy to give him the respect he wants, and probably deserves as well," he said.
He also said that the Crimean peninsula, which Russia annexed from Ukraine in 2014, was gone and would not come back to Ukraine.
Today, Mr Schoenbach made it clear that his comments did not represent the government's view and had been ill-advised.
"There is no need to quibble: it was clearly a mistake," he tweeted.
In a statement later this evening, he said he had submitted his resignation "to avoid any more damage being done to the German navy and above all, to the German Federal Republic".
UK accuses Moscow of trying to install pro-Russia leader in Ukraine
Britain has alleged that it had information that Moscow was "looking to install a pro-Russian leader in Kyiv" as fears grown of an invasion of Ukraine.
The UK foreign office said in a press release today that: "We have information that indicates the Russian Government is looking to install a pro-Russian leader in Kyiv as it considers whether to invade and occupy Ukraine.
"The former Ukrainian MP Yevgen Murayev is being considered as a potential candidate."
Additional reporting AFP
---
Read more: What does Russia have to fear from the West?
---