Kiribati and Samoa have entered lockdowns after overseas arrivals brought Covid-19 to the Pacific island nations that had avoided the worst of the pandemic for two years.
Until this month, Kiribati had not reported a single virus case, while Samoa had only recorded two since the pandemic began, according to the World Health Organization.
But authorities in both countries have been forced to put in place stay-at-home orders after the virus was detected in international arrivals.
Dozens of passengers on a flight to Kiribati from Fiji - the first to arrive in the nation since borders reopened - tested positive for the virus.
And in Samoa, the restrictions were triggered after cases linked to a repatriation flight from Brisbane rose to 15, prime minister Fiame Naomi Mata'afa said.
The restrictions will lift on Monday night and all current cases - believed to be infected with the Omicron variant - are in quarantine, she added.
Kiribati's leader said the capital - home to almost half of the country's 120,000 population - would be placed under the restrictions after recording its first community cases.
"There is now an assumption that Covid-19 is now spreading in the community," President Taneti Maamau said in a statement on Facebook.
Under the restrictions, locals must stay home unless in need of essentials like food or healthcare.
It was unclear how long the lockdown would last, but a previous announcement said similar restrictions would end Thursday.
Around 62% of Samoa's population is fully vaccinated, while about 34% of Kiribati's population is double-jabbed, according to WHO data.
---
Read more: Latest coronavirus stories
---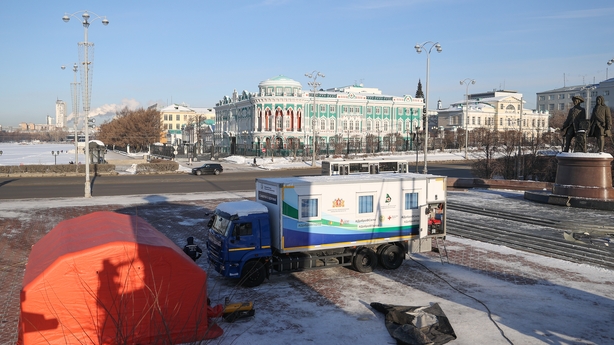 Russia sees record virus cases second day running
The Russian government has reported a record number of new coronavirus cases after the Kremlin warned of a looming surge in cases driven by the Omicron variant.
An online portal dedicated to the coronavirus outbreak registered 57,212 new daily cases, surging past the previous record of 49,513 set yesterday.
Following a strict but brief national lockdown at the beginning of the pandemic, Russia has held back on curbs hoping instead to protect its struggling economy.
Russian President Vladimir Putin warned last week that the country needed to ready for an Omicron-driven surge, calling for more testing and vaccinations.
In the capital Moscow - the epicentre of the virus outbreak in Russia - there was a record 16,094 new cases.
Several vaccines developed in Russia have been freely available for months but still only around half of the country is fully innoculated due to widespread vaccine scepticism.
Mr Putin has previously said Russia's eminent Sputnik V vaccine could be "more effective" than Western-developed jabs.
Russian government figures show 325,433 deaths from Covid-19 since the start of the pandemic - the highest death toll in Europe.
Those figures are contradicted by state statistics agency Rosstat, which counts Covid deaths under a broader definition and says fatalities are around double the official figure.
Globally, Russia has the fourth-highest number of virus-related fatalities, according to an AFP tally, after the United States, Brazil and India.