Elections are taking place in Hong Kong for its Legislative Council today, but they will not be the once-hoped-for chance for the democratic movement there to demonstrate its popularity.
Instead of being out campaigning, many of those who wanted to see a loosening of China's grip on the city are either in prison awaiting trial, keeping quiet out of fear or have been forced to flee.
The elections are the first in Hong Kong since the introduction of a controversial national security law in July 2020, which followed more than a year of civil unrest.
This included the dramatic storming of the city's legislature (July 2019), the vandalising of the Chinese government's liaison office (also in July 2019) and prolonged clashes at Hong Kong Polytechnic University (November 2019).
The law - and the change to the electoral structure - has effectively silenced a once colourful and vocal opposition movement that was in evidence that year on television screens across the world.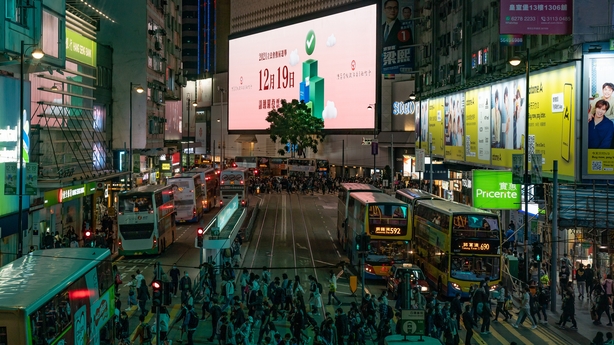 Now it is barely visible on the streets, where even singing songs and handing out leaflets can lead to arrest.
Supporters of the law say it has restored order and improved prospects for the city's economy but critics say it has stamped out any opposition.
"The impact has been quite severe, given the fact that using this vague definition of national security can be used as a pretext to restrict freedom of expression, freedom of assembly, association and certainly the right to a fair trial," Kyle Ward, the Deputy Secretary General of Amnesty International told RTÉ.
"They're basically just weeding out political opposition and silencing the media."
Hong Kong's chief executive Carrie Lam said the electoral system has been changed to ensure "patriots administer Hong Kong."
In an exclusive interview this month with the Global Times she said that following almost a year of social unrest from the second half of 2019: "I feel relieved that Hong Kong has been getting through all these ups and downs, and the situation is now stable, which is also a good situation."
The election, to be held today, had already been postponed for more than a year due to Covid-19. It is being contested by a tightly controlled and pre-selected list of candidates; all 153 having been vetted for their political loyalty and patriotism.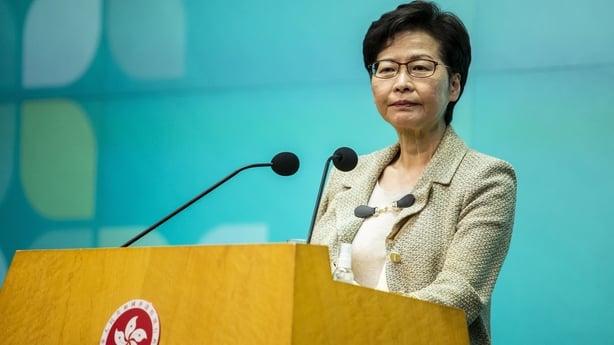 Ireland's former Justice Minister, barrister and Independent Senator Michael McDowell has branded the election a "sham" and called for the Irish government to be more vocal in its criticism of human rights abuses in Hong Kong and across mainland China.
"There's been a timidity in Irish foreign policy in relation to China which I find regrettable. We have to find our voice now and make our voice heard internationally," he said.
The senator, who is a member of the Inter-Parliamentary Alliance on China, said the "patriots only regime" in Hong Kong, whereby only approved candidates could stand for election, meant the democratic movement there was "effectively beheaded".
Mr McDowell said the new electoral rules were a "clear breach" of the agreement reached between Britain and China, under which there was to have been a 50 year time span where Hong Kong had its own political culture, under the "one country, two systems" formula.
That 50-year period officially runs out in 2047, but Senator McDowell said that, in reality, this has happened already.
"What they are facing now is the totalitarian Communist Party of China publicly reneging on that view and holding a sham election," he said.
The senator said there was no point in Ireland holding a seat on the UN Security Council unless it raised its voice on these issues.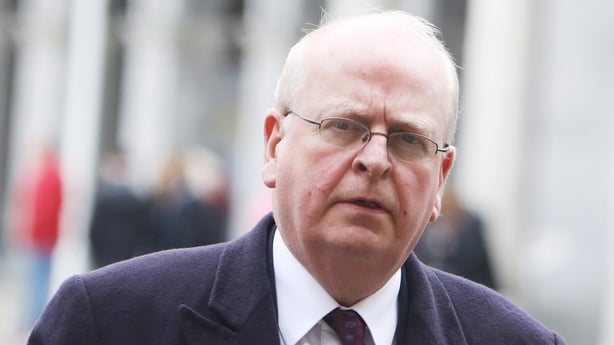 How does the system work?
The Legislative Council - or "LegCo" as it is known locally - has been expanded from 70 to 90 seats, but at the same time there has been a drastic curtailment over who can run for office.
Forty of the LegCo seats will be picked by a select "Election Committee" of 1,500 staunch Beijing loyalists. The same committee, which makes up 0.02% of the city's population, will appoint the city's next chief executive in 2022.
It is made up of political and business elites, including some of the city's tycoon families.
Back in 2016, some 250,000 people got to vote for its members. Under the new reforms, this year's Election Committee was chosen by 7,891 voters.
A further 30 seats will be chosen by what are known as "functional constituencies."
These bodies represent various industry and special interest groups within the city such as finance, importers, retail and catering.
Community sectors like labour, teachers and rural committees are also represented. Under Beijing's latest reforms, delegates to the mainland's Communist Party bodies also have a say.
Just 20 seats will be chosen by geographical constituencies with 4.5 million residents in the city of 7.5 million able to cast their vote in this way.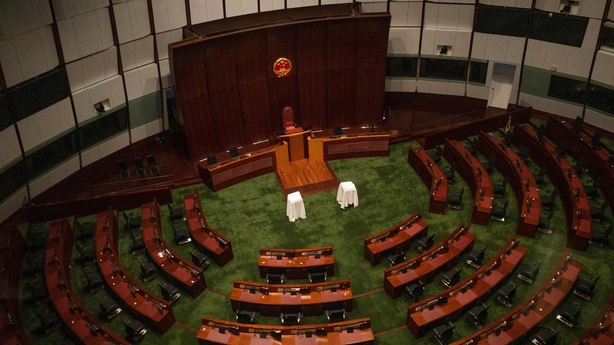 Turnout will be key - as opposition urges a boycott
Hong Kong democracy activist Nathan Law, who sought asylum in Britain after China's crackdown in Hong Kong, has called on voters in his home city to ignore the Legislative Council elections.
Other activists have advised people to cast blank votes, but at least ten arrests have already been reported of those accused of inciting others to do this.
Speaking from London, Nathan Law told Reuters: "We should not give any legitimacy to the election, we should not pretend we have an election - it is just a selection by Beijing."
Pre-election polling in Hong Kong has also suggested that there could be a record low turnout from these elections, as public enthusiasm is dampened.
More than a dozen democrats who won seats in the 2016 legislature election are among nearly 100 people facing national security charges.
"With the backdrop of the crackdown on the democracy movement under the national security law, it's not surprising that democrats are absent in this election," Kenneth Chan, a political scientist at Hong Kong's Baptist University, told AFP.
"As they are absent, I'm afraid most of their supporters will also be absent."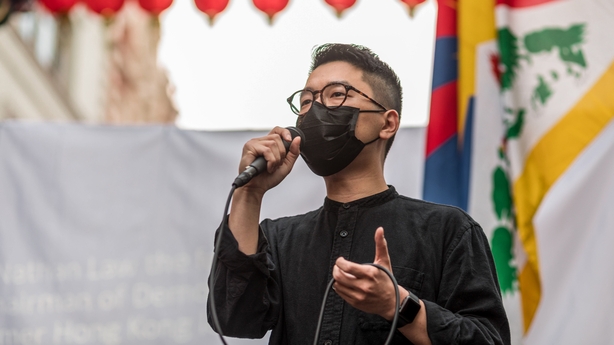 Commenting on the potential for a low turnout, the city's chief executive Carrie Lam put a positive spin on it, saying it could be seen as a sign that "the government is doing well and its credibility is high.
"The voter turnout will decrease because the people do not have a strong demand to choose different lawmakers to supervise the government.
"Therefore, I think the turnout rate does not mean anything," she said.
But with little opposition allowed to operate in Hong Kong itself, lawmakers abroad are calling for more international support, to shine a light on what is happening in Hong Kong.
In a speech against the Chinese government during a brief address at US President Joe Biden's Summit for Democracy this month, Nathan Law said: "My experience embodies a prime example of how a city once believed to be the [most free] in Asia can deteriorate into an authoritarian police state in front of our eyes."
He warned: "The world has embraced the rise of China without developing mechanisms to hold it accountable."
Holding China to account
However, holding China to account is no easy task.
This year several human rights groups, including the Hong Kong branch of Amnesty International, have had to close down their offices in the territory due to the dangers of operating there.
Amnesty will have no physical presence in the city by the end of this year, but said it is not abandoning Hong Kong.
It hopes it can do its regional work from locations including Bangkok in Thailand and Seoul in South Korea, and the pandemic has helped strengthen its ability to work online and remotely, despite the "Great Firewall" of China which blocks selected foreign content, making communication into the country more difficult.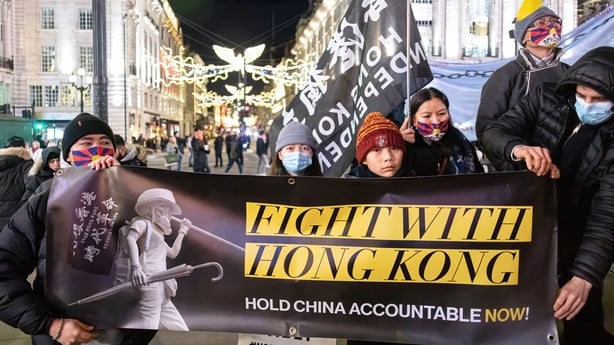 "It is not something we took lightly," said Amnesty's Deputy Secretary General Kyle Ward of the departure from Hong Kong.
"We have a long history of working in the country, so it was not easy for us."
The Hong Kong section of Amnesty has been operating for close to 40 years and was originally founded by the Irish Jesuit priest Fr James Hurley, who spent 58 years living in Hong Kong before he returned to Ireland in 2014. He passed away last year.
Despite having operated there for decades, Mr Ward said there had been little choice to pull out Amnesty International staff, after the vaguely worded national security law was introduced in the summer of 2020.
He said this had allowed authorities in China and Hong Kong to crack down on any form of dissent, creating an environment of "fear, uncertainty and repression that makes it impossible to know when you might cross a line somewhere that leads to criminal sanctions."
He said it was that uncertainty about putting their own staff at risk that meant it was time to leave.
"When is the threat imminent? When they knock on the door and take you away? So we felt our duty of care to our staff was such we just couldn't continue to keep them there, doing the important work they were doing."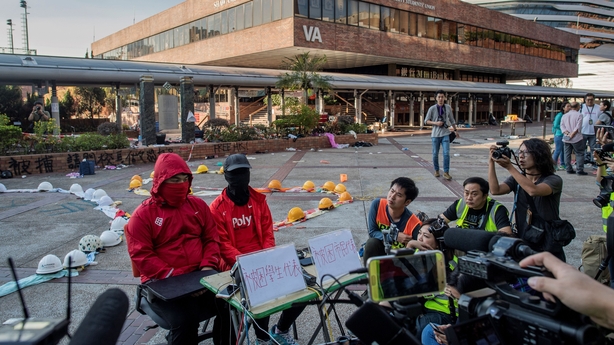 Smaller countries urged to "speak truth to power"
Kyle Ward said that, despite the current level of fear in Hong Kong, it is important to remain hopeful and international pressure can still be brought to bear on it.
Citing the case of Lithuania, which this week hastily withdrew its diplomats from Beijing in a row over Taiwan, he said smaller states, including Ireland, can do more than people think to stand up for human rights.
Lithuania's diplomatic delegation to China left the country last Wednesday, following a row over having allowed the self-ruled and democratically governed island of Taiwan to open a de facto embassy in Vilnius in November.
Beijing recently downgraded diplomatic ties with Lithuania and stepped up pressure on other countries to sever relations with Taiwan, which it views as Chinese territory.
Mr Ward said Lithuania's recent move to support those fighting for freedom in Taiwan could have been interpreted by a big power like China as "fleas, you know someone just annoying them, but you know what? Those little mosquito bites add up."
He added: "Small countries speaking up is sometimes even better than the big countries, where its seen as bullying, and is much easier to write off."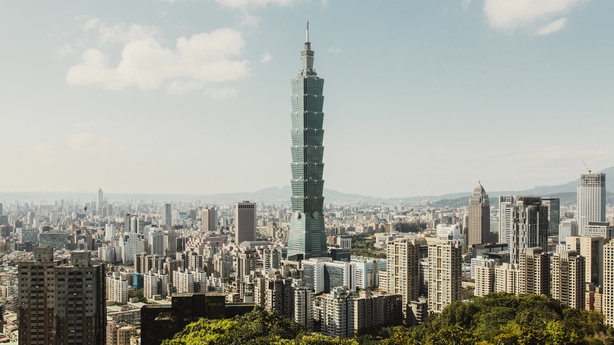 The Amnesty worker said it was very important for smaller countries which have more to lose "to show bravery by speaking truth to power".
Senator Michael McDowell agrees. "We have an extraordinarily cautious and cowardly relationship with Taiwan compared to other member states in the European Union," he said.
And he argues that whilst hope for change in Hong Kong may be fading, Taiwan is likely to become the next battleground over which pressure can be exerted on Beijing.
"I'm very much of the view that the battleground now is Taiwan and that's where Ireland's voice can be heard and make a difference.
"And if Lithuania can take a stand, so can Ireland.
"If Ireland and Lithuania both ask the European Union to be more active and make it clear that [they stand] by Taiwan, then Ireland will have done something useful," he said.
China's human rights in the spotlight as Winter Olympics approach
The US ramped up pressure on China last Friday with the US Senate voting unanimously to make America the first country to ban virtually all imports from China's Xinjiang region over concerns regarding forced labour and poor human rights for the Uyghur minority there.
Last week the independent London-based Uyghur Tribunal found that Chinese President Xi Jinping bore primary responsibility for what it alleged was genocide, crimes against humanity and torture of Uyghur people and members of other minorities in the Xinjiang region.
The unofficial British-based tribunal of lawyers and campaigners concluded that births among the Muslim minority group had been prevented through forced sterilisation, birth control and abortion.
The United Nations' human rights office is also finalising its assessment of the situation in the region and is expected to publish its report within weeks.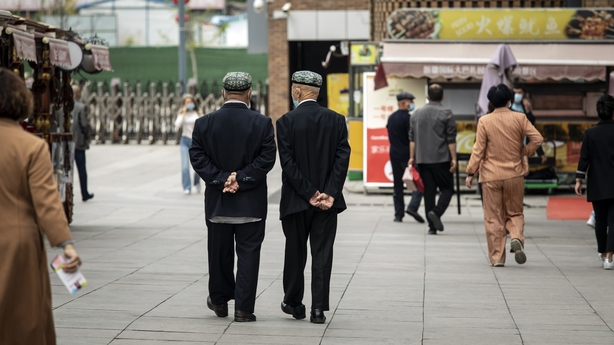 As a result of the human rights abuses, the US is leading a diplomatic boycott of the Winter Olympic Games due to be held in Beijing in February.
Britain, Canada and Australia have also said they would not send their officials and politicians to the games and have been accused by Beijing of "political posturing." Their athletes will still compete.
The Minister for Foreign Affairs, Simon Coveney, was asked about the boycott on his trip to Brussels this week. He said: "We have a very small number of athletes going to the Winter Olympics and there was no plan to send Ministers anyway, so it is not really an issue for us one way or the other.
"But other countries will make up their own minds on that."
Senator McDowell, who said he had circulated a copy of the the Uyghur Tribunal report to every member of the Oireachtas, told RTÉ that Ireland "needs to raise its voice more loudly" on this issue.
Whilst he doesn't believe athletes should be affected, he added: "I believe that the Irish Government should not, under any circumstances, participate on an official level.
"Because what is going on in relation to the Uyghurs - in particular in Xinjiang province - is so gross and so offensive."
He said the EU should follow the US and look at controlling imports from Xinjiang.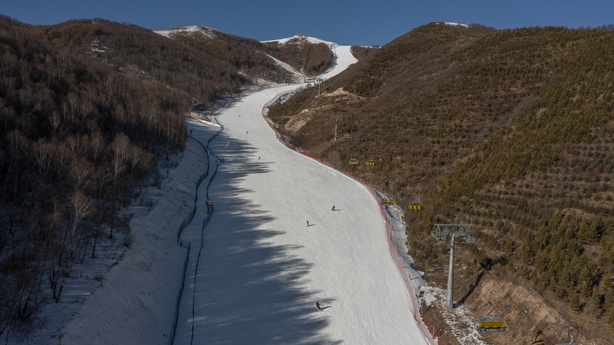 "What Ireland can do is get the European Union to ensure that the slave labour conditions that are being imposed on the Uyghur people in Xinjiang province are countered by decent sanctions.
"The European Union has the strength and clout to impose sanctions on China and it should be doing so, and Ireland should be publicly calling on the European Union to do it," Mr McDowell argued.
Returning to the issue of Hong Kong, he said there was no point pretending quiet diplomacy would achieve anything in relation to China's actions there.
"What we need to do is become vocal…. I think a lot of western countries have effectively said that if the Chinese are going to tear up their 'one country, two systems' agreement in relation to Hong Kong so brazenly, there's very little that can be done.
"I think people are writing off any effort to support the democratic forces in Hong Kong, and that's what makes it all the more important that we stand up for Taiwan. It can be saved. Hong Kong is perhaps un-saveable at this stage."
Additional reporting: AFP, Reuters