Australia will shorten the wait time for people to receive Covid-19 booster vaccines following a rise in cases of the Omicron variant.
Australia had previously said it would offer a Covid-19 booster to everyone over 18 and who had their second dose of the vaccine six months prior.
But with rising cases of the Omicron variant, Australia's Health Minister Greg Hunt said the time interval will be shortened to five months after the second dose.
"A booster dose, five or more months after the second dose, will make sure that the protection from the primary course is even stronger and longer lasting and should help prevent spread of the virus," Mr Hunt said in an emailed statement.
"Data from Israel shows boosters supporting reductions in the rate of infection in eligible age groups, severe disease in those aged over 40 years and deaths in those over 60 years."
Australia will use both vaccines from Pfizer and Moderna in its booster programme.
Australia is one of the most vaccinated countries, with about 90% of people over 16 fully inoculated.
Tens of thousands protest mandatory Covid jabs in Austria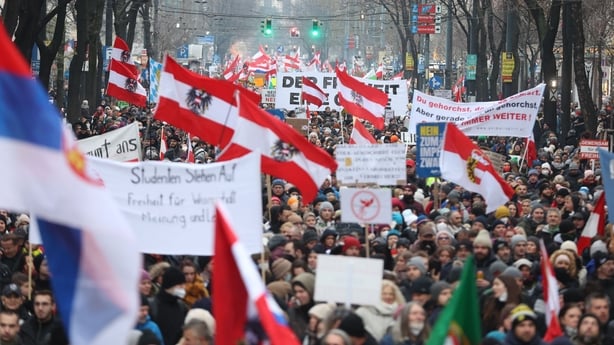 Tens of thousands gathered in Austria's capital Vienna today to protest mandatory Covid vaccines and home confinement orders for those who have not yet received the jabs.
Police said an estimated 44,000 people attended the demonstration, the latest in a string of huge weekend protests since Austria last month became the first EU country to say it would make Covid vaccinations mandatory.
A partial confinement since last month ends tomorrow for the vaccinated population, but those who have not received the required doses will have to remain at home.
"No to vaccine fascism," read one protest sign.
"I'm not a neo-Nazi or a hooligan," said another, "I'm fighting for freedom and against the vaccine."
Vaccination is to be obligatory from February for all residents older than 14, except in the case of a dispensation for health reasons.
Nobody will be vaccinated by force, the government has said, but those who refuse the shot will have to pay a initial fine of €600, which can then increase to €3,600 if not settled.
Manuela, 47, said she had travelled in from out of town for the protest.
Why "exclude those who aren't vaccinated, especially children?" asked the working mother who said she was vaccinated, but did not want to give her surname.
"It's incredible discrimination not to be able to send a kid to dancing, tennis or swimming lessons."
Analea, a 44-year-old violin teacher who also refused to give her family name, said this was "not the direction a democracy should be taking".
"We can have different opinions and values, but still live together freely," she said.
A flurry of groups called for rallies today, including the far-right Freedom Party (FPOe), led by leader Herbert Kickl.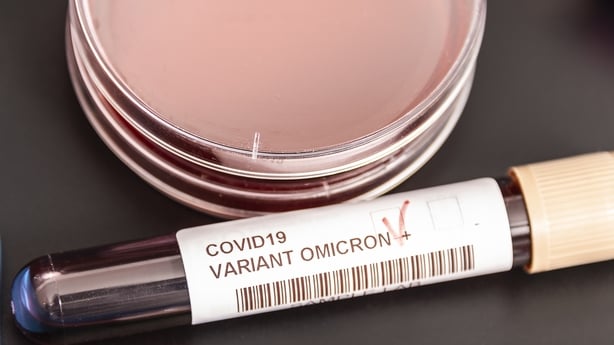 Tougher restrictions 'may be needed' in UK over Omicron
Tougher Covid restrictions may be needed to prevent Omicron causing anywhere between 25,000 to 75,000 deaths in England over the next five months, according to scientists advising the British government.
Experts from the London School of Hygiene & Tropical Medicine (LSHTM), who also sit on the Scientific Pandemic Influenza Group on Modelling (SPI-M) or the Scientific Advisory Group for Emergencies (Sage), used experimental data to look at how Omicron may transmit as the country heads into 2022.
Even under the most optimistic scenario (low immune escape of Omicron from vaccines and high effectiveness of booster jabs), a wave of infection is projected which could lead to a peak of more than 2,000 daily hospital admissions, with 175,000 hospital admissions and 24,700 deaths between 1 December this year and 30 April 2022.
This is if no additional control measures are implemented over and above the current Plan B introduced by the government in England.
The team said mask-wearing, working from home and booster jabs may not be enough, and predict a peak of daily hospital admissions of 2,400 in January.
We need your consent to load this rte-player contentWe use rte-player to manage extra content that can set cookies on your device and collect data about your activity. Please review their details and accept them to load the content.Manage Preferences
In this scenario, bringing in control measures early in 2022 - such as restrictions on indoor hospitality, the closure of some entertainment venues and restrictions on how many people can gather in one place - would be sufficient to substantially control the wave, reducing hospital admissions by 53,000 and deaths by 7,600.
The most pessimistic scenario looked at by the modellers (high immune escape from vaccines and lower effectiveness of boosters) projects a wave of infection which is likely to lead to a peak in hospital admissions around twice as high as the peak seen in January 2021, if no additional control measures are taken.
This could cause 492,000 hospital admissions and 74,800 deaths, according to the study, which has not yet been peer-reviewed.
In this scenario, the team estimates that stronger measures may be required to keep the peak number of hospital admissions below the January 2021 peak.
The scientists assumed Omicron causes the same severity of illness as Delta but did not look at the impact of measures such as mass population testing to control its spread.
They said in their paper: "These results suggest that Omicron has the potential to cause substantial surges in cases, hospital admissions and deaths in populations with high levels of immunity, including England.
"The reintroduction of additional non-pharmaceutical interventions may be required to prevent hospital admissions exceeding the levels seen in England during the previous peak in winter 2020-2021."
Mauritius records first two Omicron cases, more feared
The Indian Ocean island nation of Mauritius has recorded its first two infections of the Covid-19 Omicron variant, both linked to people returned from South Africa, with a dozen more contact cases feared.
Health Minister Kailesh Jagutpal told a press conference the pair were asymptomatic and had tested negative on Thursday.
"They have already gone home," he said.
He added that contract tracing for the two people had been carried out, revealing 12 positive cases with a missing S gene - a tell-tale sign of Omicron.
Health authorities were currently analysing the samples to determine if they are in fact Omicron.
One of the two Omicron cases was detected in a man who flew home to the island from South Africa on 27 November. South Africa first identified the variant just two days before on 25 November.
The second case was recorded in a woman in the island's south whose husband had returned from South Africa on 18 November.
Mauritius fully opened its doors to international visitors at the start of October, hoping to rebuild its vital tourism industry after long months of isolation because of the pandemic.
But it was forced to reimpose restrictions last month as Delta variant cases surged.
According to latest figures reported to the World Health Organization, Mauritius has had 62,652 Covid cases and 680 deaths.
More than 900,000 people have been fully vaccinated, representing 73.5% of the population, government figures show.
China orders Covid-19 tests for travel with some border cities
China has ordered some border cities to beef up vigilance against Covid-19 with measures such as mandatory testing for travellers, in its effort to prevent clusters caused by viruses arriving from abroad.
Since mid-October, locally-transmitted symptomatic cases have risen to more than 2,000, with several small northern towns on the borders with Russia or Mongolia, among the hardest-hit, as health resources there are sparser than in major cities.
"There have been multiple local outbreaks in China recently, all caused by viruses imported from overseas via cities with ports of entry," the government said in a notice, citing local areas' weaknesses in monitoring and failure to enforce measures.
People who intend to leave from border cities with overland ports of entry must show proof of negative test results within 48 hours before departure, said the notice, which excluded those from cities with ports of entry linked to Hong Kong or Macau.
Arrivals in such cities must take at least one Covid-19 test, added the notice by national authorities in charge of Covid-19 control.
The testing measures will run until 15 March next year.
In November, authorities in Beijing urged people not to travel unnecessarily to the Chinese capital from counties with overland ports of entry.
Some cities with entry ports could have tight curbs in "buffer" areas, but less tough measures outside, today's notice said.
The measures aim to reduce disruption to livelihoods in areas dependent on cross-border trade, the national health authority said in a statement published alongside the notice.
Additional reporting AFP/Reuters