Almost four months after the Taliban returned to power, Afghanistan is in the grip of a humanitarian crisis.
The United Nations estimates that 22.8 million people, more than half the population, are expected to face potentially life-threatening levels of food insecurity.
While its Refugee Agency, the UNHCR, has said it is profoundly concerned by the escalating risks faced by Afghans looking to flee into neighbouring countries without the necessary passports or visas.
It is something Negin Afghan is all too aware of.
"A lot of people, they disappear, especially if they want to go to neighbouring countries. So for example, my brother and my son-in-law, they went to Iran two-and-a-half months ago ... we do not know where they are at, we haven't heard from them," she told RTÉ News.
"We don't know if they are alive, we don't know where they are."
The name Negin Afghan is an alias. She spoke to RTÉ News from Afghanistan, where she is in hiding.
For years she worked as a judge in Afghanistan. Now, she fears retaliation from the Taliban and criminals they have released, who were convicted while she was on the bench.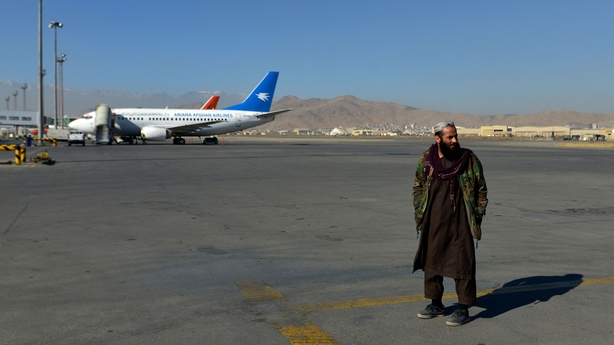 In the last few months, she has had to make some very difficult choices.
"I have a daughter, with two children, very small children ... I had the opportunity to be evacuated (from Afghanistan) two times, but both times they told me we cannot take your daughter. What can I do without my daughter?"
She is pleading with countries to make more humanitarian visas available, and not to exclude the adult children of those deemed vulnerable.
"The countries who can take refugees, they need to really open their doors," Negin Afghan said.
Mursal Sawfi agrees.
She was also a judge until the Taliban take-over and spoke to RTÉ News under a fake name from where she was in hiding in Afghanistan.
"I am living directly under the threat of the Taliban," she said "They come, and they ask our neighbours about us, that's why we as judges, we have to leave our homes, and we go from one home to another just to escape from the Taliban."
Her young family are in hiding too. "It's like we are in prison," she explained.
"It's very hard for our children because they cannot go out, they cannot go to the park, and they cannot go out to play."
---
'I am starting to love here as my home' - Afghans in Ireland
---
We need your consent to load this rte-player contentWe use rte-player to manage extra content that can set cookies on your device and collect data about your activity. Please review their details and accept them to load the content.Manage Preferences
These interviews were facilitated by the International Association of Women Judges, which is calling on countries around the world to more issue more humanitarian visas to judges and their families.
Eleven judges and their families are among 510 Afghan citizens who have been issued with visas and visa waivers under the Irish Refugee Protection Programme.
Thousands more people are looking to leave the country every day.
For example, in October it emerged that an estimated 100,000 people had applied for the 3,000 humanitarian visas that Australia had initially promised to provide to those fleeing Afghanistan.
Others have made it as far as Doha and Greece, but no further.
Front Line Defenders have supported more than 1,500 people to leave Afghanistan and are supporting more than 1,000 more who are still trying to leave the country.
"We do see a need for more countries to give more resettlement spaces for Afghans at risk," said Adam Shapiro, Front Line Defenders' head of communications.
Mr Shapiro said he would encourage all countries, including Ireland, "to do what they can to do more".
However, he added that "it is not like Ireland is lagging from what other countries are doing by any means".
"Certainly, we have found with our experience so far that the Irish have been very accommodating."
However, humanitarian visas or visa waivers are only one part of the puzzle.
'Refuse to leave loved ones behind'
Ireland has accepted more than 40 Afghan human rights defenders and their families, nominated by Front Line Defenders, under the IRPP.
Five individuals, who make up two families, who have already received these visa waivers from the Irish Government have not yet been able to make it out of Afghanistan.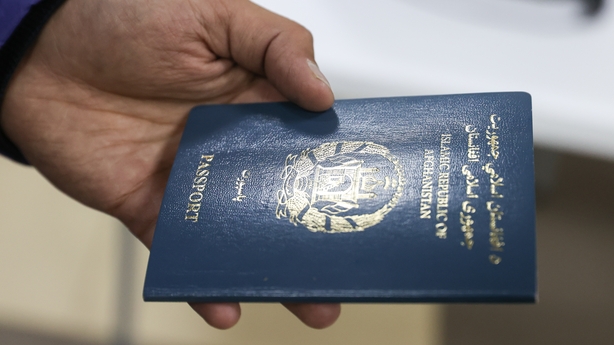 Mr Shapiro explains that the "hold up" is because some members of those families do not have the necessary travel documents, and that this is not an uncommon stumbling block to extraction.
"We do have a lot of people who have confirmed places in other countries to go to, but who have children who don't have passports or a spouse who doesn't have a passport," Mr Shapiro said.
"In most instances," he said this resulted in the human rights defender in that family deciding "not to leave without their loved ones."
---
394 Afghan refugees arrived in Ireland since August
---
"We are working on trying to get additional travel documents for those people," he said.
For those still trying to get out of Afghanistan, the Taliban is not the only threat.
Judge Negin Afghan described having to sell furniture, personal belongings and knick-knacks so that she could survive and eat.
"I was a judge ... how does a taxi driver or somebody who at most had $100 a month before all of this manage, what do they have to sell?" she asked.
"Afghanistan is facing a humanitarian catastrophe" Mursal Sawfi said.
"Everybody has lost their jobs, it's not just the judges, but the banks, the imports, the exports, anybody who was working, every single person almost has lost their jobs ... and the cold winter is coming."
"We are asking the whole world, please do not leave us alone. Please be on our side."