The British Prime Minister Boris Johnson has said he wants to offer all adults a Covid-19 booster vaccine by the end of January, because of concern about the spread of the Omicron variant.
"The target that we have set ourselves is to offer a booster to everyone eligible by the end of January," he said.
"As with the first jabs, we will be working through people by age group."
Mr Johnson told a Downing Street press conference that at least 400 military personnel will help the NHS and volunteers deliver jabs, with centres "popping up like Christmas trees".
"We've already done almost 18 million boosters across the UK but we've got millions more to do to protect the most vulnerable.
"Then we'll move down the cohorts rapidly, and working together with the devolved administrations we want to ramp up capacity across the whole United Kingdom to the levels we achieved in the previous vaccination effort.
"We're going to be throwing everything at it in order to ensure that everyone eligible is offered that booster, as I say, in just over two months."
Health Secretary Sajid Javid said the booster programme would be put "on steroids" to meet the target.
It comes as eight further cases of the Omicron variant have been confirmed in England, bringing the total number identified there to 13, the UK Health Security Agency (UKHSA) said.
The UKHSA said confirmed cases have now been identified in the East Midlands, the East of England, London and North West.
Nine cases of Omicron in Scotland traced to 'single private event'
In Scotland, three new cases of the Omicron variant of coronavirus have been identified today, bringing the total there to nine.
First Minister Nicola Sturgeon said the nine cases were all linked to the same private event, and none of the people who had tested positive for the variant had required hospital treatment.
"All nine cases are linked. They all trace back to a single private event on the 20th of November," she told the Scottish parliament.
"We fully expect that there will be more cases identified over the coming days that are also linked to this event...however, the fact that all known cases are so far linked to this single event suggests that community transmission may still be limited."
Booster vaccinations are being extended to all those aged 18 and over in Scotland in line with the UK's Joint Committee on Vaccination and Immunisation (JCVI) recommendation, with the interval after the second dose cut from six to three months.
---
---
Mask mandates come into force in England
New mask mandates and other measures aimed at curbing the spread of the Omicron variant come into force in England.
From this morning, face masks are compulsory on transport and in shops, banks and hair salons.
All international travellers must take a PCR test by the end of the second day after they arrive, and self-isolate until they get their result. That is in addition to restrictions on arrivals from ten southern African countries, who have to enter hotel quarantine.
"The measures taking effect today are proportionate and responsible, and will buy us time in the face of this new variant," Prime Minister Boris Johnson said in a statement.
"Not only will today's steps help us slow down the variant's spread, but they will help us protect each other and the gains we have all worked so hard for."
He has said the measures will be reviewed after three weeks, but added that the vaccine rollout leaves the UK in a better situation than this time last year, when restrictions were introduced shortly before Christmas.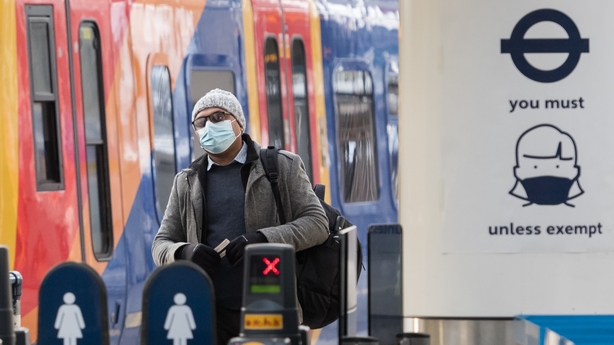 Professor Adam Finn, a member of the Joint Committee on Vaccination and Immunisation (JCVI), said that the UK had to "act immediately and not wait" after the discovery of the Omicron variant.
He told BBC Breakfast: "I do think we need to take this seriously.
"It is a possibility that this will not turn out to be a major problem but there are lots of signs that suggest that it might.
"It looks like it's quite a transmissible virus. We don't really yet know whether it causes worse disease. It may well not do that.
Additional reporting PA