Southern Chinese cities have closed schools and ordered testing for millions in a race to curb a new Covid-19 outbreak which has sparked concerns over infections among unvaccinated schoolchildren.
Putian, a city of 3.2 million in coastal Fujian province, ordered testing of all residents after Delta variant cases linked to a returnee from Singapore ballooned into a province-wide outbreak of more than 100 people.
China has now been hit by multiple outbreaks of the highly contagious Delta variant.
The Fujian cluster is the biggest rebound in weeks and comes after the country declared the Covid outbreak spurred by the Delta under control, in a test of China's "zero case" approach to the pandemic.
China reported 59 new domestically transmitted cases today, up from 22 the day before, all in Fujian province.
Authorities said the cluster's suspected patient zero was a man who had recently returned from Singapore and developed symptoms after completing a 14-day quarantine and initially testing negative for the virus.
The man's 12-year-old son and a classmate were among the first patients detected in the cluster last week, shortly after the new school term began.
The variant then raced through classrooms, infecting more than 36 children including eight kindergartners, city authorities said, in the first major school-linked spread the country has seen since the start of the pandemic.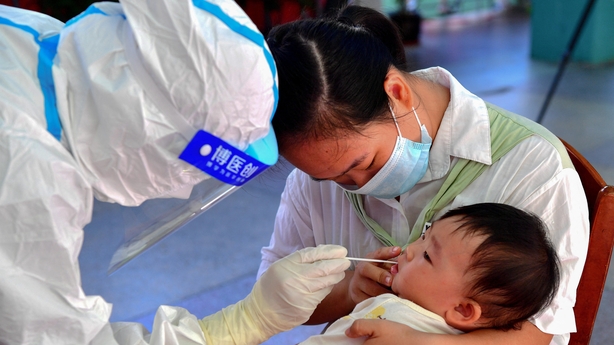 China has administered more than two billion doses of its coronavirus vaccines as of Sunday, according to the official Xinhua news agency, enough to fully vaccinate around 70% of its population.
But most young children remain unvaccinated, sparking fear that the latest Fujian outbreak could hit the most vulnerable people in the country disproportionately.
---
---
The Putian government has ordered schools to stop in-person classes yesterday, while nearby port city Xiamen followed suit today and shut down long-distance bus services, while ordering all residents to be tested.
The Chinese embassy in Singapore yesterday warned its citizens to be "cautious" about travelling to the Southeast Asian country and "be psychologically and economically prepared" for difficulties re-entering China.
Virus lockdown extended for Australia's capital
Australian authorities have extended a coronavirus lockdown in the nation's capital Canberra to mid-October, saying the measure was necessary while vaccinations are ramped up.
About 400,000 Canberra residents have been under stay-at-home orders since 12 August, when a single case of Covid-19 was detected.
Now at just over 250 active cases, the cluster caused by the highly infectious Delta variant remains small but has been treated with caution in a city that had largely avoided outbreaks.
Australian Capital Territory chief minister Andrew Barr said authorities wanted to limit transmission while ensuring Canberra becomes "highly vaccinated".
"This is the safest path forward and it will lead to a safer Christmas, a safer summer holiday period and a safer 2022," he told reporters.
Australia's vaccine rollout has picked up pace in recent months as millions of people under lockdown in the highly populated southeast - including Sydney and Melbourne - sought out the jab.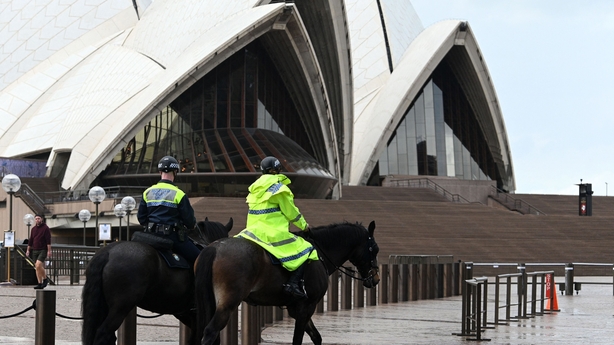 Almost 53% of over-16s in the region have received both doses, the highest rate of full vaccination in Australia, which is grappling with multiple Delta outbreaks.
State and federal leaders have agreed on a national roadmap for reopening, which could see travel and border restrictions largely lifted when double-dose vaccination rates hit 70% and 80%.
Australia has recorded more than 75,000 cases and over 1,100 deaths since the pandemic began.
New Zealand looks to boost vaccination programme
Prime Minister Jacinda Ardern has urged New Zealanders to get vaccinated as soon as possible, as it was the only way to beat the spread of coronavirus and see curbs lifted in the biggest city of Auckland.
Today's 15 new infections in New Zealand were a drop from yesterday's figure of 33, but about 1.7 million people will stay in lockdown in Auckland until next week, as the government battles to hold down a cluster of the highly infectious Delta variant.
"The vaccine is the best tool we have in our toolbox and our ticket to greater freedom," Ms Ardern told a news conference.
"The more people who are vaccinated, the fewer restrictions you have to have."
Auckland's lockdown has shut schools, offices and public places, with people allowed to leave home only for exercise or to buy essential items. In the rest of the country, the lockdown was lifted last week.
New Zealand had been largely virus-free for months until a Delta outbreak forced a snap lockdown on 17 August. It has infected 970 people so far, most of them in Auckland.
The lockdowns and international border closure since March 2020 have been credited with holding down Covid-19, but a slow vaccination effort has spurred criticism for Jacinda Ardern.
Just 34% of the population of 5.1 million have been fully vaccinated.
Sierra Leone lifts nationwide curfew
Sierra Leone has lifted a nationwide curfew designed to curb Covid-19 infections, following a drop in new infections in the West African nation.
In a statement on Monday evening, the country's Covid-19 response agency Nacoverc said that an 11pm-5am curfew would be lifted with immediate effect.
The government had announced the curfew in early July as Covid-19 infections were surging across the poor country of about 7.5 million people.
At the time, it also imposed other restrictions including forcing restaurants and bars to close early, and temporarily shutting churches and mosques.
Nacoverc said on Monday that places of worship will be open to people who wear face masks.
Masks are also required in schools, public buildings and on public transport.
Bars and restaurants will be able to operate as normal, according to the coronavirus-response agency, provided that customers can show a proof of vaccination against Covid-19.
Sierra Leone has officially recorded 6,385 cases since the beginning of the pandemic, including 121 deaths.
Mauritius struggling to cope ahead of tourist season
Barely three weeks before Mauritius reopens to international travellers at the start of the peak tourist season, the paradise island nation is struggling with an alarming explosion in coronavirus infections and deaths.
Hospitals are overwhelmed, ventilators are hard to find, and there is no longer enough space at the main cemetery for Covid victims.
In just two months, cases have jumped over five-fold to more than 12,600 as of Friday, by far the largest increase across Africa during this period, according to data compiled by AFP.
Since the pandemic started, Mauritius has recorded 1,005 cases of Covid-19 per 100,000 inhabitants, far higher than the continent's average of 598.
The crisis is now so acute that 74-year-old former prime minister Navin Ramgoolam has flown to India for Covid treatment, and the opposition leader has discussed his struggle to find a bed for an ailing friend.
In July, the idyllic Indian Ocean holiday destination, renowned for its white sandy beaches and turquoise waters, partly reopened to vaccinated international visitors.
But they had to remain in "resort bubbles" for 14 days before being allowed to venture further afield, provided they had a negative PCR test.
The government reduced that timeframe to seven days this month ahead of a full reopening planned for 1 October, when tourists will be free to explore the island as long as they test negative up to 72 hours before arrival.