UN chief Antonio Guterres has called for countries to dig deep and provide desperately needed aid to Afghans, and to support women and others whose rights appear threatened by the Taliban.
Speaking to ministers gathered for a donor conference for the violence-torn country, Mr Guterres insisted that "the people of Afghanistan need a lifeline".
"After decades of war, suffering and insecurity, they face perhaps their most perilous hour," he said at the UN's European headquarters in Geneva.
"Let us be clear: This conference is not simply about what we will give to the people of Afghanistan. It is about what we owe."
Mr Gutters also called for the international community to engage with the Taliban to avert a total collapse of Afghanistan's economy.
"It is impossible to provide humanitarian assistance inside Afghanistan without engaging with the de facto authorities," Guterres told journalists on the sidelines of a donor conference, adding it was "very important to engage with the Taliban at the present moment".
His comments came just under a month after the Taliban swept into power in Afghanistan, sparking a chaotic exit for the United States and its allies after 20 years in the country.
The half-day conference is seeking to raise the $606 million humanitarian agencies say is urgently needed to provide life-saving aid to millions of Afghans over the four final months of the year.
Among other things, the money is needed for critical food and livelihood assistance for nearly 11 million people and essential health services for 3.4 million.
Most of the requested funds had already been asked for at the end of last year as part of a $1.3-billion humanitarian appeal for Afghanistan, which remains severely underfunded.
But nearly a third of the requested funds are fresh needs that have arisen with the Taliban's takeover.
Multiple crises
Mr Guterres stressed that Afghans were experiencing "one of the worst humanitarian crises in the world" even before the Taliban takeover on 15 August.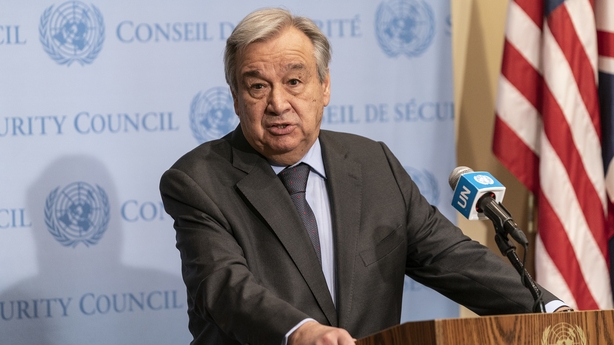 Some 40% of the country's GDP was already drawn from foreign funding, according to the UN.
And half of the population was already dependent on humanitarian aid.
Afghanistan is facing a devastating drought and mass displacement in addition to the impact of Covid-19.
Fears now abound that other countries' reluctance to deal with the Taliban could push Afghanistan over the edge.
Deborah Lyons, the UN secretary-general's special representative on Afghanistan, urged countries last week to keep money flowing in despite concerns over the Taliban government to "prevent a total breakdown of the economy and social order".
Mr Guterres announced that the UN would release $20 million from its Central Emergency Response Fund to support the humanitarian operation in Afghanistan.
But he stressed that more money was needed - and quickly.
He also highlighted the need to safeguard human rights in the country.
The Islamist hardliners have pledged a more moderate brand of rule than in their notoriously oppressive 1996-2001 reign.
But they have moved swiftly to crush dissent and there are worrying signs that women and girls could once again be largely barred from public life.
"One of the bright spots of Afghanistan today is the new generation of women leaders and entrepreneurs, educated and flourishing over the last two decades," he said.
"Afghan women and girls want to ensure that gains are not lost, doors are not closed and hope is not extinguished."
However, UN rights chief Michelle Bachelet said today that the Taliban is breaking their promises on women's rights and inclusivity in Afghanistan.
"[Women] long for peace and stability in a country where they and their children can prosper," she said.
And she highlighted promises by the Taliban to install a more moderate brand of rule including protecting women's rights.
"In contradiction to assurances that the Taliban would uphold women's rights, over the past three weeks women have instead been progressively excluded from the public sphere," she said.
Ms Bachelet reiterated her appeal to the council to set up a "dedicated mechanism" to monitor the rights situation in Afghanistan in a bid to ensure accountability for violations.
First commercial flight since Taliban takeover lands in Kabul
A Pakistan International Airlines (PIA) plane carrying a handful of passengers touched down at Kabul airport today, the first international commercial flight to land since the Taliban retook power in Afghanistan on 15 August.
"There was hardly anyone on the plane, around 10 people... maybe more staff than passengers," said an AFP journalist aboard the flight from Islamabad.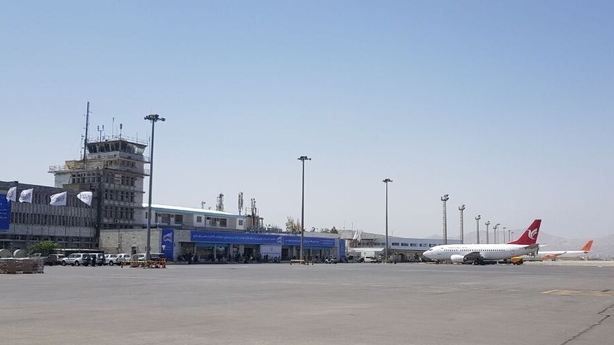 The flight will carry people from Kabul to Islamabad holding valid travel documents.
A PIA spokesman said at the weekend that the airline was keen to resume regular commercial services, but it was too soon to say how frequently flights between the two capitals would operate.
Kabul airport was severely damaged during a chaotic evacuation of more than 120,000 people that ended with the withdrawal of US forces on 30 August.
The Taliban have been scrambling to get it operating again with technical assistance from Qatar and other nations.
The resumption of commercial flights will be a key test for the hardline Islamist group, who have repeatedly promised to allow Afghans with the right documents to leave the country freely.
Many NATO nations admitted that they had run out of time to evacuate thousands of at-risk Afghans before the withdrawal deadline agreed between the United States and the Taliban.
Qatar Airways operated several charter flights out of Kabul last week, carrying mostly foreigners and Afghans who missed out on the evacuation.
An Afghan airline resumed domestic services on 3 September.
"This is a big moment. We are very excited," said one airport employee, dressed in a blue shalwar kameez and orange high-visibility vest.
"It's a hopeful day. Maybe other airlines will see this and decide to come back."
A bus painted with a "Welcome to Afghanistan" was waiting to ferry the passengers from the plane to the terminal, but in the end the new arrivals walked.
Around 100 passengers were waiting to catch the return flight to Islamabad - mostly relatives of staffers with international organisations such as the World Bank, according to airport ground staff.
Tens of thousands of Afghans fear reprisals for helping foreign powers during the 20-year US-led occupation, but the Taliban insist they have granted a general amnesty to everyone including the security forces they fought against.
The Taliban have promised a milder form of rule this time, but have moved swiftly to crush dissent, including firing in the air to disperse recent protests by women calling for the right to education and work.