The Irish Ambassador to the United Nations has said that Ireland will hold the Taliban to account on human rights issues, particularly when it comes to their treatment of women and girls.
Geraldine Byrne Nason was speaking as Ireland assumed the rotating presidency of the UN Security Council, a position the country will hold for the month of September.
The fallout from the US withdrawal from Afghanistan is likely to dominate meetings in the coming weeks.
"We want to see human rights issues addressed in Afghanistan and in particular the rights of women and girls. We have echoed what Michelle Bachelet, the United Nations High Commissioner for Human Rights, said this week, it is a red line issue," Ambassador Byrne Nason said.
"The measure of the Taliban and their plans for their new phase in Afghanistan will be how they treat women and girls, and we will absolutely hold them to account on that," she added.
The role of the president of the Security Council involves chairing meetings and approving the council's agenda.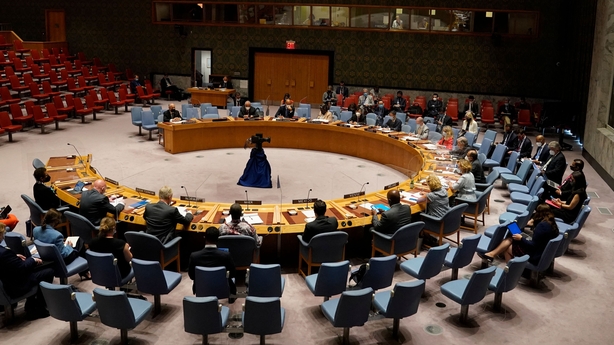 Ambassador Byrne Nason described it as a "momentous day for Ireland".
"It means essentially that we are the chair of the Security Council for the month of September. We will watch the horizon and hopefully be an independent, constructive chair that people can trust," she said.
Next week, the Minister for Foreign Affairs Simon Coveney is expected to travel to New York to chair a discussion on peacekeeping.
Later in the month, the Taoiseach Micheál Martin will chair a debate on climate and security.
Also on the council's agenda throughout September will be discussions on countries including Syria, Libya, Yemen and Sudan.