Sydney has reported a record number of new Covid-19 cases and five coronavirus related deaths, as authorities expanded the lockdown in Australia's largest city to neighbouring regions.
Six weeks after Sydney's five million residents were told to stay at home, the number of new infections in New South Wales state grew to 262, the largest daily tally since the pandemic began.
Health officials said almost all the new cases were in Sydney, but a handful of infections in other districts led state premier Gladys Berejiklian to widen stay-at-home restrictions.
Five people aged in their 60s to 80s have died in Sydney in the past 24 hours.
Four of the five were unvaccinated while one had one dose, New South Wales state health authorities said, as they implored residents to get inoculated as early as possible.
"I cannot stress enough how it's so important for everybody of all ages to come forward and get the vaccine," Ms Berejiklian said.
Barely 20% of Australians have been fully vaccinated, thanks to acute supply problems and pockets of vaccine hesitancy.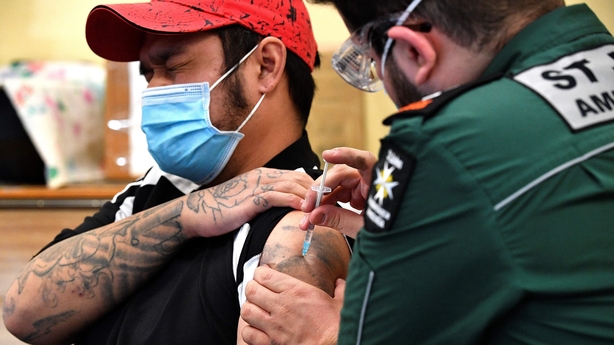 ---
---
Authorities also announced a one-week lockdown from today in the region surrounding the state's second-largest city of Newcastle, 140km north of Sydney, after six cases were reported there.
That will place an additional 615,000 people under lockdown, raising the total in New South Wales under strict stay-home restrictions to 6 million people out of 8 million in the state, or about a quarter of Australia's population.
The authorities suspect the outbreak began with a beach party near Newcastle after people travelled from Sydney, an apparent violation of the city's lockdown.
"Our strongest focus ... is getting to the bottom of how the disease was transmitted and introduced into Newcastle," New South Wales Chief Health Officer Kerry Chant told reporters, as most cases were still being detected in Sydney, the state capital and Australia's largest city.
In the state of Queensland, whose capital Brisbane is under lockdown, another 16 Covid-19 cases were reported, the same as the previous two days.
New South Wales health officials are imploring residents, especially people above 60, to get inoculated.
The five deaths in Sydney included three men in their 60s, one man in his 70s and a woman in her 80s, taking the total number of deaths in the latest outbreak in New South Wales to 21.
With around 35,200 Covid-19 cases and 932 deaths, Australia has avoided the high caseloads of other developed countries but its vaccination figures are among the lowest, with only 20% of its population over 16 fully vaccinated.
But the growing list of new venues where Covid-19-positive people have visited while infectious is tempering any optimism.
About one-fifth of cases reported in New South Wales today were active in the community, in line with the trend over the last several days.
Melbourne goes back into lockdown
Meanwhile, authorities in Melbourne announced a sixth lockdown for the city.
Victoria premier Dan Andrews said he had "no choice" but to make the "very difficult announcement" to lock down Melbourne and the rest of the state little more than a week after the last lockdown ended.
"None of us are happy to be here, none of us," he said, citing the danger posed by eight "mystery" cases that have yet to be traced.
"There is no alternative to lockdown" he added.
"The alternative is we let this run that gets away from us, and our hospitals will be absolutely overwhelmed. Not hundreds of patients but thousands."
Prime Minister Scott Morrison has vowed to ramp up vaccine deliveries by the end of the year, but stressed the need for cities to lock down to contain the spread.
"The virus doesn't move by itself. People staying at home ensures that the virus doesn't move," he said.