Fire crews tackled blazes for a fourth day as the number of people killed in forest fires sweeping through southern Turkey rose to six, state media reported.
The wildfires broke out on Wednesday and have since injured more than 300 and forced the evacuation of villages and hotels.
The toll rose after the bodies of two workers who had been trying to put out the fires were found, state news agency Anadolu reported.
The agency said another fire began today in the tourist city of Bodrum with other reports saying people had been evacuated from their homes and hotels.
Ten fires are still going and another 88 have been brought under control since Wednesday, Agriculture and Forestry Minister Bekir Pakdemirli tweeted.
Investigators are trying to establish if some of the fires were started deliberately.
President Recep Tayyip Erdogan thanked Russian counterpart Vladimir Putin during a phone call for sending planes and helicopters to help, the presidency said.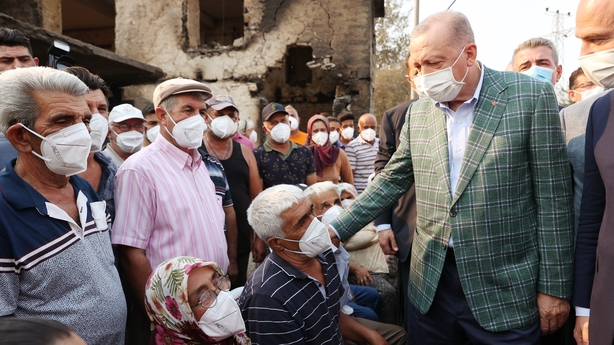 The Turkish leader has taken flak at home after it emerged that Turkey had no firefighting planes despite one-third of its territory being forested and fires becoming an increasing problem.
"The main reason for these issues with planes is that the Turkish Aeronautical Association has not been able to update its fleet and technology," Mr Erdogan said during a visit to the town of Manavgat, one of the affected areas.
More than 2,600 fires have erupted each year on average in the last decade, but that figure jumped to almost 3,400 last year, said Husrev Ozkara, vice chair of the Turkish Foresters Association.
Dozen homes destroyed, five hospitalised in Greece forest fire
Around a dozen homes were destroyed and five people were hospitalised with breathing problems as a forest fire broke out near Patras, Greece's third largest city, authorities said.
Some 145 firefighters, 50 trucks, eight firefighting planes and helicopters have been mobilised to extinguish the fire in the Zeria region in the Peloponnese, about 210kms (130 miles) west of Athens, the firefighting service said.
The authorities evacuated people from five villages in the region as well as from the tourist resort of Loggos on the coast.
Around a dozen homes burned and five people experiencing breathing problems were transported to hospitals in the region, the civil protection authority said.
A motorway in the region was shut down as was the Rio-Antirrio bridge across the Gulf of Corinth connecting the Peloponnese and mainland Greece, the ANA news agency reported, but traffic resumed this evening.
Hospitals in Patras and the neighbouring city of Aigio had been put on notice to admit any injured people, while the coastguard was on standby to rescue any swimmers overcome by smoke.
According to the civil protection agency, 56 forest fires had broken out over the past 24 hours, although most were quickly brought under control.
Greece is hit by forest fires every summer but experts have warned that global warming increases both their frequency and intensity.
The country has been in the grip of another heat wave since yesterday with temperatures hovering between 42-44C, weather forecasters said.