Anyone entering Germany from abroad will have to take a Covid-19 test unless they are fully vaccinated or have recovered from the disease, according to new rules signed off by Chancellor Angela Merkel's cabinet Friday.
"From August 1, all people entering Germany will be obliged to have proof of a negative test, vaccination or recovery," spokeswoman Ulrike Demmer said in a statement.
"This rule is there to keep the number of new infections brought into Germany as low as possible," said Demmer, adding that it would apply to all travellers over the age of 12.
According to a draft seen by AFP, there will be exceptions for cross-border commuters and those passing through in transit.
Both PCR tests taken within 72 hours of entry and rapid antigen tests taken within a maximum of 48 hours will be accepted, the draft said.
The rule will apply "regardless of where travellers have come from and the means of transport they use," Finance Minister Olaf Scholz told the Funke media group.
Under current German rules, any unvaccinated person entering the country by plane must get tested, but those entering by road or rail must not unless they are coming from an area deemed high risk.
Those entering from so-called virus variant countries, such as Brazil and South Africa, must get tested even if they are vaccinated - a rule that will still apply under the new system.
Police have said the rules will not be enforced through systematic border controls, but through random checks.
Regional leaders in Germany's border regions, especially Bavaria and Rhineland-Palatinate, had been calling for tighter travel measures.
Germany has seen low infection numbers over the summer compared to many of its European neighbours, but cases have been creeping up over the past few weeks, largely fuelled by the Delta variant.
The country recorded 2,454 new cases in the past 24 hours on Friday, according to the Robert Koch Institute health agency, and an incidence rate of 17 new cases per 100,000 people over the past seven days - up from a low of 4.9 in early July.
With the country's vaccination campaign running out of steam, the debate has been heating up around possible restrictions for the unvaccinated, though compulsory vaccination for parts of the population has so far been ruled out.
---
---
Philippines orders 13 million into lockdown over Delta fears
The Philippines will send more than 13 million people in the capital region back into lockdown next week, as it tries to head off a surge in cases of the Delta variant.
Experts have warned of a significant increase in infections fuelled by the Delta variant that could overwhelm hospitals in the coming weeks if restrictions are not drastically tightened in the crowded capital.
"We had to make this difficult decision in order to save more lives," President Rodrigo Duterte's spokesman Harry Roque said on government television.
Restaurant dining and mass gatherings have been banned with immediate effect and a two-week stay-at-home order will start on 6 August, Mr Roque said.
The Philippines has recorded more than 1.5 million coronavirus infections, the second highest in Delta-hit southeast Asia, including nearly 28,000 deaths.
So far, it has confirmed more than 200 Delta infections, many of them local cases, and there are fears the more contagious strain could tear through the nation like it has in neighbouring countries.
Independent research group OCTA, which advises the government on its pandemic response, had called for an immediate lockdown in the capital, warning daily cases there could triple to 3,000 by mid-August if action were not taken.
Thailand renews Covid vaccination drive for monks at risk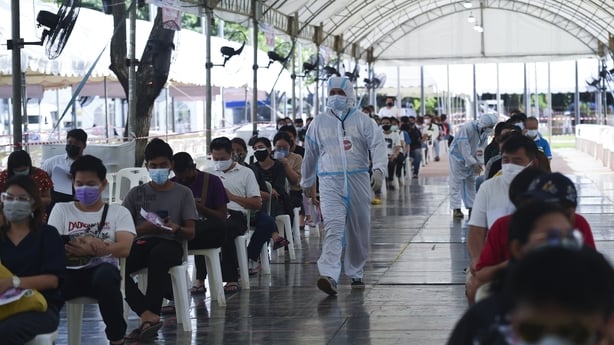 Thailand began a renewed drive to vaccinate Buddhist monks and other temple workers in Bangkok, as the country battles its most deadly surge in infections since the pandemic began.
Officials said they planned to provide AstraZeneca vaccines to 221 temples in the Thai capital, before beginning distribution in other parts of the country.
"We have invited about 600 monks, undertakers, cooks and people who are located at the temples of Thonburi city area to get vaccinated," said Bangkok Governor Aswin Kwanmuang.
Thailand first began rolling out vaccines to Buddhist monks in May, building up protection to allow them to receive daily alms and perform spiritual duties.
Bangkok is the epicentre of a recent wave of new infections in Thailand, driven by the Delta variant of the virus.
A sluggish vaccine roll-out, which has led to huge crowds queuing up day after day in some places for Covid tests and inoculations, has led to public criticism of the government's handling of the crisis.
Just 5.6% of the country's 66 million population has been fully vaccinated. It has reported around 560,000 Covid infections and 4,500 deaths.
Thailand has also issued an emergency decree banning the dissemination of "false messages" that affect security, drawing criticism from media groups.
Britain's transport minister says: 'I know the travel rules are painful'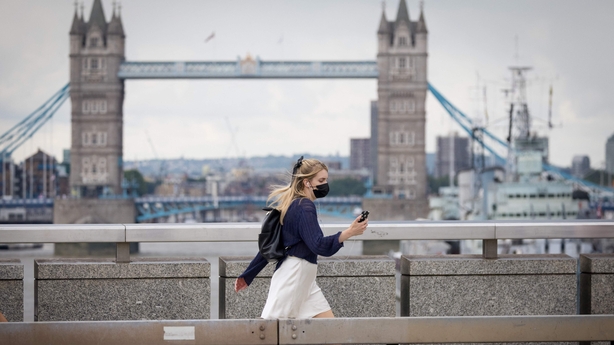 Britain's transport minister has said it was essential to have painful travel restrictions and a cautious approach to countries such as France to avoid the spread of a coronavirus variant that vaccinations might be less effective against.
The UK government two weeks ago decided to maintain quarantine rules for double-vaccinated travellers from France, even as it scrapped the requirement for travellers from other medium-risk "amber" countries, citing concern over cases of the Beta variant.
France has cast England's quarantine measures for travellers as discriminatory and not based on science as the bulk of France's Beta variant cases come from the island of La Reunion in the Indian Ocean.
"I'm looking forward to the whole world being more accessible," Transport Secretary Grant Shapps told Sky News.
"We're moving in the right direction," he said.
"I know it's painful, but I think that generally speaking, your viewers probably want to see us be cautious rather than sort of gung-ho on this and that's exactly what we're trying to do."
Asked about the row with France, one of Britain's favourite travel destinations, Mr Shapps said he hoped the situation could be "regularised".
"We do not want to take chances or risks, particularly, having done so well with vaccination programme with per chance, you know, a variant which is able to better evade vaccination which would be tragic having gotten to where we are now," he told the BBC.
Czech Government offers two-day leave to vaccinated state employees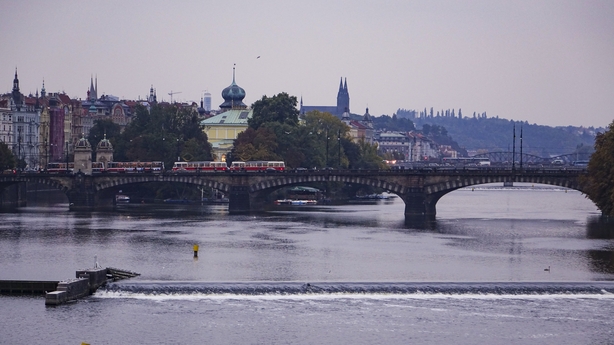 The Czech Government has approved offering two days of additional vacation to state employees who get vaccinated against COVID-19 as a way to spur vaccination effort, Prime Minister Andrej Babis said.
The country of 10.7 million reported 10.19 million doses of vaccines given as of yesterday, with 4.74 million people fully vaccinated.
"The aim is to have maximum vaccination, to protect ourselves against infection from abroad," Mr Babis said.
"This is the main task: inoculate, inoculate, inoculate.