Stories of remarkable survival and tragedy have emerged from China as floods retreat from southern parts of Henan, with a baby dug out from a collapsed house while her mother died in the debris.
China's state media CCTV showed the three-month-old baby being retrieved from the rubble of a collapsed building in Zhengzhou City.
The baby had been buried under the collapsed building for a day and a night before being eventually rescued, CCTV reported.
The child has been sent to the hospital for treatment and is in a stable medical condition.
Chinese media reports stated the incident had taken place in Wangzongdian village, where roads had been blocked by floods.
At about 2pm on Tuesday, the water levels rose dramatically, and both the baby and mother were trapped in the building, Chinese media Red Star News reported.
A news report from Chinese media Ji Mu News stated the mother of the baby girl had lost her life in the accident.
Tens of thousands of people were still being evacuated from flood-hit regions of central China today, after officials raised the death toll from heavy rain that has deluged Henan province for almost a week to 33 people.
Villagers were evacuated over makeshift bridges following a historic deluge that claimed at least 56 lives - while an approaching typhoon threatened to dump more rain on the stricken area.
Millions have been affected by the floods in Henan province, which have trapped people for days without fresh food or water and blocked roads as they breached embankments, caking large areas in thick ankle-deep mud.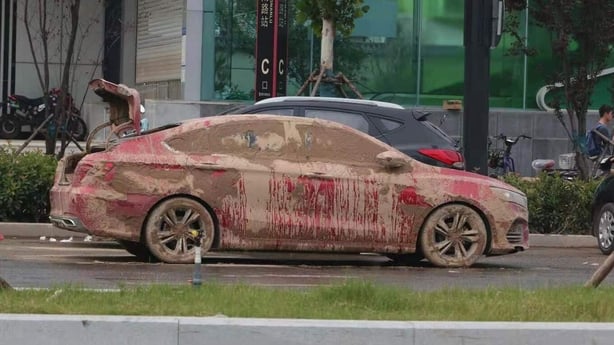 Aerial footage near Zhengzhou showed rescuers using temporary bridges to move hundreds of residents to safety, with tree tops poking above the water the only sign of land for miles.
The death toll is expected to rise, with provincial officials telling reporters that casualties were still being counted.
Adding to the misery, Typhoon In-Fa is forecast to bring further torrential downpours to parts of Henan in the coming days, state media said.