The French government's top advisor on Covid-19 has warned that a new variant of the disease would "probably" emerge in the winter months this year.
The country is currently battling an unprecedented spike in new cases caused by the more infectious Delta variant.
"We will probably have another variant arrive during the winter," Jean-Francois Delfraissy, head of the French government's scientific council, told the BFM news channel.
He said that he could not predict the consequences, or whether it would be more dangerous, adding that Covid had "relatively limited" capacities to mutate.
The infectious diseases specialist urged French people to return to social distancing and mask-wearing, and said a "return to normal" would probably be in 2022 or 2023.
"The big challenge for the next couple of years will be how are we going to co-exist, with two worlds: countries that are vaccinated and those that are not," he said.
---
---
The government's strategy to contain the current fourth wave of cases is based on the introduction of a "health pass" system that requires people to show proof of vaccination or a negative test when entering public venues.
Since Wednesday, cinemas, museums, swimming pools and sports venues have been required to ask patrons for their health credentials, leading to criticism from some that it restricts the freedoms of the non-vaccinated.
England's Covid R number unchanged, daily growth rate broadly stable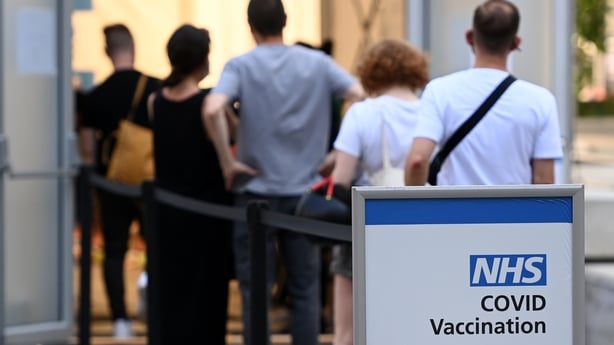 The Covid reproduction "R" number in England is estimated at between 1.2 and 1.4, the government's latest weekly estimate said.
The figure is unchanged on the previous week, with the daily growth rate of infections also fairly stable.
An R value between 1.2 and 1.4 means that, on average, every 10 people infected will infect between 12 and 14 other people.
The daily growth rate of infections was estimated between 4% and 6%, compared with 4% and 7% last week.
Indonesia, Asia's Covid epicentre, considers relaxing curbs
Indonesia is suffering a devastating wave of coronavirus infections, driven by the Delta variant, but the government is already talking about relaxing social curbs enacted earlier this month - a move analysts say is largely led by economic considerations.
The impact of the outbreak has been brutal in Indonesia, with stories of people desperately trying to find hospital beds, oxygen and medicine for loved ones. The country's Covid death toll has broken records four times this week.
Nonetheless, and just over a week after Indonesia recorded its highest number of daily infections, President Joko Widodo flagged that current restrictions could be eased from as early as next week if cases start to drop.
Easing of restrictions is likely premature and potentially dangerous, say some public health experts. While cases have dipped – from more than 56,000 in mid-July to 49,000 on July 23 – epidemiologists say testing rates also dropped in the same period, making it difficult to determine whether there has been a true decline.
Even if cases are flattening, relaxing curbs is inadvisable given hospital occupancy and death rates remain high, they say.
Indonesia's death rate is currently three times higher than the global average, according to Our World in Data, while nearly 2,500 people have died in isolation or outside hospitals since June, said independent data initiative, Lapor COVID-19.
Hungary to make COVID-19 vaccinations mandatory for healthcare workers
Hungary's government has decided to make Covid vaccinations mandatory for healthcare workers as part of efforts to contain the pandemic, Prime Minister Viktor Orban told public radio.
"Already there are certain vaccines that are mandatory for people working in the healthcare sector. We have now extended this to the coronavirus," Mr Orban said.
Mr Orban also proposed that school children over 12 are to be vaccinated before the start of the school year.
From 1 August, people in Hungary will be offered the option of taking a third dose of a Covid vaccine.