South Africa's President Cyril Ramaphosa has reimposed Covid-19 restrictions for two weeks to combat a surge in the highly contagious Delta variant.
Mr Ramaphosa said restrictions needed to be tightened as current containment measures were not sufficient to prevent a rise in infection.
The worst hit country on the African continent "is facing a massive resurgence of infection," the president said in a televised address to the nation.
"Our health facilities are stretched to the limit... ICU beds are in short supply," he said as he placed the country on alert level four, just one level below a full lockdown.
He banned all gatherings, except for funerals where numbers will be capped at 50, and also ordered a ban on the sale of alcohol.
Eateries and restaurants can no longer serve sit-down meals, and will only be allowed to sell food for take-away or delivery.
A night time curfew has been lengthened by an hour.
Authorities say the peak of the third wave - fuelled by the Delta variant first identified in India - will surpass that of earlier waves as the country struggles to quickly roll out vaccinations.
"We are in the grip of a devastating wave that by all indications seems like it will be worse than those that preceded it.
"The peak of this third wave looks set to be higher than the previous two," he said.
South Africa now has had 1,928,897 cases after recording a further 15,036 cases today, a drop from the previous day when 18,762 new infections were diagnosed.
At least 59,900 of those cases have been fatal.
The move comes as the entire South Africa squad are self-isolating after three unnamed players tested positive for the virus.
The team is scheduled to go into a bio-secure environment along with the British and Irish Lions, who were leaving for South Africa today.
---
Read more:
Latest coronavirus stories
---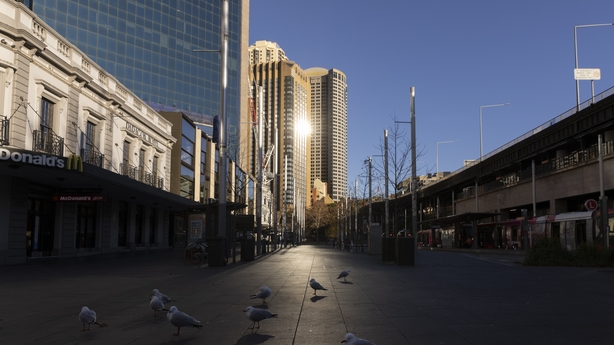 Millions in Sydney wake to new coronavirus lockdown
Millions of Sydney residents have woken to the first full day of a two-week coronavirus lockdown, as Australia attempts to contain an outbreak of the highly contagious Delta variant.
Restaurants, bars and cafés have been closed after stay-at-home orders for central neighbourhoods were extended across Sydney and to the coastal and mountainous regions surrounding the city.
Authorities had initially imposed movement restrictions on only those in Sydney's business district and affluent eastern suburbs, but the fast spread of cases in other areas led to the more drastic step introduced on Saturday evening.
Australia's northern city of Darwin has also entered a separate snap 48-hour lockdown today after a handful of cases were linked to a coronavirus outbreak on a remote mine.
Chief Minister of the Northern Territories state Michael Gunner said officials were concerned about being unable to reach close contacts of infected people in the region, which is home to a large Indigenous population feared to be more vulnerable to Covid-19.
He said: "We are taking extreme action right now to stop or slow any spread before the coronavirus is let loose in the Territory, and that means we need a lockdown."
Announcing the measures in Sydney, New South Wales state Premier Gladys Berejiklian said health experts had advised that a shorter snap lockdown of Sydney - which has proved effective in other Australian cities in recent months - would not be enough to contain the growing cluster.
More than 110 Covid-19 cases have been reported since a driver for an international flight crew tested positive in mid-June to the Delta variant, the strain that first emerged in India.
Ms Berejiklian told reporters: "Given how contagious this strain of the virus is, we do anticipate that in the next few days case numbers are likely to increase even beyond what we have seen today."
The flare-up has been a shock for a city that had returned to relative normality after months with few local cases.
Sydney's restrictions require people to stay home for at least two weeks, only venturing out to purchase essential goods, obtain medical care, exercise, go to school or if they are unable to work from home.
Anyone outside of the lockdown zone who had visited Sydney since last Monday was also instructed to self-isolate for 14 days.
The city is experiencing the latest in a string of "circuit-breaker" lockdowns across major Australian cities, with most cases linked to returning travellers quarantining in hotel rooms.
More than 150,000 people in Darwin and surrounding areas will be subject to stay-at-home orders for at least 48 hours to give health officials time to trace contacts, for the first time since a country-wide shutdown in the early stages of the pandemic.
Australia has been among the world's most successful countries in containing Covid-19, with just over 30,000 cases and 910 deaths in a population of about 25 million.
But the government has faced criticism for a sluggish vaccine rollout, with about 7.2 million doses administered by Friday this week and only a small proportion having received both jabs.
Abu Dhabi Covid app removes vaccine option for visitors
Abu Dhabi, the capital of the United Arab Emirates, has removed an option for visitors to apply for Covid-19 vaccines from a dedicated mobile app, although a hotline run by Abu Dhabi Health Services Company (SEHA) last week said tourists were eligible.
SEHA, which operates the emirate's health infrastructure, had said that visitors with visas issued by Abu Dhabi and passport holders eligible for tourist visas upon entry can book free vaccines, and its app had shown a "visitor" function.
Vaccinations had previously been restricted to UAE citizens and residency visa holders.
Abu Dhabi Media Office, which had not responded to a Reuters' request for comment on tourists' eligibility, issued a statement on Thursday saying vaccines are available to those with an expired residency visa or expired entry visa, "which does not include holders of valid tourist or visit visas".
It has not responded to requests to clarify the issue.
Job losses and travel restrictions during the pandemic mean some people's residency visas have expired or have been cancelled when they were made redundant.
The UAE, which has run one of the world's fastest vaccination campaigns, comprises seven emirates which have set some of their own Covid-19 and vaccine policies.
There is no indication that Dubai, the most populous emirate and a business and tourism hub, has opened vaccines up to visitors.
UAE health authorities said this month nearly 85% of the eligible population had received at least one vaccine dose, but did not say how many had had two doses.
Coronavirus infections have risen in the past month in the UAE, which does not give a breakdown for each emirate. Yesterday, it recorded 2,282 new infections to take its total to 624,814 cases and 1,792 deaths.
Abu Dhabi still has restrictions on entry, including home quarantine and PCR testing at intervals after arrival.
People driving from other emirates are tested to show they are not infected.
Moscow posts record daily virus deaths

Moscow has recorded 144 Covid-19 deaths in the last 24 hours, the worst toll in a Russian city since the start of the pandemic, news reports said quoting official data.
Moscow's record comes a day after one set by Euro host Saint Petersburg, where a quarter-final is to be held on Friday in front of thousands of fans.
Covid-19 infections have been surging in Russia for weeks, blamed on the highly transmissible Delta variant.