The newly appointed US envoy for North Korea, Sung Kim, will make his first visit to South Korea this week for a possible three-way meeting with counterparts from Seoul and Tokyo, a South Korean foreign ministry official has said.
The visit, from Saturday to 24 June, comes after US President Joe Biden and South Korean President Moon Jae-in held their first summit in May, injecting fresh urgency into efforts to engage the North in talks on its nuclear weapons.
Japan's Kyodo news agency said arrangements were being made for the visit during which the officials of the three nations would discuss the future direction of the Biden administration's attempts to open dialogue with North Korea in pursuit of denuclearisation.
The US State Department said it currently had no travel to announce when asked about Sung Kim's plans.
However, asked about remarks by North Korean leader Kim Jong-un, in which he said his country's economy had improved but urged measures to tackle a "tense" food situation due to the coronavirus pandemic and typhoons last year, a State Department spokesperson said:
"Even where we disagree with a regime like the DPRK, we support efforts to alleviate the suffering of its people.
"We strive to act in a manner that does not harm the North Korean people and continue to support international efforts aimed at the provision of critical humanitarian aid, should the DPRK be willing to accept it."
The spokesperson referred to North Korea by the acronym of its official name, the Democratic People's Republic of Korea, and declined to elaborate.
An independent panel of experts monitoring United Nations sanctions on North Korea recently reported that international aid groups were struggling to reach vulnerable people in the country because of pandemic lockdowns, leaving potentially hundreds of thousands without access to needed nutrients.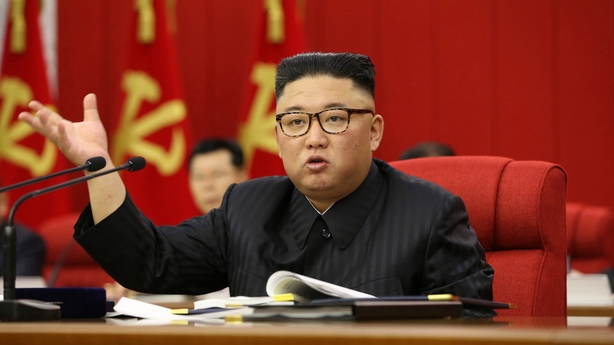 Mr Kim chaired a plenary meeting of the ruling Workers' Party's central committee on Tuesday to review progress on major policies and craft measures to resolve economic issues, according to the official KCNA news agency.
The committee set goals and tasks to achieve its new five-year economic plan outlined at its previous session in February, including increased food and metal production.
But there was "a series of deviations" in the party's efforts to implement the plans due to several obstacles, he said, singling out tight food supplies.
"The people's food situation is now getting tense as the agricultural sector failed to fulfil its grain production plan due to the damage by typhoon last year," Mr Kim said.
The party vowed to direct all efforts to farming this year and discuss ways to tackle the Covid-19 pandemic, KCNA said.
North Korea has rebuffed US requests for diplomacy since President Biden took over from Donald Trump, who had three summits with Mr Kim, but failed to persuade him to give up his nuclear weapons.
Sung Kim, appointed by Mr Biden last month, is a Korean-American diplomat who had the same role under former president Barack Obama, and helped set up Mr Trump's summits with Mr Kim.
President Biden said at his summit with Mr Moon that he would be willing to meet Mr Kim under the right conditions - if he agreed to discuss his nuclear programme and that his advisers first met their North Korean counterparts to lay the groundwork.
Kyodo said Takehiro Funakoshi, director-general of the Japanese foreign ministry's Asian and Oceanian Affairs Bureau, would participate in the three-way talks, as would Noh Kyu-duk, the South Korean foreign ministry's special representative for Korean peninsula peace and security affairs.
The US has been keen to encourage dialogue between the allies on the best way forward in dealing with North Korea.