EU Council President Charles Michel has congratulated new Israeli Prime Minister Naftali Bennett, after an alliance of parties ousted Benjamin Netanyahu.
"Looking forward to strengthen(ing) the (EU-Israel) partnership for common prosperity and towards lasting regional peace & stability," he wrote on Twitter.
Mr Bennett, a right-wing Jewish nationalist and former tech millionaire, takes over at the helm of an Israeli government pieced together by an eight-party coalition.
Their alliance ended Mr Natanyahu's 12 years in power.
Mr Bennett, a former defence minister under Mr Netanyahu, vowed to keep Israel safe from Iran, promising that "Israel won't let Iran have nuclear weapons", a goal the Islamic republic denies pursuing.
The diverse coalition was cobbled together by former TV presenter Yair Lapid.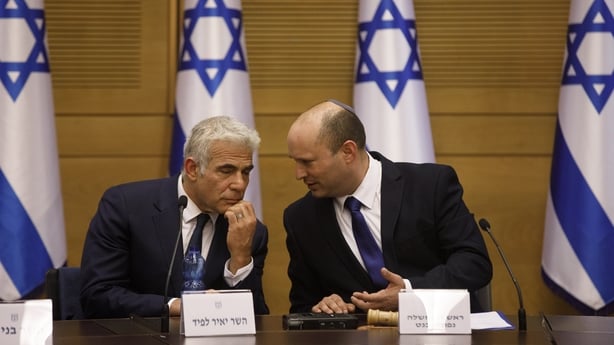 It spans the political spectrum, with three right-wing, two centrist and two left-wing parties, and even an Arab Islamic conservative party.
Mr Lapid, 57, is to serve as foreign minister for the next two years before taking over from Mr Bennett.
We need your consent to load this rte-player contentWe use rte-player to manage extra content that can set cookies on your device and collect data about your activity. Please review their details and accept them to load the content.Manage Preferences
In a statement, US President Joe Biden said: "I look forward to working with Prime Minister Bennett to strengthen all aspects of the close and enduring relationship between our two nations. Israel has no better friend than the United States."
Canadian Prime Minister Justin Trudeau also sent congratulations, saying he "looks forward" to working with Mr Bennett.
"Canada and Israel are close friends bound together by shared democratic values, a long history of co-operation, and vibrant people-to-people ties," Mr Trudeau said in a statement released by his office.
Congratulations on the formation of a new Israeli government, Prime Minister @NaftaliBennett and Alternate Prime Minister @YairLapid. Together, let's explore ways to further strengthen the relationship between Canada and Israel. https://t.co/Rcw2UDXpBk

— Justin Trudeau (@JustinTrudeau) June 13, 2021
He reiterated that Ottawa "remains steadfast in its commitment to a two-state solution, with Israelis and Palestinians living in peace, security, and dignity - without fear and with their human rights respected."
He also thanked Mr Netanyahu "for his valuable partnership over the years, at a time when Canada and Israel achieved a great deal together."
German Chancellor Angela Merkel congratulated Mr Bennett in comments tweeted by her spokeswoman: "Germany and Israel are connected by a unique friendship that we want to strengthen further. With this in mind, I look forward to working closely with you."

British Foreign Secretary Dominic Raab tweeted: "I look forward to continued cooperation on security, trade and climate change, and working together to secure peace in the region."
Congratulations to @naftalibennett & @yairlapid on forming a new government in Israel. I look forward to continued 🇬🇧🇮🇱 cooperation on security, trade and climate change, and working together to secure peace in the region.

— Dominic Raab (@DominicRaab) June 13, 2021
Mr Netanyahu, 71, in typically combative style, vowed shortly before his defeat yesterday that "if it's our destiny to be in the opposition, we'll do so with our heads high until we take down this bad government and return to lead the country our way".
Mr Bennett, 49, told the Knesset before the vote that his government "represents all of Israel".
He said the country, after four inconclusive elections in under two years, had been thrown "into a maelstrom of hatred and in-fighting".
"The time has come for different leaders, from all parts of the population, to stop, to stop this madness", he said, to angry shouts of "liar" and "criminal" from right-wing opponents.
Mr Netanyahu, who is battling corruption charges in a trial he dismisses as a conspiracy, has been the dominant Israeli politician of his generation, having also served a previous three-year term in the 1990s.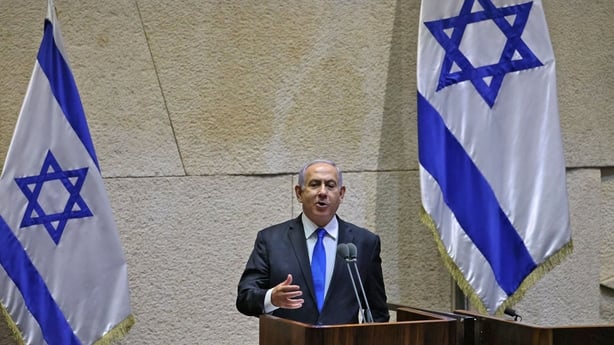 His supporters have hailed him as a defender of Israel who has been tough on Iran, but who also struck a series of historic normalisation deals with Arab nations last year.
Being ousted from the top job leaves Mr Netanyahu more exposed to his legal troubles, denying him the chance to push through legislation that could give him immunity.
The improbable alliance emerged weeks after an 11-day war between Israel and Hamas, the Islamist group that rules the Palestinian enclave of Gaza, and following inter-communal violence in Israeli cities with significant Arab populations.