A Covid-19 variant first identified in India has been found in 44 countries with a possible presence in five more, and is believed to be resistant to certain antibodies, including from vaccines, the World Health Organization has said.
The variant, named B.1.617 and informally dubbed the "double mutant," has three different sub-lineages - B.1.617.1, B.1.617.2 and B.1.617.3, which were being found increasingly in other countries and regions, especially in Europe and North America, the WHO said in its weekly update.
The B.1.617 was declared as a variant of concern on Monday by the WHO.
In India, which reported more than 2.7 million cases last week, sub-lineages B.1.617.1 and B.1.617.2 were found respectively in 21% and 7% of all samples, the WHO said in the update.
The WHO added that the variant might also be resistant to vaccines, as a study reported sevenfold reduced effectiveness against antibodies released by Moderna and Pfizer vaccines.
Although the variant might be responsible for the surge of cases in India, a country which accounts for 50 percent of all global cases and 30 percent of deaths worldwide, many other factors could explain the outbreak, such as religious and political mass gatherings, as well as a lack of adherence to such measures as social distancing, the WHO said.
India records 4,000 Covid-19 deaths for second day
India has recorded more than 4,000 Covid-19 deaths for a second straight day, while infections stayed below 400,000 for a fourth day, though the virus has become rampant in rural areas where cases can go unreported due to a lack of testing.
Experts remain unsure when numbers will peak and concern is growing about the transmissibility of the variant that is driving infections in India and spreading worldwide.
Bhramar Mukherjee, a professor of epidemiology at the University of Michigan, said most models had predicted a peak this week and that the country could be seeing signs of that trend.
Still, the number of new cases each day is large enough to overwhelm hospitals, she said on Twitter. "The key word is cautious optimism."
The situation is particularly bad in rural areas of Uttar Pradesh, India's most populous state with a population of over 230 million. Television pictures have shown families weeping over the dead in rural hospitals or camping in wards to tend the sick.
Bodies have washed up in the Ganges, the river that flows through the state, as crematoriums are overwhelmed and wood for funeral pyres is in short supply.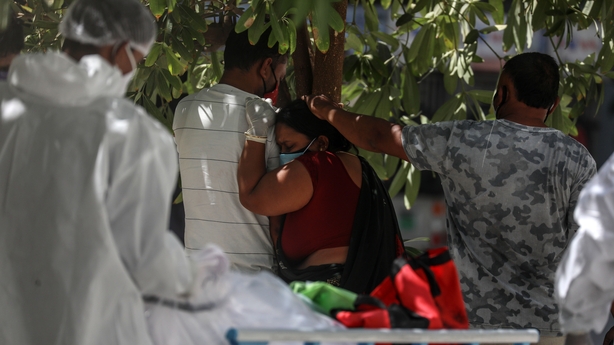 "Official statistics give you no idea of the devastating pandemic that is raging through rural UP," wrote well-known activist and opposition politician Yogendra Yadav in The Print.
"Widespread ignorance, lack of nearby or adequate testing facilities, official and unofficial cap on testing and inordinate delays in test reports have meant that in village after village, virtually no one has been tested, while scores of people complain of a 'strange fever'".
According to health ministry data, India had 362,727 new Covid-19 infections over the last 24 hours while deaths climbed by 4,120.
The surge in infections has been accompanied by a slowdown in vaccinations, although Prime Minister Narendra Modi announced that vaccinations would be open to all adults from 1 May.
Two states - Karnataka, which includes tech hub Bengaluru, and Maharashtra, which includes Mumbai - have announced they will temporarily suspend vaccination for people aged 18-44 years as they prioritize those over 45 who need their second dose.
India is the world's largest vaccine producer, but has run low on stocks in the face of the huge demand.
As of Thursday, it had fully vaccinated just over 38.2 million people, or about 2.8% of a population of about 1.35 billion, government data shows.
New Zealand to open further 'travel bubbles'
Elsewhere, New Zealand Prime Minister Jacinda Ardern has said her government will explore more travel "bubbles" and lead trade delegations later this year to reconnect with a post-pandemic world after more than a year of border closures.
Tough lockdowns and its geographical location has helped New Zealand eliminate the virus within its borders, but left the country of 5 million isolated from the rest of the world.
With majority of its essential workers now being vaccinated and inoculation for the wider population starting in July, the government is preparing a plan for how it would reopen.
Ms Ardern said New Zealand started rebuilding contact by opening quarantine-free travel with neighbouring Australia and the South Pacific's Cook Islands, and is considering more such travel bubble options.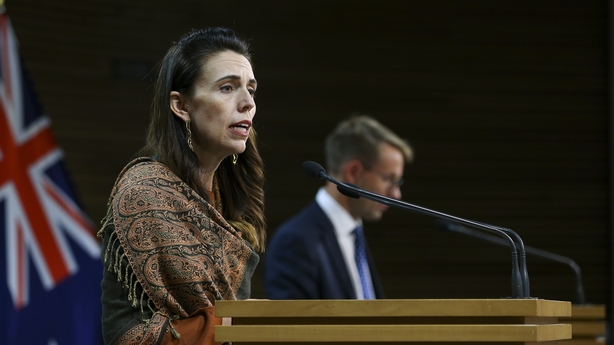 "Niue is the natural next addition. Beyond that we are relatively open-minded, and I do anticipate there will be other countries we can explore opportunities with," Ms Ardern said in her pre-budget speech in Auckland.
More than 70,000 people landed in New Zealand from Australia since the travel bubble opened last month, and over 57,000 have travelled the other way, Ardern said.
She, however, noted that vaccine roll-out in New Zealand is incomplete and the number of countries it could safely open upto is also limited.
Ms Ardern said she will lead a trade and promotional delegation to Australia in early July, and will also look to lead delegations into Europe, the United States, China and the wider Asia-Pacific.
"These trips may not have been overly notable pre-Covid, but they are hugely significant in light of the domestic realities we've been experiencing, and the global ones that still persist," she said.
British Airways trials 'game-changer' 25-second virus test
British Airways has announced it will be the world's first airline to trial a coronavirus test that produces results within 25 seconds.
The carrier said it will invite flight and cabin crew to take a Pelican Covid-19 antigen test from medical tech company Canary Global.
Results will be compared against their standard test results.
British Airways chief executive Sean Doyle said the airline is "committed to exploring easy and affordable testing solutions to help our customers travel again".
He added: "We think this new ultra-rapid test is a game-changer so we are delighted to work with the team at Canary to begin initial trials with our flight and cabin crew, before exploring what role it could play as a customer testing option."
Japanese towns drop plans to host Olympic athletes
Dozens of Japanese towns have abandoned plans to host Olympics athletes due to concerns they will overburden already stretched medical resources amid a fourth wave of coronavirus infections, the Nikkei newspaper reported.
Forty out of more than 500 towns registered to welcome international competitors had decided not to accept athletes for training camps and cultural exchanges before the global sporting showpiece, the newspaper reported citing a government source.
The reluctance of some towns to host visiting athletes, normally a source of pride for communities outside the host city, is the latest sign of deep unease in Japan over the scheduling of the Games in the middle of a pandemic.
The Tokyo 2020 Olympic Games were postponed last year and are currently scheduled to take place from 23 July to 8 August despite a surge in infections and a state of emergency in the host city.
Other regions scheduled to host athletes have also been hard hit, including the eastern prefecture of Chiba where the US track and field team had been due to have a training camp.
The prefecture has said that the team had cancelled those plans.
It comes as a union representing hospital doctors in Japan said that holding the Olympics safely while the coronavirus pandemic continues to rage around the world would be "impossible".
UAE allows Pfizer Covid-19 vaccine for emergency use in 12-15 year-olds
The United Arab Emirates has approved the Pfizer/BioNTech Covid-19 vaccine for emergency use in children aged 12-15, the government said, having already permitted its use for 16 years and above.
The UAE's health ministry approved its use, the government's Twitter account said.
The US Food and Drug Administration approved the use of the vaccine in children as young as 12 on Tuesday.