Police detained supporters of Alexei Navalny outside his prison east of Moscow after they were denied access to the jailed Kremlin critic, who is on hunger strike demanding proper medical treatment.
Among those detained was Anastasia Vasilyeva, who is Mr Navalny's personal doctor and head of the Alliance of Doctors medical trade union, which is critical of the Russian government, according to journalists at the scene. A CNN journalist was also detained.
Mr Navalny, 44, is a prominent opponent of President Vladimir Putin. He announced a hunger strike last week in protest at what he said was the refusal of prison authorities to treat him properly for acute back and leg pain.
Police in the Vladimir region where the prison is located said in a statement that nine people were detained for violating "public order".
They said that around 45 people had gathered at the penal colony, including some 30 journalists and bloggers.
Supporters of the opposition politician, including several doctors in white medical coats, arrived at the town of Pokrov around 100 kilometres east of Moscow earlier today.
They demanded access to Mr Navalny, but were rebuffed.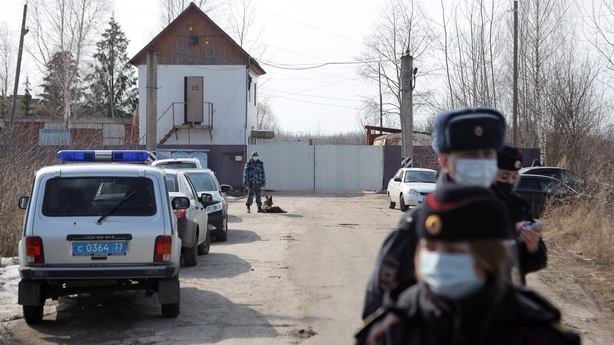 The campaigner went on hunger strike last Wednesday to demand proper medical treatment for severe back pain and numbness in both legs, saying he had only been given painkillers.
Yesterday, Mr Navalny said he was now also suffering from a heavy cough and fever and that three people from his prison unit had been hospitalised with tuberculosis.
His wife Yulia said in an Instagram post today that she had received a letter from prison chief saying that officials did not have her husband's passport, meaning Mr Navalny could not be hospitalised or released early.
She also accused the head of the prison of cooking chicken within the facility's walls in an attempt to taunt her hunger-striking husband.