The Minister for Foreign Affairs is departing for Iran today ahead of a meeting tomorrow with the country's President Hassan Rouhani.
Simon Coveney will also meet his Iranian counterpart, Foreign Minister Mohammad Javad Zarif, who last night indicated that Iran will soon present a "constructive" plan of action about its nuclear programme.
European sources have suggested there were positive signs that Tehran could open informal talks.
Iranian polity is vibrant & officials express diverse opinions

But those opinions should NOT be confused with state policy

As Iran's FM & chief nuclear negotiator, I will shortly present our constructive concrete plan of action—through proper diplomatic channels#CommitActMeet

— Javad Zarif (@JZarif) March 5, 2021
European powers, including Britain, France and Germany, recently scrapped a US-backed plan to criticise Tehran at the UN nuclear watchdog in a bid to avoid escalation and make room for diplomacy.
Iran has so far refused to take part in a meeting brokered by the EU between world powers and the US on reviving its 2015 nuclear deal.
Iran has ruled out reviving the deal, known as the Joint Comprehensive Plan of Action, insisting the US must lift all of its unilateral sanctions first.
As part of its membership of the UN Security Council this year, Ireland has been appointed as a Facilitator of UN Resolution 2231, which urges the full implementation of the nuclear deal.
Minister Coveney said: "Ireland is a strong supporter of the JCPOA. In our role as Facilitator, Ireland is keen to maintain a close dialogue with all actors, and encourage all parties to return to full compliance with the agreement."
He said this weekend's visit will be a valuable opportunity to discuss the nuclear agreement, along with other key issues in the Middle East.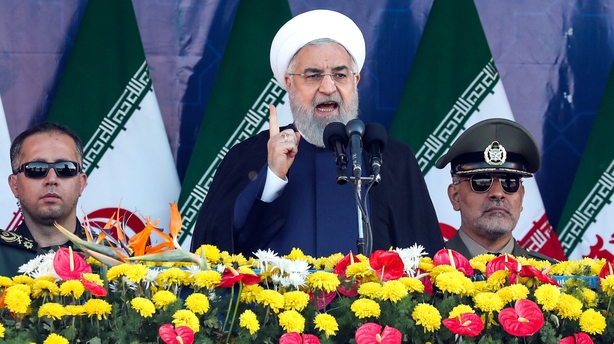 ---
Ireland set to reopen embassy in Iran by 2023
Can Ireland help to get the Iran nuclear deal back on track?
---
Former US president Donald Trump pulled out of the Iran nuclear deal in 2018 and Tehran and Washington have been at a loggerheads ever since.
Tehran has added to its breaches of the deal's atomic restrictions in protest at US sanctions.
However, the new Biden administration has indicated its willingness to re-engage with the deal.
The Irish Government this week designated a chargé d'affaires to Tehran, with work now under way to re-establish an Irish Embassy in Tehran by 2023.
It is all part of the Government's "Global Ireland strategy", with Ireland determined to double its global impact by 2025.
The Irish Embassy in Tehran closed in 2012, due to the impact of the financial crisis.
Since then, Ireland's Embassy in Ankara has maintained diplomatic relations with Iran via a secondary accreditation.
The Department of Foreign Affairs said this weekend's trip was taking place in full compliance with public health requirements and guidance with regard to essential travel.
Minister Coveney will meet President Hassan Rouhani tomorrow before returning home to Ireland.
Iran's nuclear policy is determined by the country's top authority supreme leader Ayatollah Ali Khamenei, and not by the president or the government.
Additional reporting David Murphy