Prosecutors have concluded their impeachment case against Donald Trump, urging the Senate to convict the former US president of inciting the 6 January attack on the Capitol building.
"We humbly, humbly ask you to convict President Trump for the crime for which he is overwhelmingly guilty," said Representative Joe Neguse, one of the House impeachment managers.
"Because if you don't, if we pretend this didn't happen - or worse, if we let it go unanswered - who's to say it won't happen again?"
Mr Trump's lawyers will begin his defence at 5pm Irish time tomorrow and will have 16 hours to present their case.
Representative Jamie Raskin, the lead House manager, appealed to the 100 Senators who are sitting as jurors in the case to convict Mr Trump.
"Exercise your common sense about what just took place in our country," Mr Raskin said, reminding senators that they swore an oath to administer "impartial justice."
During their two-day presentation, House impeachment managers used Mr Trump's own words and harrowing video of the attack on the Capitol to make the case that he incited his supporters to try to stop congressional certification of Democrat Joe Biden's 3 November presidential election victory.
The Democratic-majority House of Representatives impeached Mr Trump on 13 January for inciting the attack, but a two-thirds majority is needed for conviction in the Senate.
Democrats hold 50 seats and there have been no indications that House prosecutors have managed to assemble the votes of 17 Republican senators needed for conviction.
Last night, previously unreleased video recordings of the storming of the building were shown to the Senate.
The security camera footage showed then vice president Mike Pence and senior senators such as Chuck Schumer and Mitt Romney being ushered to safety as the rioters approached.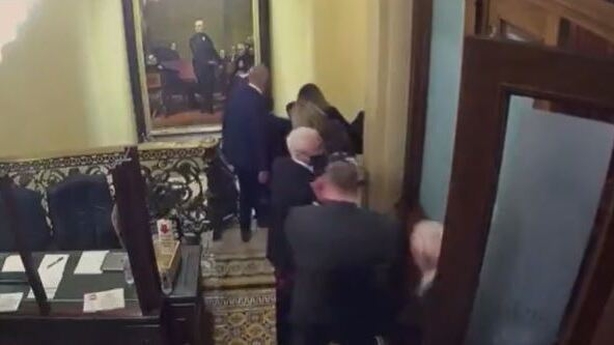 Audio recordings were played of panicked police officers describing how they were being overwhelmed.
Mr Schumer is seen narrowly dodging a rampaging throng of pro-Trump rioters.
Mr Romney, a Republican who often opposed Mr Trump and was turned into a hate figure by the president, is seen being steered away by an officer at the last moment as an angry crowd approaches.
In another segment, the mob can be seen smashing into the offices of Nancy Pelosi, Speaker of the House of Representatives and another frequent target of Mr Trump's most violent rhetoric.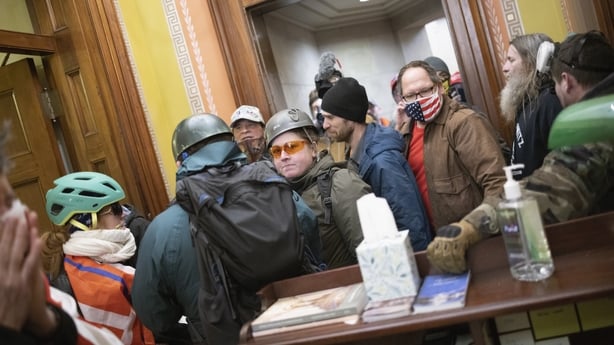 "Nancy, where are you Nancy?" protesters call out as they search, not knowing that eight of her staff were barricaded behind a door in the same corridor.
Ms Pelosi herself had already been urgently whisked away.
"We know from the rioters themselves that if they had found Speaker Pelosi, they would have killed her," said impeachment manager Stacey Plaskett, a House delegate from the US Virgin Islands.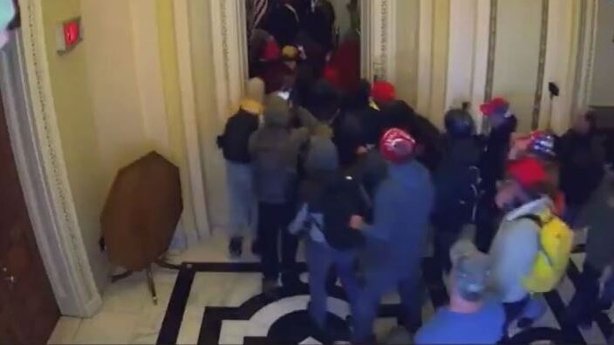 A vote on whether or not to convict the former president for inciting the riot could happen by early next week amid expectations to be acquitted.
Additional reporting Brian O'Donovan