A series of emails landed in my inbox in recent days reminding me that Donald Trump has not gone away.
He has dominated the news agenda in the US for more than four years but as soon as he left Washington for Florida on the morning of Inauguration Day, the focus switched to Joe Biden.
For the first few days of the Biden presidency, Mr Trump barely got a mention in the media, except when references were made to the new president trying to undo the policies of his predecessor.
Removed from Twitter and Facebook, the former president had been silenced but then the emails started to arrive.
Presumably, I received the first two because I had previously signed up for both White House and Trump Campaign emails.
One described itself as a "Statement from the Office of the Former President". The words were wrapped around an official logo of an American eagle.
The short email described how the 45th President of the United States, Donald J Trump, had formally opened the Office of the Former President.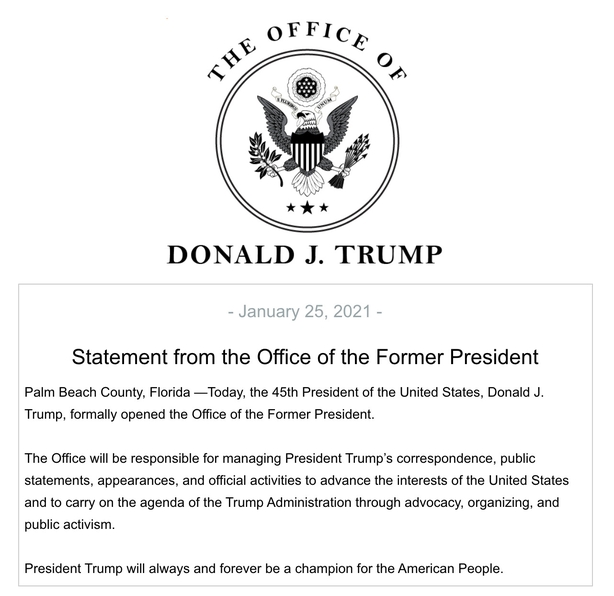 "The office will be responsible for managing President Trump's correspondence, public statements, appearances, and official activities to advance the interests of the United States and to carry on the agenda of the Trump Administration through advocacy, organising, and public activism," it stated.
It was a reminder of Donald Trump's parting words as he boarded Air Force One to fly to Florida. "We will be back, in some form," he said.
The next email I received was from the "Save America" Political Action Committee.
Political Action Committees, or PACs, are organisations that raise money for candidates and causes and then spend those funds on campaigning and advertising.
'Save America' is Donald Trump's PAC and this recent email was targeting a Republican member of the House of Representatives who voted in favour of impeaching the then-president.
"Liz Cheney's decision to vote to impeach President Trump makes her extremely vulnerable according to a Wyoming poll," the statement read.
"The strong voter sentiment in this survey suggests there could be similar results for other Republicans who voted for impeachment," it continued.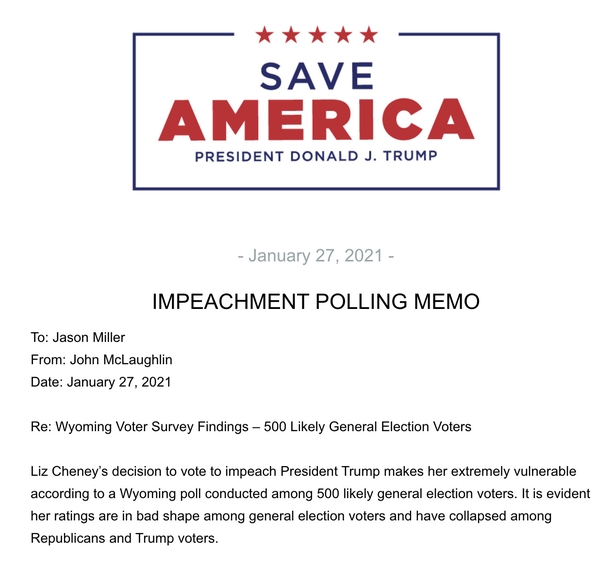 Ten Republican members of the House voted to impeach. In the immediate aftermath, there was a sense that there would be a similar bi-partisan effort in the US senate where Donald Trump's impeachment trial will take place in the coming weeks.
If 17 Republican senators vote with the Democrats, it would lead to conviction setting up a vote to ban Mr Trump from ever holding office again.
Initially, senior Republicans criticised the former president and said he was at least partially to blame for the storming of the Capitol Building but with the passage of time there is a growing feeling that they won't vote in sufficient numbers to convict Donald Trump.
One such critic was the House Minority Leader Kevin McCarthy, the most senior Republican in the House of Representatives.
He did not vote to impeach but nor did he tell party members to oppose the motion. He also said that he believed Mr Trump bore some responsibility for the violence. 
The former president was said to be unhappy with the comments and Mr McCarthy travelled to Mar-a-Lago in Florida on Thursday to meet with Donald Trump to smooth things over.
After the meeting, the Save America PAC issued a photo of the two men along with a short statement.
"They discussed many topics, number one of which was taking back the House in 2022. President Trump's popularity has never been stronger than it is today, and his endorsement means more than perhaps any endorsement at any time," according to the statement.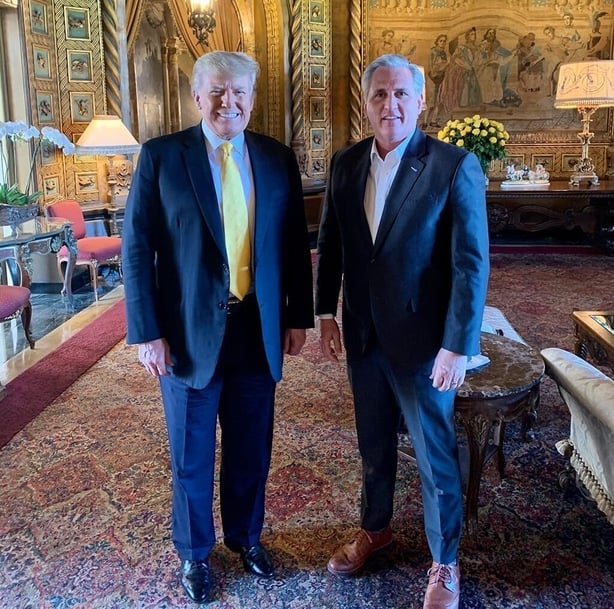 It was a clear signal that the former president plans to be involved in Republican politics for some time to come.
These weren't the only Trump-related emails I received this week.
In Ireland, Freedom of Information requests made by journalists are usually processed in a few weeks. The same is not the case here in the US where it can up to two years to get access to records.
I had submitted FOI requests to the US Secret Service about Donald Trump's cancelled visit to Ireland in 2018 and the visit that went ahead in 2019.
The 2018 records gave a fascinating insight into the amount of pre-planning that goes into a presidential visit.
In the weeks before the proposed trip, it appears the Secret Service was monitoring social media looking for potential threats and to gauge public opinion about the upcoming visit.
Facebook posts about planned protests are referenced in email exchanges between agents. One of the demonstrations was due to be held in Cork and was being organised by People Before Profit, the other was to take place in Dublin, organised by the Green Party.
Both protests were being held to call on the Irish government to cancel the visit of Donald Trump.

In each case the Secret Service referenced the numbers of people who had indicated their intention to attend and in both cases the agents noted: "There is no indication of civil disobedience".
"Online social media chatter continues to be mostly negative towards POTUS", according to another Secret Service email.
"Chatter has increased in opposition of POTUS's trip to Ireland that has recently been reportedly postponed," it continues.

The following year, in June 2019, Donald Trump did travel to Ireland.
Documents reveal that protection for the then-president's two-day visit to his golf resort in Doonbeg, Co Clare cost the US Secret Service $524,000 (€431,000).
Hotel accommodation came to more than $136,000 (€112,000) with around $10,527 (€8,500) of that being spent at Mr Trump's own hotel.
The records show that, initially, a sum of $4,743 (€3,900) was allocated for Trump Doonbeg, a handwritten note added another $3,060 (€2,522) to that figure before the final total of $10,527 (€8,677) was arrived at.

Other expenses included renting golf carts, tents and refrigerators with money also being spent on a forklift and glass from a window company.
The $524,000 bill was just for the Secret Service. The trip to Ireland would have seen costs incurred by the White House, State Department and US Defense Department.
Irish taxpayers also had to fork out. The visits to Ireland in 2019 of Donald Trump and the then-US Vice President Mike Pence cost An Garda Síochána up to €18 million.
It is a reminder that big, presidential visits don't come cheap amid speculation that Joe Biden could make a stopover in Ireland in June on his way to a G7 Summit in Cornwall.
In recent days, White House Press Secretary Jen Psaki was asked by reporters about when and where President Biden's first foreign trip might be.
"I have nothing to preview or predict about a foreign trip," she said on Thursday.
Ms Psaki was asked the same question a few days previously.
"Despite his desire, my desire if that matters, to do a foreign trip, I think it will be a bit of time," she replied.